Yoga Full Moon Gathering – FAMILY edition We are a FAMILY!
About this event
The first full moon of 2022 falls in the sign of the home and the FAMILY - Cancer. Just like this little, but powerful creature, the crab, homes and families have walls around them to protect and nurture their members. To keep danger out and love in. This cardinal full moon invites us to bring these walls down, to triumph over the rules that are preventing us from real connection and to open our hearts and symbolic homes to others. To our world family. Whatever our differences, we are all the same. We seek connection. We crave for the warmth of a protective embrace and we love to love!
Our Yoga Full Moon Gathering takes us on an adventure of connection through yoga inspired movement for kids, little and big (and BIGGER!) We'll get creative with elements of partner yoga and acro-yoga as we watch the forest turn upside down! We'll stay curious by exploring stories of magic and myth and might even end up with a little snooze during a moment of stillness provided by an indulgent yoga nidra relaxation. We'll conclude by getting nature to help us create powerful moon mementos to inspire and guide us for the rest of the year!
We'll play and be seen. We'll speak and be heard. We'll move and be moved.
Together. In nature, as a world family!
Join me on Sunday, 16th January at 11 o'clock to flow, play and melt into a fusion of delicious practices, especially designed for the whole family.
The workshop includes the elements of movement, arts and crafts, a yoga nidra guided relaxation suitable for children as well as adults and a full moon reflection ritual for all ages. There might be surprises too!
ONLINE EVENT
Please be aware that images and/or videos might be taken during the event for health and safety as well as promotional purposes only. Requests to be excluded from any images will be accommodated; please mention it at the time of booking.
Additional info for parents/carers/guardians:
Previous practice or knowledge of yoga, moon signs... or mudras is not required. You don't need any special equipment. Comfortable clothing is important though. Please keep a blanket or extra layers nearby, prior to our class, in order to use during the yoga nidra relaxation. Your comfort and warmth are super important. You can bring in a cushion or pillow too. Whatever makes you feel cosy!
The workshop is suited for families, ages 4 - 104!
The price of attending is per family. The workshop is suitable for all ages above 4. Children up to 16 years of age must be accompanied by an adult.Booking a spot per family is required in advance. Should you have any further questions, please do get in touch via play@yogatimeyay.com or on 00351 920 143 994
Thank you and I can't wait to practise with you!
Martina of Yoga Time YAY!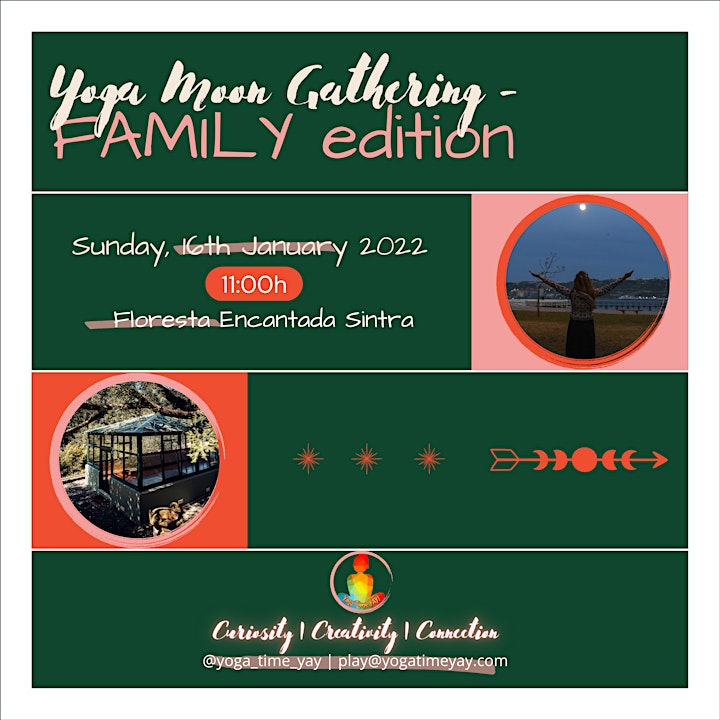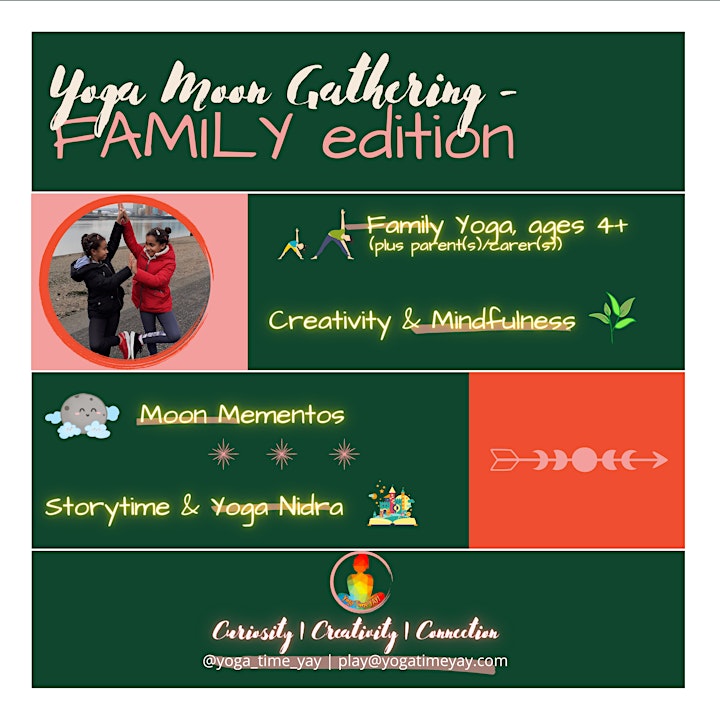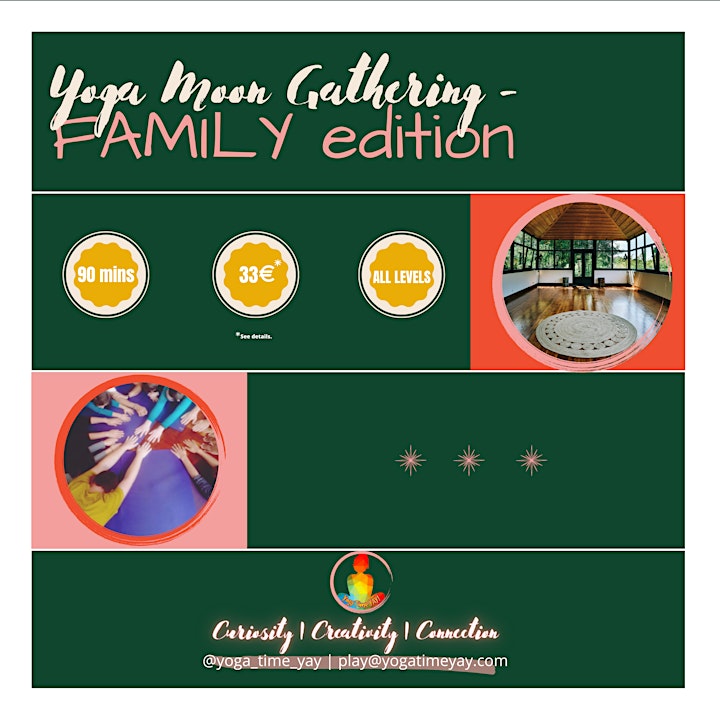 Date and time
Location
Refund policy
Organiser of Yoga Full Moon Gathering – FAMILY edition