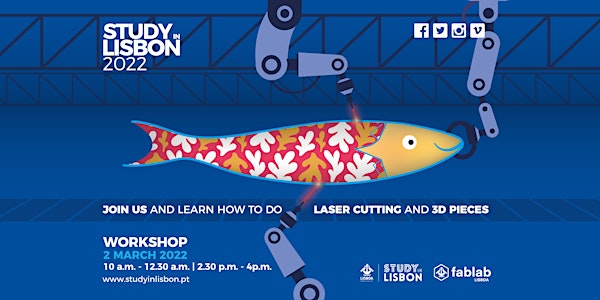 Workshop - Laser cutting and 3d scanning/printing in Lisbon city's FabLab!
Location
FabLab Lisboa
Rua Maria da Fonte
1170-221 Lisboa
Portugal
Come and learn a bit about laser cutting, 3d scanning/printing and other cool things you can make in Lisbn city's FabLab!
About this event
For all the creative minds.
Come and learn how to laser cut and discover a versatile tool for design, art, architecture, fashion, photography, among many other possibilities; get to know the Ultimaker 3 that Fablab Lisboa makes available for prototyping purposes and the Shining 3D EinScan Pro 2X, and its scanning possibilities.
The participants will have the possibility to learn how to interacte with some of the machines that are available to the public for prototyping purposes on open-days (Tuesdays and Thursdays) by booking on the fablablisboa.pt website, and much more.
The workshop will be divided in two parts; one around the laser cutter and the other regarding the 3d scanner and 3d printer.
There will be a brief demonstration and explanation of the laser cutting principles, and then (depending on number) participants will be able to carry out a small project or exercise on the laser cutting machine.
The other part of the workshop will cover the stages of 3D Printing with the Ultimaker 3 as well as 3d scanning with the Shining 3D EinScan Pro 2X and the possibilities of these two machines.
The Ultimaker 3 printer uses FFF (Fused Filament Fabrication) technology. that is a layer-by-layer additive manufacturing process in which thermoplastic material is pushed through a heated nozzle to create objects by deposition. Easy to understand and use, it enjoys a wide sharing of knowledge by the maker communities and social networks, with the advantage of being a low-cost solution, compared to other 3D printing processes.
To have the best result of the printed product, the participant will get to know the main features such as: layer; temperature; velocity; retraction; ventilation. We will print test models for: filament type, surface finish, model accuracy, deformation, support; scale; swing; diameter; bridge
The 3D scanning is the process of converting a real object into a digital model. Digital archives and parametric modeling are fundamental to modern new product development processes and their virtual preservation for future recreations.
In just a few minutes, a small and medium-sized objects can be scanned with high precision and in color. Using the available scanning modes, anyone can digitally and professionally reconstruct 3D models for areas as diverse as: Manufacturing and reverse engineering aimed at customized products and services; Art, Archeology and Design; Medical care and orthopedics; Virtual Reality, Research and Education
Requirements:
It is advisable, not mandatory, to bring a laptop with Adobe Illustrator installed, or with another vector drawing program at your discretion for 2D (laser cutting) and/or a 3D software (Fusion 360, Onshape,…).
It is mandatory to bring and keep a respiratory mask on, sanitize your hands at the entrance with the disinfectant available, check the temperature, as well as comply with the rules of the space and respiratory etiquette. Access will not be given to those who do not comply with the rules or show signs of infection with sars cov 2, such as a temperature higher than normal (37.5ºC)