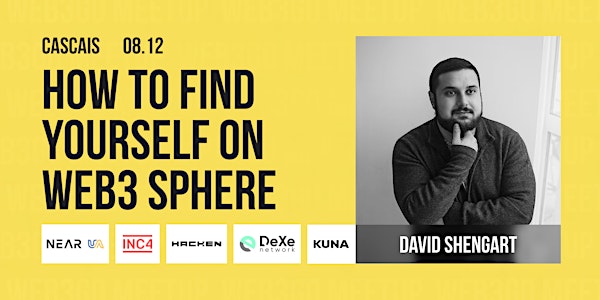 Web3Go Meetup
How to find yourself on web3 sphere ?
When and where
Date and time
Thursday, December 8, 2022 · 10 - 11:30am WET
Location
Luna House & Cowork 560 Avenida Costa Pinto 2750-329 Cascais Portugal
About this event
Come and learn this information from the speaker David Shengart - Professional degen, Defi pirat, retrospective trading adviser, Head of masonic NFT-lodge, bitcoin maxi Partner, and Head of analytics at Unicorn Factory Ventures.
Date : 08.12
Time : 10:00 - 12:00
Topic: "How to find yourself on web3 sphere ? "
📝 Program Of Event 📝
-Speaker's presentation
- Q&A
- Networking
🎆 Who we are 🎆
Web3Go Meetups in Lisbon is the bridge between various communities and authorities that drives the platform for networking, connections and knowledge exchange. Our events are intended for both total beginners as a gateway to crypto, and experienced enthusiasts as an access to network and knowledge. We invite noble speakers to highlight the frontline of crypto business, development, cyber security and market trends.
Web3Go Meetups builds relationships among various international communities: local Portuguese enthusiasts and authorities, Ukrainian expats in Portugal, worldwide crypto network of investors, developers and businesses.
🎇 What to Expect from us 🎇
We will have Brilliant Minds and Intellectual Leaders inside and outside the Web3 space to help answer some of our burning questions on finances, blockchain and governance.
⁉️ How To Participate ⁉️ - Subscribe to our eventbrite and buy a ticket !
We hope to see you there. ‼️
🤝Partners KunaExchange , hackenclub , INC_4 , NEARProtocol , DexeNetwork
About the organizer
As an event agency, we are running our weekly meetups in Lisbon. We
invite descent speakers from the
blockchain sphere to share their
expertise in creating, building, managing and funding projects. We also arrange various global events (Poland, Ukraine, Columbia, Indonesia, Dubai) with local partners and communities. For years of working in crypto, we created a great network of dedicated professionals worldwide that allows us to match the right people with suitable proiects and
create a productive atmosphere of sustainable development.