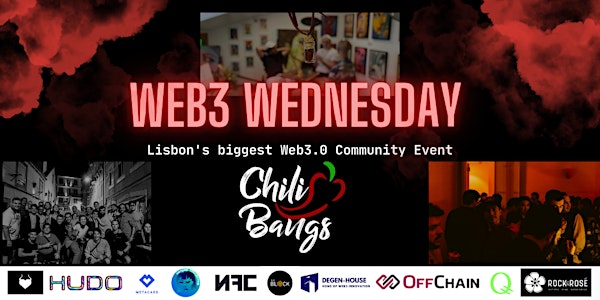 Web3 Wednesday Lx
Come join us every Wednesday and meet the people behind the cool PFPs, they might just become your new BFFs!
When and where
Location
R. Latino Coelho 63 63 Rua Latino Coelho 1050-111 Lisboa Portugal
Refund Policy
Refunds up to 1 day before event
Eventbrite's fee is nonrefundable.
About this event
⛓ Web3 Wednesdays Telegram | 🌶 Chili Community Telegram
Who are we?
Hi! We are ChiliBangs, the largest Web3 event agency in Lisbon! Our community consists of hundreds of Web3 visionaries, degens, developers, investors, artists and NFT, crypto, DeFi and blockchain enthusiasts! We are an open-minded, inclusive and welcoming community with a strong desire to bring decentralized solutions to the world❤
🌶 Let's go to biggest web3 community in Portugal and on the way to be the biggest in Europe.
💪 Feel proud and proud of yourself! I am proud every day when I see the statistics and the results.
🚀 Now without further ado, let me give you the good news that was highly expected.
📆 Web3 Wednesday will start again, with new challenges, speakers, places and above all to find the best Web3 community in the world.
📣 This year I will have a special focus on the topics and our future guests.
👍 We want to bring solutions and changes in the quality and quantity of content offered for our community and for future Bangers.
🙌 We are very happy to be back on the event circuit.
📆 This Wednesday will be full of surprises and news.
📍 We chose the Block to remember where I started everything related to Crypto, Blockchain and Web3: It is the pioneer place in the city and are constantly adding value to the Web3 community in Lisbon.
🗣 We will have a fantastic speaker & I invite you to look at his journey, & to follow him on the different social networks.
👉 To follow: Usual networking session with music!
⏰ Come early and come plenty so you don't miss Taylor Ryan's talk.
There will be welcome drink "gluewine" and for the first ones some appetizers will be offered.
🕴Taylor Ryan | Growth Secrets: How to Successfully Launching Dapps and Crypto Projects
📜Summary:
Take a fast-moving ride through the must-haves of launching a blockchain project. This presentation covers tactical and practical insights from an expert in blockchain marketing. You will learn about tools, frameworks, and processes to speed up the launch and scaling of your project. Tackling the prioritization and foundational work is just the beginning. Get a no-nonsense look into new ways of working from a growth hacker's approach to Web3.
🗣 About the speaker:
Taylor Ryan brings a wealth of knowledge from his 15 years of digital growth experience and launching 6x startups as a founder. Taylor is a blockchain expert and has worked with dozens of Web3 projects across different verticals.
🧑🏻‍🏫 As the former owner of an award-winning digital growth agency and a "growth-hacker," Taylor brings an unconventional and a no-nonsense perspective to digital growth. With experience in corporate innovation and building multiple innovation labs for global institutions, Taylor's insights bring both operational and strategic opportunities to light.
📈 Taylor is currently fundraising for an ethical and sustainable Web3 fund, working directly with multiple global startup accelerators, facilitating funding grants for Near Protocol's Marketing DAO (decentralized, autonomous, organization), and speaking at various institutions as a technologist.
📍Local: Lisbon : The Block
📆 Date: January 25 at 6 p.m.
Web3 Wednesday Lx is Back !!