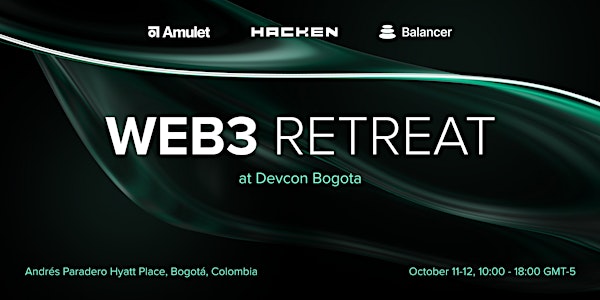 Web3 Retreat
The Web3 Retreat
When and where
Location
Andrés Paradero Hyatt Place # 40 - 51 Avenida Calle 24 Bogotá, Cundinamarca 111321 Colombia
About this event
The Web3 Retreat by Amulet, Balancer and Hacken - FOOD | COFFEE | COWORK | CHILL
A Web3 Retreat is a unique place where you can meet like-minded people from all over the world. Our mission is to create comfortable conditions and an atmosphere in a separate co-working space with fast wi-fi, during the main conference. Throughout our Web3 retreat, you have the opportunity to work, eat, drink, and of course network with interesting individuals.
To save your time, we chose the venue only a few minutes from the leading conference. Also, for our Web3.0 Retreat, you don't need tickets to the main conference to attend.
We are a global Retreat, so you will be able to find us at the majority of the conferences globally!
________________________________________________________________
Be sure to add our TG group below, so you are up to date with where we will be at next! CLICK HERE
________________________________________________________________
About Hacken:
Hacken is a cybersecurity company that protects WEB 3.0 businesses from getting hacked and losing money and reputation. 800+ crypto projects were secured by company's audits, pentests, and bug bounty programs and hence Hacken prevented the theft of more than $10B in both real and virtual assets.
www.hacken.io
About Balancer:
The Balancer Protocol is a core building block of DeFi infrastructure—a unique financial primitive and permissionless development platform. Balancer is the most flexible and versatile Automated Market Maker, giving developers unprecedented customizability.
www.balancer.fi
About Amulet:
Amulet is simple, reliable cover for everyone in web3. The first risk protection protocol for Rust-based ecosystems. Built on and backed by Solana, Amulet has redefined the industry with their unique PCR (Protocol Controlled Reserve) model.
www.amulet.org