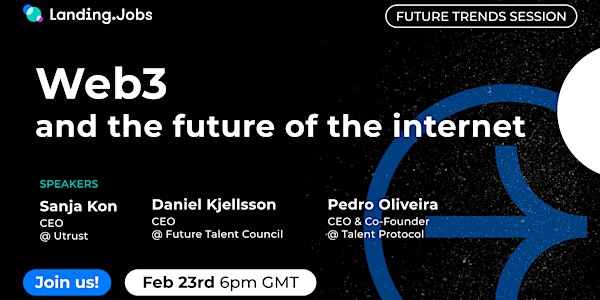 Web3 and the future of the internet
Web3 and the future of the internet
About this event
📢 About this Session:
Web3 is all the rage on the news. But what will it really change in the way the Internet is built and used? Join this discussion and learn how to position for the future.
Join us!
📢 Speakers:
Sanja Kon, CEO at Utrust
Fascinated by how technological innovation impacts our life, constantly investigating new start-ups that will shape our future, Sanja is a mentor and advisor to startups within accelerators and incubator programs.
Also Web3 investor & advisor, ex eBay, Vodafone, PayPal; Business Coach; International Speaker
Daniel Kjellsson, CEO at Future Talent Council
International thought-leader on how successful storytelling can positively effect market cap, freedom of the press in the digital age – and the future effect artificial intelligence will have on global job markets.
📢 Moderator
Pedro Oliveira, CEO and Co-Founder at Talent Protocol
Founder of several tech startups, including Landing.Jobs.
About Landing.Jobs:
We are a candidate-driven tech jobs marketplace, dedicated to matching tech professionals with the right opportunities.What's holding you back? Land the right job. Register here.