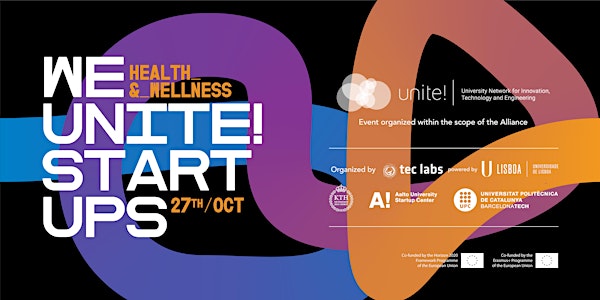 We Unite! Startups || Health & Wellness
Join us in the thematic event "Health & Wellness" |"We Unite! Startups"
About this event
Are you a startup in the EU and operating within the industries of health and wellness? Or maybe you are a curious researcher or student? Learn more about these two important areas.
Meet with experts, learn from startups that have come further and gain insight to trends. You will also have a chance to network with other startups and experts.
This event is part of the initiative "We Unite! Startups"
We are a University Network for Innovation, Technology and Engineering and in collaboration with Tech Labs, Aalto Startup Center, Universitat Politecnica de Catalunya and KTH we aim to bring together startups from Europe , and not only, to network and learn from each other. Until the end of the year and once a month a specific thematic will be presented through an interesting keynote.
Agenda (starting at 11h00 CET):
11h00 - 11h10 | Introduction
11h10 - 11h30 | Motivational Speaker - Startup (founder to founder) - Luís Patrão (UpHill)
11h30 - 12h00 | Key-note Speaker - Health & Wellness Trends - Joana Feijó (Health Cluster Portugal)
12h00 - 12h05 | Break
12h05 - 12h55 | Round tables with experts : Funding opportunities Public vs Private
12h55 - 13h00 | Conclusion