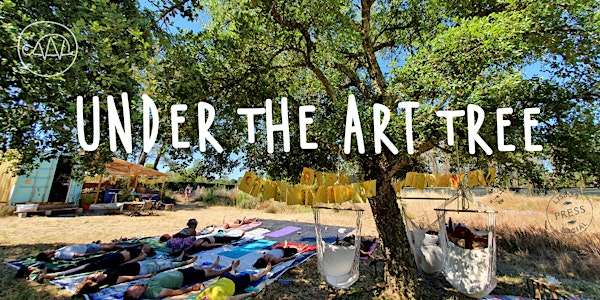 Under The Art Tree - Art & Wellbeing in Arrábida
A weekend of art workshops and wellbeing off-grid in Arrábida Natural Park, celebrating the end of summer and the approaching Autumn Equinox
When and where
Location
The Slow Co-Farm Parque Natural da Arrábida Parral 2970-054 Sesimbra Portugal
Refund Policy
Contact the organiser to request a refund.
Eventbrite's fee is nonrefundable.
About this event
Under the Art Tree - The Autumn Edition
Join Lisboa Social Press and SlowCo for a very special creative retreat from 17/09 - 19/09 when we'll be hosting a series of artistic and holistic workshops, nestled in the verdant beauty of the SlowCo farm.
Lisboa Social Press
Lisboa Social Press founders Jilly & Tom have been designing artistic experiences from their Lisbon Atelier since 2018. With over twenty years of printmaking experience between them and hundreds of workshops under their belts, they've carefully curated a day of artistically engaging activities on the SlowCo farm, aimed at helping you reconnect with your inner artist and the beauty of the natural surroundings in which you'll find yourself.
The Slow Co Farm
SlowCo founders Henrietta & Rik are co-creating a community farm to slow down in nature and grow together. A space to play, learn, create and eat delicious food with new friends.
SlowCo is about slowing down to better connect. With ourselves, with others and with nature.
Welcome to your natural playground near Lisbon for art, music & wellbeing. Come and play!
Yoga
This weekend we will be spoilt with two yoga teachers! Saturday morning slow flow with Grécia, and Sunday morning with Aline.
Grécia - "I have always been a traveler soul and that is what yoga means to me, an infinite journey of the self to the self. The perfect opportunity to experience yourself and create a connection with the divine, with all the forms of creation. Yoga is the way back home, your temple, your body.
My yoga classes combine movement and breathing, starting with a soft awakening of our body and energy and finishing with a sweet relaxation. During the practice, I try to create an space for a deep connection with yourself, your inner truth and power, honouring the beauty of your own existence."
Aline - One year ago Aline left a corporate 9-5 job to become a holistic health coach, a hatha yoga teacher and an art therapist. Her mission is to bring balance and wellbeing to people's everyday lives through mindful movements, holistic coaching and therapeutic art sessions.
Aline's teaching style is fluid and guided by intuition. Her practice of mindful & holistic yoga will take you on a journey to reconnect with yourself authentically and guide you to build lives rooted in mindfulness, self-love, purpose and joy.
Friday (Optional)
18:00 Arrival
19:00 Farm Tour
20:00 Feast & Poetry: Setting intentions for the weekend.
Saturday
Wake up to the sounds of birds, help yourself to fresh fruit and herbal tea from the garden.
08:30 Sunrise Yoga
10:00 Buffet Breakfast
11:00 Meditative Walk, Draw & Forage
We'll be setting off after breakfast on a silent pilgrimage over a stream, past a fresh water spring and into the meadows and cork orchards surrounding the farm. With our sketch books we'll spend this time communing with nature through a series of drawing games and exercises. Taking time to meditate quietly on our intentions and reflections from the previous evening, while focusing on the beauty of our surroundings with a pencil.
13:30 Lunch - Delicious home-cooked vegetarian salads and sides
14:30 Free range. Optional head shoulder & back massage sessions with Henny. Chill in a hammock, dip in the plunge pool, read a book...take it slow.
17:00 Relief Printmaking with leaves & Lino
From the morning's sketches and foraged flora from the walk, we'll spend the late afternoon Under The Art Tree, designing and carving lino blocks before printing our own range of nature-inspired limited editioned prints and cards. After this workshop, you'll never need to buy a greetings card again!
19:30 Harvest Banquet
21:00 Drink & Draw
We'll round off a day of creativity with Drink & Draw, an informal and relaxed workshop designed to reconnect us with the pleasures of drawing and connecting with each other, without a focus on the outcome. We'll start out with a series of quick still-life studies and touch on shading techniques, before moving swiftly on to drawing each other around the banquet table. Drink, draw and be merry.
Sunday (optional)
10:00 Yoga
11:00 Brunch
12:00 check-out (we suggest you head to the Arrábida beaches!)
Tickets:
2 nights (Friday & Saturday)
Camping under the stars
Includes 5 yummy meals, 3 workshops & 2 yoga classes
€100
1 night (Friday OR Saturday)
Camping under the stars
Includes 3 yummy meals, 3 workshops & 1 yoga class
€80
Day Pass (Saturday 11:00 - 22:00)
Includes 2 yummy meals & 3 workshops
€55
Facilities
The SlowCo Farm is off-grid, nestled in the foothills of the beautiful Parque Natural da Arrábida. Disconnect to reconnect.
There are lovely compost toilets and refreshing showers straight from our own well - no chemicals.
We can provide a Fresh & Black pop up tent with a mat and sleeping bag if needed. Or, feel free to bring your own camping gear.
What to bring
Suitable clothes for hot sunny days, yoga class and warm evening wear. The temperature can drop at night.
Yoga mat
Water bottle
Towel
How to get here
We encourage car sharing if possible and can connect you with other participants :)
The exact location will be provided upon booking.
45 min drive from Lisbon. Uber costs roughly €30.
10min drive from Azeitão.
There are also buses from Lisbon to Azeitao.
Learn more about the Slow Co project here: https://slowcowork.com