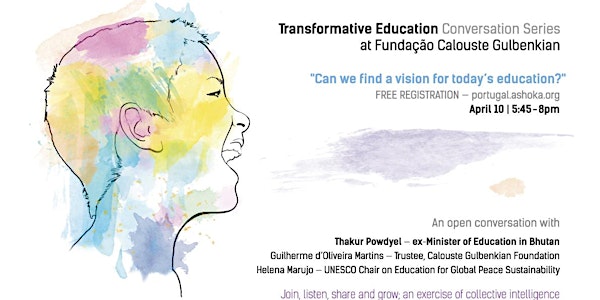 Transformative Education Conversation Series
When and where
Location
Fundação Calouste Gulbenkian Av. de Berna, 45A 1067-001 Lisbon Portugal
Description
Ashoka and Mindfulness in Education are delighted to invite you for a colorful conversation about a primordial question of humankind: What do we educate for?
Supported by the Calouste Gulbenkian Foundation, this event will be the first in a series of conversations with invited guests that will help us look from different perspectives at how Portuguese Education can become a nourishing learning experience which triggers social transformation towards universal wellbeing.
This collective reflection exercise aims at leveraging the insights and experiences of everyone in the room to weave the fabric of an emerging future. Among our distinguished guests, we will have the generous presence of Thakur Powdyel, ex-minister of Education in Bhutan. We will have the possibility to ask Thakur about the conceptualization and implementation of the Green School as a way to align the Education System to the new economic indicators that set the North Star for his country - the Gross National Happiness Index. The dialogue will be opened by Guilherme d'Oliveira Martins, also ex-minister of Education in Portugal and currently Trustee at the Calouste Gulbenkian Foundation, and energized by Helena Marujo, head of UNESCO's Chair on Education for Global Peace Sustainability and lecturer of Positive Psychology at ISCSP-ULisboa.

We look very much forward to have you there!