Dit evenement is afgelopen.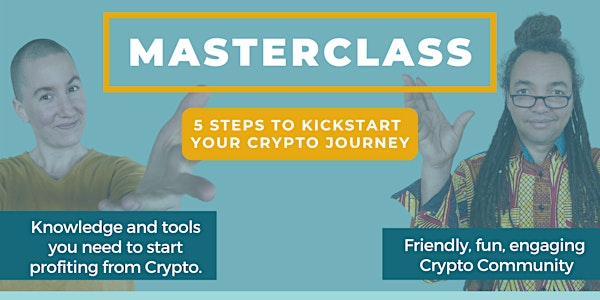 MASTERCLASS - 5 STEPS TO KICKSTART YOUR CRYPTO JOURNEY!
Discover How to Safely Invest Now, to Secure Your Future!
Over dit evenement
MASTERCLASS: "5 STEPS TO KICKSTART YOUR CRYPTO JOURNEY!"
We are running a challenge to help you make your first steps into the world of Crypto, so you can start building financial security for the future.
It is a unique opportunity for curious people who are NEW to Crypto and would love human guidance and a supportive community.
Does that sound like something you want to get involved in?
There is still time left to join in and be in the running for our awesome prizes!
We are giving away $1337 worth of prizes! Here they come:
🔥1st Prize – The Power of Crypto 6-week Live Course ($597)
9 hours of training, interactive learning + bonuses
🔥2nd Prize – 2 x 1:1 Crypto Coaching Sessions with Boef ($550)
To give you tips, tricks and set up a strategy so that you can move forward with clarity & confidence.
🔥3rd Prize – Trezor Model T ($190) the best hardware wallet to keep your crypto safe and secure.
*****
You can STILL join, it's not too late!
1. Jump inside the Crypto Vagabonds Facebook group
👉 https://www.facebook.com/groups/cryptovagabonds
2. Watch the replay #CryptoChallenge of the challenge days that you have missed (they are all pinned to the top of the page as announcements)
3. Submit your challenge task entries by Tuesday 1st June at Midnight
4. Support the other Challengers in the group!
5. Come to our Masterclass: "5 Steps to Kickstart your Crypto Journey" which is being hosted at the Crypto Vagabonds this week at 19:00 pm CEST
*****
A lot of Crypto Legends are taking part and the Facebook group is buzzing with momentum! Come and join in, get involved, we'd love to have you!
Wednesday (2nd June) at 19:00 PM Dutch Time we'll bring you!
Masterclass 💥 "5 Steps to Kickstart your Crypto Journey" 💥
We'll go over 5 simple steps that you can take to increase your confidence in the Crypto World and make your first micro investment.
We will be wrapping up the Crypto Challenge, and go even deeper into ways to keep your bitcoin and other cryptocurrencies safe for generations to come!
You will leave this Masterclass with more certainty and security, feeling empowered to take the next steps!
We're also going to be announcing the WINNERS of the challenge and wrapping everything up with a celebration... well let's just say a Crypto Party!
Here's how we roll:
👇🏻👇🏼👇🏽👇🏾👇🏿
The Tribe
Crypto Vagabonds is a community designed to bring Crypto Enthusiasts together. We create a friendly space to learn about Cryptocurrencies beyond the quick buck!
We're focused on providing foundational information that will help you to withstand the ups and downs of crypto value in the short term, so that you can succeed in the long run!
Everybody is welcome to share their questions and resources in the group. This way we can learn from each other.
Weekly Crypto Talk
Each Wednesday from 19.00 to 20.00 PM CEST we host a Free, Public Crypto Talk. Where we start with a 15 minute Hot Topic presentation and then open up the floor for any sort of Crypto Questions! Such as:
Is it too late to buy bitcoin?
Why does bitcoin have value?
What about the energy consumption of mining?
What are good altcoins to invest in?
What are good exchange platforms and wallets to store crypto?
Social Connection
Human connection can be hard to find in the Crypto World. There are real risks out there, and people do get scammed. We want to provide a safe space, where people can connect, share their knowledge and doubts open and honestly.
Where?
Hosted on Zoom. Your personal zoom registration links are sent out to you via email on Mondays and Wednesdays.
To get your Zoom link, sign up for the network here:
👉🏽 👉🏾 https://onlinevagabonds.com/crypto-talks/
Much Love,
Ra & Boef