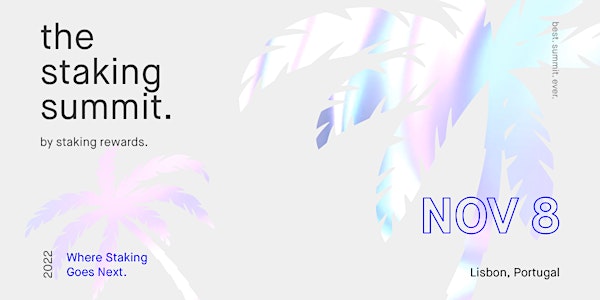 The Staking Summit
Because a bright future won't happen without collaboration.
When and where
Location
LxFactory 103 Rua Rodrigues de Faria 1300-501 Lisboa Portugal
Refund Policy
Contact the organizer to request a refund.
About this event
In a post-Merge world on the verge of institutional adoption, siloed thinking within isolated staking ecosystems is still an all-too-common problem. We're changing that with a full-day summit where you can learn best practices, understand new developments, and review cutting-edge staking and governance challenges, as well as their solutions.
Featuring some of the most influential minds from across the world's top PoS networks, this IRL event will also be a chance to discover, network, and make friends with the people behind some of your favorite protocols. So let's pool our efforts and shape where staking goes from here.
More details about the day can be found in our official announcement
About the Tickets
General Admission: Starting 9 am up until 7 pm for a full day of talks and workshops. Access to the main stage, a dedicated area for networking, as well as a quieter area for getting some work done throughout the day.
VIP Ticket: All the above + Afterparty with DJ, and Drinks starting at 9 pm up until 2 am (although if you want to stay out after, go for it) at the same venue.
About the Payment Process
If you prefer to pay in crypto, please send the full amount as stated in the checkout as USDC/T to 0x4bb8FD9c87eC0358F8457Fe403A5A5A015BA7d32 (Native Ethereum) and send the TX ID to events@stakingrewards.com. We will then message you back with your ticket.
Update 05th October: Over 45 high-profile speakers secured. Many more to come. Hundreds of validators, protocols, and other staking projects attending. Follow our Twitter to follow daily speaker announcements.