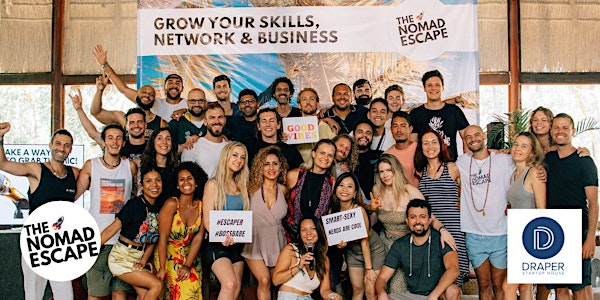 The Nomad Escape Meetup & Mastermind @ Draper Startup House Bali
Join us for an informal evening full of networking and masterminding with like-minded entrepreneurs, digital nomads, and action takers
When and where
Location
DRAPER STARTUP HOUSE - BALI Jl. Raya Tuka, Dalung, Kec. Kuta Utara, Kabupaten Badung, Bali , Indonesia Bali, Bali 80361 Indonesia
About this event
What do you get out of this Mastermind session? When you join you...
will find answers, solutions, and new perspectives on professional or personal challenges
get inspired by other people's life stories, business models, or strategies
come out with a massive network of like-minded friends who you can always call if your want to brainstorm or need advice
be exposed to potential new clients, partners, collaborators, mentors, and inspiring entrepreneurial people.
The Program
5.30- 6:00 PM: Welcome, mingle & relax
6:00 - 7:00 PM: Mastermind session - Business Brainstorming
7:00 - 7:30 PM: Wrap up, Mingle & Relax
What to expect:
During the Mastermind Session you will get the opportunity to brainstorm with like-minded professionals and receive feedback on your business ideas, challenges, questions, or anything you would like to get new perspectives on!
It is a famous concept which The Nomad Escape uses during our business & self-development programs where you will get inspired through peer-to-peer mentoring.
The hosts will provide instructions on how to structure your brainstorming session and optimize your time to get a valuable outcome.
Important - MUST READ
Prepare a clear question you would like to help with from the others to optimize your limited time in the hot seat.
Bring a pen and your notebook
We only start with a minimum of 12 participants in the event. Please RSVP to secure your spot.
We start the Mastermind event at 7:00 PM. Please arrive max at 6:45 PM if you want to join.
We only accept people who arrived on time, if you are too late we can not receive you, as this would interrupt the session.
If you can not make it, please cancel your reservation on time so you can free the spot to someone else.
About The Nomad Escape
The Nomad Escape is a friendly and informal Business & Network Club for location independent professionals and teams. We host retreats and (hybrid) events in exotic locations, focusing on expanding our network, skills, and mindset.
No pitching, no business cards, no suits. Come as you are and connect with like-minded people.
Follow us on Instagram
About Draper startup House
Draper Startup House joined forces with the Draper Startup ecosystem to help execute the enablement of ONE MILLION entrepreneurs by the end of 2030.
The Nomad Escape & Draper startup House have been partners for 2 years and are cohosting this event to merge communities and reach more driven entrepreneurs.
Follow us on Instagram
Check OUR VIDEO BELOW!
UPCOMING EVENTS by THE NOMAD ESCAPE
Check our eventpage https://thenomadescape.com/individual-escapes/
About the Team:
Michelle Maree, Founder & CEO of The Nomad Escape
Michelle has been a remote working social impact entrepreneur for several years, with expertise in education, business development, marketing & sales, experience creation, and community building. She has worked with hundreds of international remote workers and business owners to help elevate their business through community and exclusive programs.
https://www.linkedin.com/in/michelle-maree-32274a84/