Sales Have Ended
Ticket sales have ended
Oh no... the gate to TheGreat Village is closed!
Sales Have Ended
Ticket sales have ended
Oh no... the gate to TheGreat Village is closed!
A creative experience to develop The Great Village, a "gamified experience" where participants are transformed into agents of change.
About this Event
Welcome to The Great Village!
You are entering the global connecting dimension where participants gain "superpowers" becoming agents of environmental and social impact.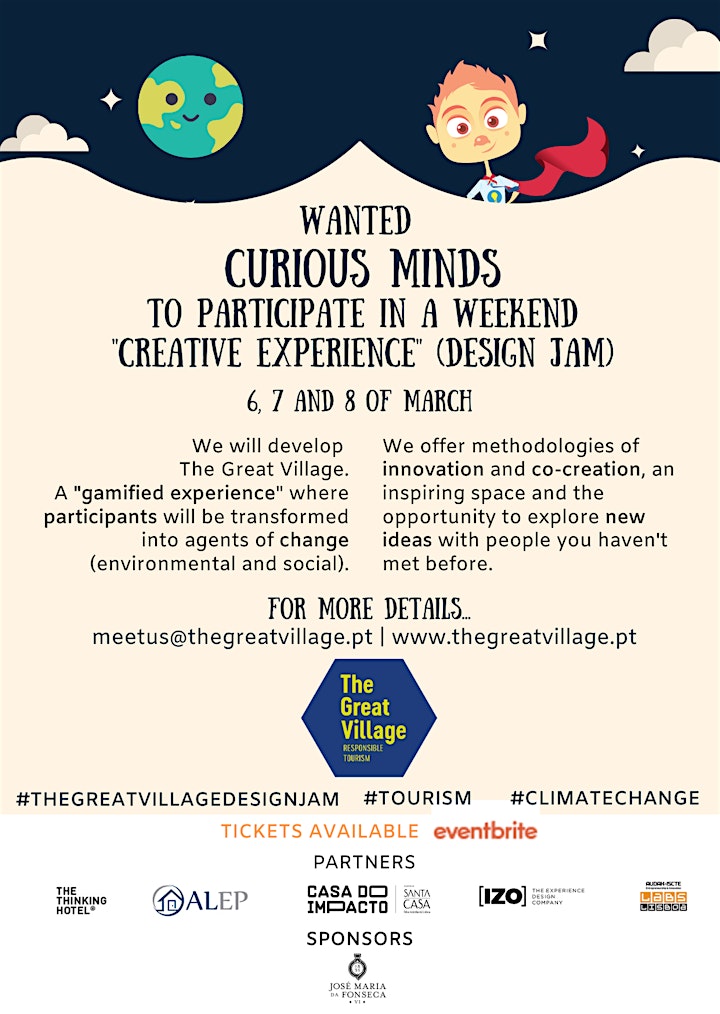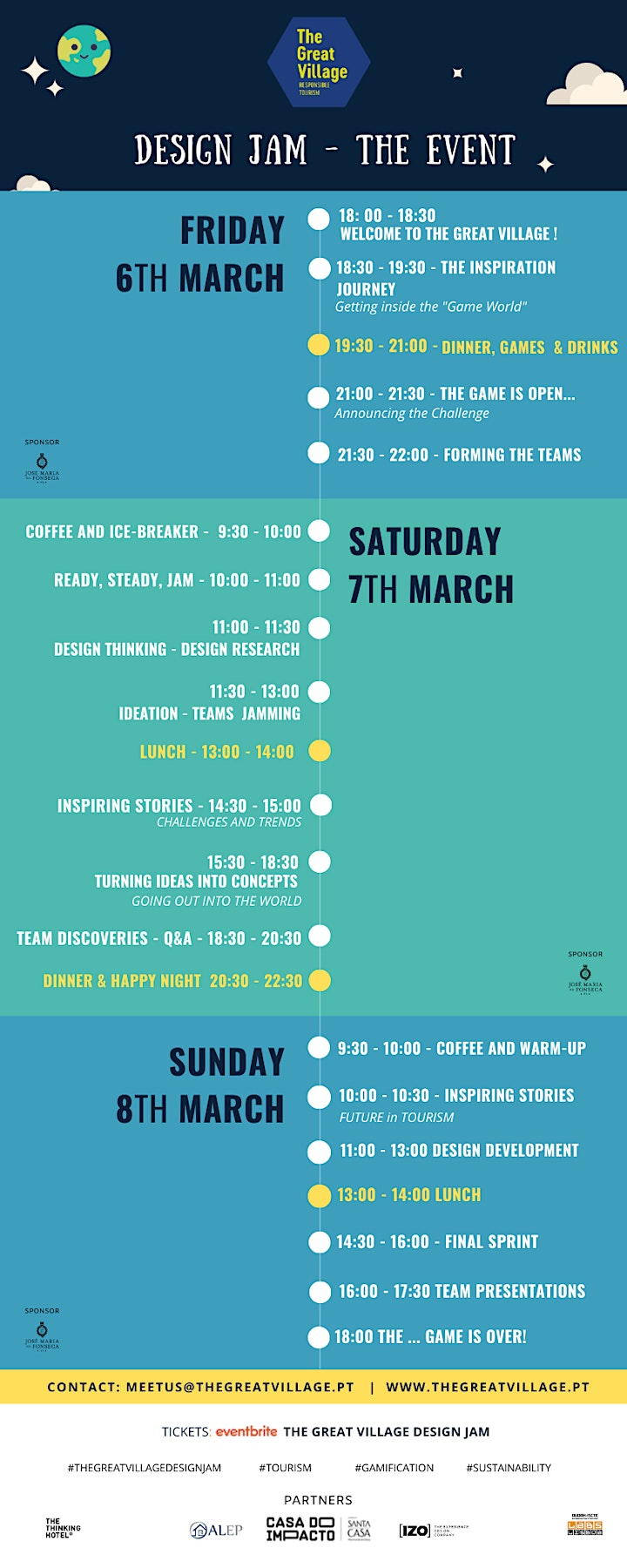 WHAT?
THE CHALLENGE:
WHY THE GREAT VILLAGE?
TO WHO IS IT FOR?
WHAT TO EXPECT?
Thank You For Your Generosity in Hosting Us!
CASA DO IMPACTO – A Casa do Impacto é uma plataforma de inovação e de empreendedorismo social, dinamizadora de uma série de acções no domínio do empreendedorismo, destinada a apoiar projectos que permitam efectivar políticas de responsabilidade social consequentes e impacto social e ambiental positivo. Somos um Hub agregador de várias entidades que partilham causas – uma Casa aberta à comunidade do impacto.
FAQs
1. What is a Design Jam?
A Design Jam is a methodology of co-creation based in principles of Jazz Jamming. A multiple skills and talents team, collaborate in an intuitive and creative flow, the energy is free and it allows spontaneous creation with a minimum structure.
2. Is this event only for Tourists?
No way! This is an event for everyone, people with ideas, curiosity and willing to collaborate. There are no exclusion factors here, except it might be really difficult to anyone with reduced mobility to join this event, as the venue is not adapted for wheelchairs.
3. Why do I need to pay?
To make this Design Jam a real success we will serve delicious and healthy meals, and this why we ask is a contribution from participants (2 dinners and 2 lunches, plus drinks and coffees all the weekend). Plus this contribuition will also be used to support Casa de Santo António (a social enterprise - IPSS).
4. Can I only participate on Friday or the other two days (weekend)? What if I can only participate on Saturday?
At the moment there are only two ticket options:
1) Only Friday evening (Kick-Off event),
2) Or Friday, Saturday and Sunday (the full immersion - whole programme)
These are the two options available, but we promise everyone will have the freedom to get in and out anytime, according to personal availability… and each team´s game!
5. Can I join Friday evening, and then decide if it worth join the full programme?
We can't promise there will be places available, although you can always try, then decide. There is always a chance the gates of The Great Village will open for you… we let this in the hands of the Masters of the Universe! ;-)
6. Refund policy:
What if I get a ticket and then I am unable to participate ? No worries, if unfortunate circumstances will force you to miss this Design Jam, you will have options...
Your ticket can be transferred to another person, all we need is a message with the name of the player that will replace you!
Another option is to keep the credit for a future Design Jam at The Great Village
Otherwise, we can ask the Masters of the Universe, up to 3 days before the event, wether it is possible to refund your ticket. Please note: Eventbrite retains their commission, so refunds will be only The Great Village fee.
7. What is the language of this event?
To be truly inclusive, all sessions and materials will be in English. But there will be plenty of Portuguese people to help with translations in each stage!(the truth is that at the Great Village we aspire to be truly inclusive, and wish to fuse cultures… who knows, maybe one day we will speak all languages, that "superpower" we had when we were children!)
8. What is Gamification?
Gamification is the application of game design in real life context, to help overcome challenges and engage people in a specific activity.
9. Do we need to have experience/knowledge in Design Jam?
No, not at all! It is made with people with available time (with or without experience in Design-Jams) who have a strong appetite for collaboration, interested in the theme, shareability skills, great sense of humour, and open to others.
(Not recommended to: people who carry a huge ego, have traces of allergies to collaboration, that already know everything, unable to accept others ideas, visibly arrogant, or know they own the truth ;-))
10. But is The Great Village a business or an enterprise?
No. So far it is a vision for the future, and is still in early stage of development. One day we will find out if it should be incorporated into an impact enterprise, or a network of agents of change.
This is why we are inviting everyone who resonates with the vision, to take part in this prototyping stage.