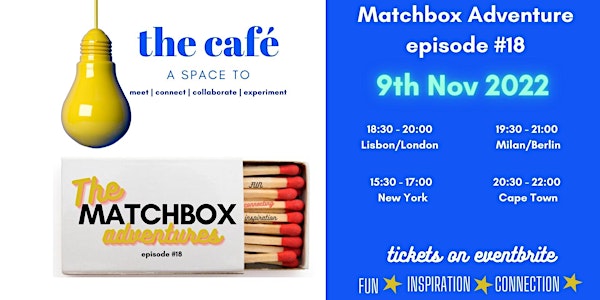 THE CAFÉ | MATCHBOX ADVENTURES - EPISODE #18
The Café is a space to meet and experiment new ideas with random connections.
About this event
Welcome to The Café | Matchbox Adventure Episode #18
The Matchbox Adventures is a universe in which story-sharing is the fuel to explore ideas and solutions, and help someone to overcome a challenge.
Is also about, collaboration, co-creation, design, innovation and creativity, and ways of connecting people while solving problems through different approaches.
Let the creative minds travel!
Since June 2021 we have explored many different worlds, problems, adventures, and build a fabulous network of creative collaborators that is getting better and better!
Before the end of the year, we would like to dive into a new experiment: Dreams.
t can be anything, like writing a song, make a film, travel somewhere, build a tree house, invent a new concept of shoes, create a new recipe for happiness, learn a new skill ... just have to be a dream!
Whatever it is, if there are barriers (we call them problems) that stop it from happen, we aim to co-discover possible solutions.
So…
for the Matchbox episode 18 we are looking for Dreamers, Dream Makers and Problem Solvers – and we hope you will join us on the 9th November.
Join this Matchbox Adventure!
What to expect:
90 min of positive action, being part of a creative experience, help someone solving problems and discover ways to make their dream happen, or share your dream and story to a fantastic group of open mind and creative people, who will be listening and maybe find ways to turn your own Dream into reality.
Participants of previous Matchbox Adventures described the Matchbox Adventures as...
"Setting free our creativity"
"Collaborative caring"
"An amazing experience in servicing and helping and supporting others"
"Encouraging and inspiring"
"Unique and Resourceful"
"Powerful tool and a safe environment"
"Collaborative caring"
"A crazy ride (in a good way) where you never know what's coming your way"
"Matchbox adventures help others whilst learning about yourself. The problems are personal and universal"
It's for FUN, INSPIRATION and HUMAN CONNECTION, and...it's simple!
Ready to be inspired?
Here is the Super Important Matchbox Guest Checklist:
Please join The Café from a laptop/computer (not from a phone or tablet)
It is important to have a really good wi-fi access.
For best experience, please Download the latest Zoom version.
Please make sure you arrive on time (a few minutes earlier if possible.)
This event will be held in English and requires active participation.
If you need help with technology, you are welcome to arrive 15 min earlier: we will be there to help you.
Are you familiar with an online tool called: JAMBOARD? We use this a lot, and if you need an introduction please let us know in advance.
Just one last thing: you need to bring a matchbox with you (don't worry. It will all make sense in the end. Just trust the universe).
PS: yes... of course you can bring a friend or a random connection. We just ask you to get one ticket per person!