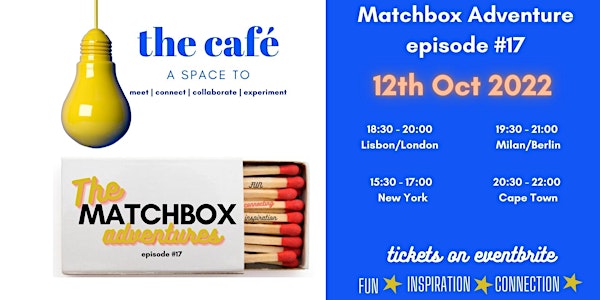 THE CAFÉ | MATCHBOX ADVENTURES - EPISODE #17
The Café is a space to meet and experiment new ideas with random connections.
About this event
Welcome to The Café | Matchbox Adventure Episode #17
A Matchbox Adventure is an event for collaborative action with the aim to solve problems .
In a Matchbox, we use creativity and collective knowledge to generate solutions, and breakthrough a challenge: personal or professional.
Everything is possible! From professional challenges, to personal dillemas, pragmatic or creative, we get on a journey of discoveries and adventures, a bit like travelling together with people we might never meet in real life, but can help solve an important problem for someone!
Do you love problem-solving or have a problem that needs a solution, and enjoy experimentation?
Join this Matchbox Adventure!
What to expect:
90 min of positive action, being part of a creative experience, help someone solving a problem, or share a problem to a fantastic group, who will be listening and find solutions to your own challenge.
Participants of previous Matchbox Adventures told us...
What surprised you the most in this session ? "The theme, I´'ve never thought about that" (problem-solver)
How would you describe the Matchbox Adventure? "Refreshing :D" "illuminating !!!!" "Connecting people" "Care and Collaboration" "A warm thinking tank" "Explorative"
How did this session meet your expectations? "Each time loving it more and more"  (problem-solver)
It's for FUN, INSPIRATION and HUMAN CONNECTION, and...it's simple!
Ready to be inspired?
Here is the Super Important Matchbox Guest Checklist:
Please join The Café from a laptop/computer (not from a phone or tablet)
It is important to have a really good wi-fi access.
For best experience, please Download the latest Zoom version.
Please make sure you arrive on time (a few minutes earlier if possible.)
This event will be held in English and requires active participation.
If you need help with technology, you are welcome to arrive 15 min earlier: we will be there to help you.
Are you familiar with an online tool called: JAMBOARD? We use this a lot, and if you need an introduction please let us know in advance.
Just one last thing: you need to bring a matchbox with you (don't worry. It will all make sense in the end. Just trust the universe).
PS: yes... of course you can bring a friend or a random connection. We just ask you to get one ticket per person!