Sales Have Ended
Ticket sales have ended
We are sorry but registration for this course has ended. Please have a look at our ongoing courses or contact pttraining@radtac.com.
Sales Have Ended
Ticket sales have ended
We are sorry but registration for this course has ended. Please have a look at our ongoing courses or contact pttraining@radtac.com.
Description
*** MUSIC SUMMER FESTIVALS WITH RADTAC PORTUGAL ***
This training course is within the campaign "MUSIC SUMMER FESTIVALS WITH RADTAC PORTUGAL".
Check Terms & Conditions

Course Overview
This one-day hands-on Certified Team Kanban Practitioner (TKP) course follows the official Lean Kanban University (LKU) training materials produced by David J Anderson, Mike Burrows and other leading Lean Kanban experts.
In the course, you will be involved in regular hands-on exercises and discussions that will provide the basics of the Kanban Method and will introduce you to the "alternative path to agility" offered by Lean Kanban.
Course Content
The course follows the official LKU Certified Team Kanban Practitioner syllabus. During the course you will have ample opportunities to discuss and experience the following topics:
The Sustainability Agenda to Address Overburdening
Principles & Practices of the Kanban Method
Meanings of Kanban
Basic Kanban Concepts
Visual Boards
Cycle-time Metrics
Work in Progress Limits (WIP)
Delivery Rate & Little's Law
Overview of 7 Kanban Cadences
Daily Standup Meeting
Replenishment Meeting
Lean Kanban interactive simulation (getKanban or Featureban)
Different Board Designs (including Personal Kanban)
WIP Limits
Types of Risk
Design-a-board Exercise
Introduction to Other Kanban Topics

Service delivery workflow Kanban
Service-oriented Agenda
Proto-Kanban versus full Kanban System
Benefits of extending Kanban up/down workflow
overview of STATIK
Learning Objectives
By the end of this course you will be able to:
Design and implement a Team Kanban board.
Learn the basics of visualising different types of work.
Understand how to proceed to the next level with Kanban
Audience
This course is designed for any professional who is part of a product development or knowledge work environment and who is interesting in discovering how Kanban can help improve working environments. Kanban works across multiple functions of an organisation, from senior members of staff looking to adopt Lean Management to members of delivery teams willing to improve their working practices.
Previous attendees to our classes have been in roles such as:
Senior Management Positions (CxO)
Programme and Project Managers
Product Managers, Product Owners and Business Analysts
Scrum Team Members
Scrum Masters, Team Leads and Change Agents
Product & Software Developers & Testers
Agile Coaches & Practitioners (Scrum, XP, DSDM, AgilePM, etc.)
Other roles such as HR and Finance professionals
Pre-requisites
This course does not have any pre-requisites.
Course Preparation
You should allow some time prior to the course to complete the questionnaire that will be sent to you, this helps us gain a better understanding of your learning outcomes. We'll also send you an e-book Kanban Essentials. You may also wish to familiarise yourself with what to expect howevre this is not essential pre-reading
Certifying Bodies & Exams
This course is accredited by David J Anderson and Lean-Kanban University (LKU). Participants will receive a TKP certificate of course completion from Lean Kanban University as well as membership of LKU.
What You Receive
One-day of high quality instruction from one of our Kanban trainers with over 10 years of experience coaching teams in the public and private sector. Also included are:
Course materials
Membership of the Lean-Kanban University (LKU)
Lean-Kanban University (LKU) certificate of course completion
Refreshments before and during the course are provided, including lunch.
Radtac Community membership including face-to-face and virtual networking and knowledge sharing opportunities, access to industry experts, special offers and invitations to special events.
Scrum Education Units (SEUs)
Attendees may be eligible to apply for Scrum Educational Units (SEUs) towards their CSP (Certified Scrum Professional) through the Scrum Alliance.
PMI Professional Developement Units (PDUS)
Attendees may be eligible to apply for PDUs towards their continuing education requirements with PMI
Meet The Trainer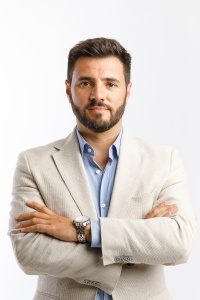 Hugo loves teaching and consulting in Agile, Lean and DevOps, using new governance approaches and Agile practices to change the traditional business model. For the last 10 years, he has been an enthusiastic and versatile Agile Learner all over Europe, and in 2014 he founded the successful conference Scrumday Portugal, now eXperience Agile conferences (eXperience Agile & DevOps, World Agility Forum and Agile Human Factors).
Hugo is also an Accredited Certified Trainer of DevOps Institute, Developments Agile Skills Association, Lean Kanban University, Project Management Institute and International Business Analysis Institute, and he is also a trainer in programs such as CBAP, PMP, RMP, ACP, COBIT, ITIL, Design Thinking, Leadership, Lean Kanban, SAFe, LeSS, and Scrum.
He was a marine in the Portuguese Navy, and his focus in adventures still holds today: he rides his motorbike, and has surfing and paddling as hobbies.
FAQ
What do I wear?
Wear what makes you feel comfortable while trying not to make others uncomfortable. We will be in jeans and golf shirts.
Will food be provided?
Yes, coffee breaks and lunch will be provided.
Are there ID or minimum age requirements to enter the event?
The course is open to anyone age 18 and up.
Do I need to bring a computer to the event?
No. Personal computers are not necessary. All course material will be provided.
How can I contact the organizer with any questions?
Use ptoffice@radtacportugal.com
What's the refund policy?
No refunds. If this is a concern, please contact us.
Can the course be postponed/cancelled?

We reserve the right to postpone or cancel this course if there are insufficient registrations. If this is the case, you will be notified between 3 and 5 working days before the course start date. In this case, you will be offered an alternative date or a full refund. We will not be responsible for any other costs incurred.
Are there discounts for groups?
Yes, if you have a group contact us for a discount.
All trademarks mentioned are the property of their respective owners.