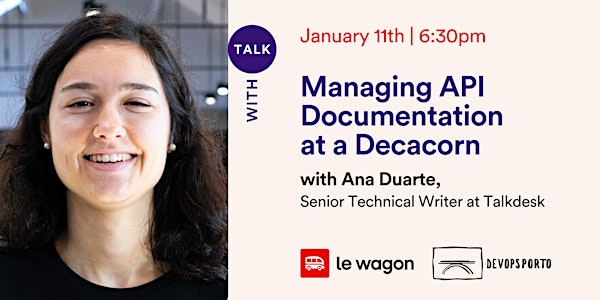 [Talk] Managing API Documentation at a Decacorn
"Managing API Documentation at a Decacorn" with Ana Duarte, Senior Technical Writer at Talkdesk
When and where
Location
Le Wagon Porto Coding Bootcamp Av. Serpa Pinto 311 4450-718 Matosinhos Portugal
About this event
💥 Join our upcoming talk in partnership with DevOps Porto 💥
Ana Duarte, Senior Technical Writer at Talkdesk will be sharing her experience about "Managing API Documentation at a Decacorn"
What is this about? 🤔
How I create and manage developer documentation at work at Talkdesk, an API-first company. We follow a software development strategy that is focused on allowing our partners and customers to integrate with our systems in a customized, easy, and flexible way. APIs are a key element in this approach. And this requires structured and well-written developer documentation so that our customers can learn how to use our APIs.
About Ana 👋
I studied at Universidade da Beira Interior and Universidade do Porto, where I specialized in Sciences of Communication. In addition to these Bsc and Master's degrees, I also have an Executive degree, from Católica Lisbon School of Business and Economics, on Entrepreneurship, Management, and Innovation.
I have been working at tech startups with an international scope since 2015. All my professional experiences revolve around writing. I've been working as a technical writer since 2019, and I've made public presentations within the scope of my work (not as a technical writer though) all over Portugal and also in the USA, Dubai, Belgium, and the UK. Regarding technical writing, I've organized technical several writing workshops to help my colleagues at Talkdesk improve their writing skills.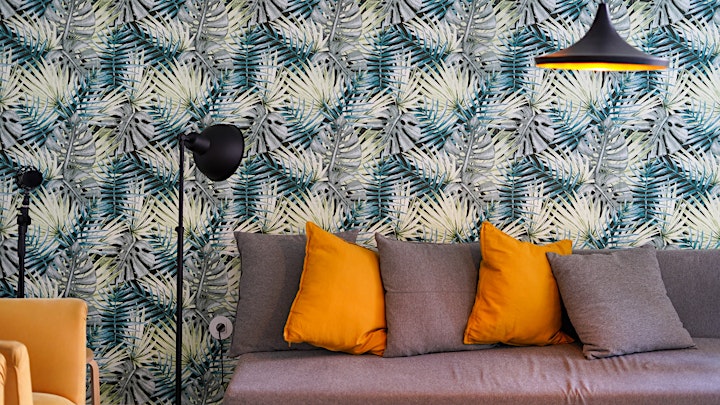 About Le Wagon
Le Wagon emerged in 2014 as one of the first tech bootcamps in France, offering web development and data science programs. Now, it has grown to a robust global community of tech talents with 43 Le Wagon campuses in Amsterdam, Berlin, Lisbon, London, Melbourne, Mexico, Montreal, Singapore, São Paulo, Paris, Tel Aviv, and other cities worldwide.
With this expansion, Le Wagon has helped over 13,000 developers, data scientists, designers, and entrepreneurs start their new careers in tech. Eight years on, the school continues to inspire tech aspirants to find their path in the industry.
About DevOps Porto
DevOps Porto is a community for everyone interested in reducing the pain of software delivery and in building "bridges" between development and operations. Because developing software is not enough, we like to discuss all DevOps related topics from the cultural perspective, such as communication and collaboration, and from the technical perspective, such as source control, continuous integration and continuous delivery.
We're an open group interested in discussing topics related to applications, databases, infrastructure and human factors. So join us and share your thoughts! Join our Slack team https://devopsporto.slack.com. You can get your invitation here: https://devopsporto.herokuapp.com