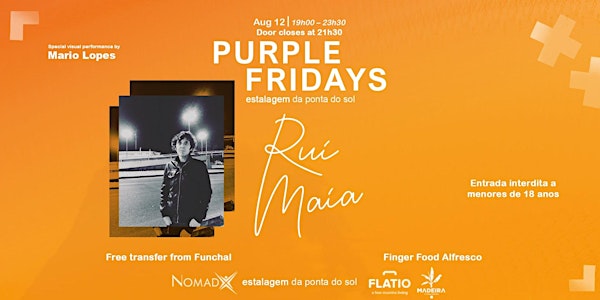 Sunset Socials @ Purple Fridays W/ the return of Rui Maia & Live Visuals
one of the most beloved djs from the Purple Fridays, the only and one Rui Maia - famous producer, musician and dj and live visuals
When and where
Location
Estalagem Da Ponta Do Sol Caminho do Passo 9360-529 Ponta do Sol Portugal
About this event
Hell yessss!
We are super excited to host one of the most beloved djs from the Purple Fridays, the only and one Rui Maia - famous producer, musician and dj and responsible by the famous nights in Incógnito ( Lisbon) . Who remembers the epic Purple Friday he played in April ? This event we will also will bring the amazing visual work of Mario Lopes, he will cover the full red house with unique live visuals, something not to be missed.
This is a Professional Networking Event so NO STUDENTS can enter which will be moderated at the door. Less than 18 years old is also not allowed.
Every Friday, it's a special weekly Sunset Social event for Digital Nomads Madeira Island with the best DJs and live acts. Join us on the cliffs for the most beautiful sunset while overlooking the 1st Nomad Village at Ponta do Sol for professional networking, partying and dancing from one of the most beautiful locations on the Island. Entry to the event requires reservation to our Eventbrite guest list.
Cocktail bar and food Alfresco with 20% discount to all the Nomads. This is an event partnership between NomadX, Estalagem da Ponta do Sol, Flatio.com & Madeira Friends.
Free transport shuttle from Funchal to Ponta do Sol @ 6:30pm, 7:30pm and return. Get your reservations by email: info@pontadosol.com
Dj Rui Maia
Rui Maia is a musician, producer and DJ based in Lisbon, very active in the Portuguese music scene. Responsible for the epic nights in the alternative venue in Lisbon Incógnito, he always presents a unique, sophisticated and happy electronic in his dj sets.
He is the face of the electronic band Mirror People and a founding member of the indie rock band X-Wife from Porto. Currently, he also plays regularly with the pop band GNR and is part of the Rádio Futura team.
As a DJ, he has maintained a regular schedule since 2004, having visited some of the most emblematic Portuguese clubs and festivals such as Lux and Incógnito (Lisbon), Indústria e Pérola Negra (Porto), Lisbon Dance Festival, Lisb-On or Paredes de Coura Festival.
Mário Lopes – video live performance
Born in Lisbon, Mário Lopes is known visual artist that choosed Madeira Island to live in the past years, he presented works in places such as Misty Fest Sintra, Pavilhão de Portugal in Lisbon among many others. He also the founder of projects such as Glitch Visuals Artists and visual sound view. This Purple Fridays he will present live images made in the moment.
NOMADX:
NomadX is on a mission to revolutionize the way remote work travelers, or "Digital Nomads", live, work, and travel the world. At its core, NomadX is a community-centric business for digital nomads. Recent initiatives include Digital Nomads Madeira Island and Cabo Verde Islands with more locations coming soon. We are proud Global Ambassadors and Strategic Partners to Nomads Giving Back, Flatio and Digital Nomads Madeira Islands. https://nomadx.com
FLATIO
Flatio is the strategic accommodation marketplace for the Digital Nomad Madeira Island initiative providing medium-term monthly accommodations (1-12 months) for remote workers, digital nomads, Portuguese or expats that are relocating. Flatio's technology enables its hosts with the latest advances in technology and,in doing so, makes the entire rental process significantly easier in over 18 countries, 60 cities and 3 Islands throughout Europe. Flatio also helps its guests avoid procedural steps from real estate agencies: deposits, the need for personal visits to apartments or signing personal contracts. Virtual tours through the apartments, contracts are signed online and, finally, payments can also be made online by card or crypto, thanks to a proprietary application. Flatio wants its services to be as simple, fast and comfortable as possible, for both parties involved. Some quick benefits:
- No Deposits (6 months)
- Simple Online Contracts
- Utilities & Gas included
- 2 Weeks to 12 Months
- Less than hAirBNB
- Excellent Customer Support
- Host Rates Negotiable
- Fast WIFI
- Discount Code - DigitalNomadsMadeira - for 25% off the service fee https://www.flatio.com
Estalagem da Ponta do Sol
The best way to define the concept that lies behind is the idea of an escape hotel. It is set on the top of a cliff – a more spectacular location is difficult to imagine. It is the only hotel on the island Member of Design Hotels and also is also a known cultural venue, since many emblematic cultural events are organized by estalagem ponta do sol.
https://www.pontadosol.com
https://www.facebook.com/estalagempontadosol
https://www.instagram.com/estalagemdapontadosol/?hl=pt
🌀 Madeira Friends !
Madeira Friends International Community Association, previously known as Madeira Fitness Friends, is a non-profit project with the goal of integrating digital nomads, expats and others in Madeira. Born at the beginning of the nomadic movement on the island over a year ago, their values are very clear: 1. Fitness & wellbeing, 2. Givers, NOT takers, 3. Art, culture and innovation. ❤️ They love Madeira and are extremely inclusive, that's why some locals are already part of it. You can find your Madeira Friends either doing burpees everywhere, raising money, helping local organisations such as animals, kids; or throwing some of the best social, cultural, party and artsy events in Madeira. 😎 Want the fastest way to feel at home on the island? Talk to them. Have you ever been to one of their cool barbecue rooftop pool parties? 😜 Follow them to watch, message them to join: https://instagram.com/madeirafitnessfriends