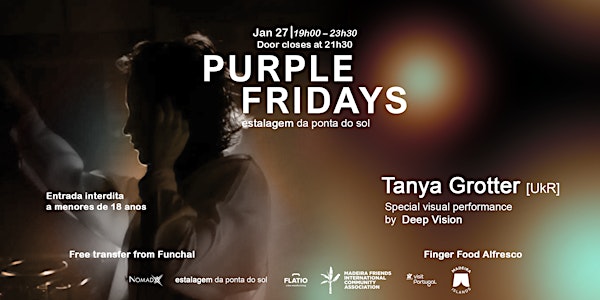 Sunset Social @ Purple Fridays
Sound engineer, producer and Dj , Tanya Grotter, has been performing in the most emblematic places around europe.
When and where
Location
Estalagem Da Ponta Do Sol Caminho do Passo 9360-529 Ponta do Sol Portugal
About this event
Sunset Social @ Purple Fridays - Nomadic Dj
Date: Friday January 27th 2023
Time: 7:00pm to 11:30pm
Doors close at 9:30pm
In the second Purple Fridays of this season we have the pleasure to present , Tanya Grotter, sound engineer, pop producer and Dj, has been performing in the most emblematic electronic venues and festival around Europe, currently living in Lisbon she promises a night of strong beats of Techno and house, but she is also a versatile musician who is able to create a wide range of sounds and styles, so anything is possible for this night. we will also have the visual art by Deep Vision , a Purple not to be missed.
Follow the Purple Fridays Instagram page for updates, promotions and some surprises.
https://www.instagram.com/thepurplefridays/
Tickets available immediately!
This is a Professional Networking Event so NO STUDENTS can enter which will be moderated at the door. Less than 18 years old is also not allowed.
Every Friday, it's a special weekly Sunset Social event for Digital Nomads Madeira Island, expats and locals with the best DJs and live acts. Join us on the cliffs for the most beautiful sunset while overlooking the 1st Nomad Village at Ponta do Sol for professional networking, partying and dancing from one of the most beautiful locations on the Island. Entry to the event requires reservation to our Eventbrite guest list.
Cocktail bar and food Alfresco with 20% discount to all the Nomads. This is an event partnership between NomadX, Estalagem da Ponta do Sol, Flatio.com & Madeira Friends.
Free transport shuttle from Funchal to Ponta do Sol @ 6:30pm, 7:30pm and return. Get your reservations by email: info@pontadosol.com
Tanya Grotter [ UKR] - Dj Set
Tanya is a House and Techno DJ hailing from Ukraine. After graduating as a sound engineer, she worked in the studio as a pop music producer. However, after several years, she decided to pursue her passion for Techno and House music, leading her to become a DJ where she already performed in many emblematic electronic festivals and venues. Due to the Politic situation, Tanya now resides in Lisbon, which she considers her new home. She is thrilled to start a new chapter in her life and share her unique sound with music lovers in Portugal. Tanya believes that music should bring happiness and positivity to the listener, and as a DJ, she sees herself as an intermediary in this process.
In addition to being a talented DJ, Tanya also creates music for video making apps. Her experience as a sound engineer and producer, combined with her passion for techno and house music, has made her a versatile musician who is able to create a wide range of sounds and styles to suit different projects and audiences.
SoundCloud
https://on.soundcloud.com/KcUYNsS7s1ri75iq7
YouTube
https://youtube.com/@tanyagrotter4656
Instagram
https://instagram.com/tanyagrotter_x?igshid=YmMyMTA2M2Y=
Special visual performance by Deep Vision
Diogo Dias, artistic name Deep Vision, an enthusiast of multimedia and new technologies, began his career as a VJ in 2006 and since then has been projecting his digital content for various events in the region. Characterized by a minimalist style using vibrant colors, combining urban influences and moving graphics, it proposes an engaging visual connection so that the viewer feels the connection to the music.
NOMADX:
NomadX is on a mission to revolutionize the way remote work travelers, or "Digital Nomads", live, work, and travel the world. At its core, NomadX is a community-centric business for digital nomads. Recent initiatives include Digital Nomads Madeira Island and Cabo Verde Islands with more locations coming soon. We are proud Global Ambassadors and Strategic Partners to Nomads Giving Back, Flatio and Digital Nomads Madeira Islands. https://nomadx.com
FLATIO
Flatio is the strategic accommodation marketplace for the Digital Nomad Madeira Island initiative providing medium-term monthly accommodations (1-12 months) for remote workers, digital nomads, Portuguese or expats that are relocating. Flatio's technology enables its hosts with the latest advances in technology and,in doing so, makes the entire rental process significantly easier in over 18 countries, 60 cities and 3 Islands throughout Europe. Flatio also helps its guests avoid procedural steps from real estate agencies: deposits, the need for personal visits to apartments or signing personal contracts. Virtual tours through the apartments, contracts are signed online and, finally, payments can also be made online by card or crypto, thanks to a proprietary application. Flatio wants its services to be as simple, fast and comfortable as possible, for both parties involved. Some quick benefits:
- No Deposits (6 months)
- Simple Online Contracts
- Utilities & Gas included
- 2 Weeks to 12 Months
- Less than hAirBNB
- Excellent Customer Support
- Host Rates Negotiable
- Fast WIFI
- Discount Code - DigitalNomadsMadeira - for 25% off the service fee https://www.flatio.com
Estalagem da Ponta do Sol
The best way to define the concept that lies behind is the idea of an escape hotel. It is set on the top of a cliff – a more spectacular location is difficult to imagine. It is the only hotel on the island Member of Design Hotels and also is also a known cultural venue, since many emblematic cultural events are organized by estalagem ponta do sol.
https://www.pontadosol.com
https://www.facebook.com/estalagempontadosol
https://www.instagram.com/estalagemdapontadosol/?hl=pt
🌀 Madeira Friends !
Madeira Friends International Community Association, previously known as Madeira Fitness Friends, is a non-profit project with the goal of integrating digital nomads, expats and others in Madeira. Born at the beginning of the nomadic movement on the island over a year ago, their values are very clear: 1. Fitness & wellbeing, 2. Givers, NOT takers, 3. Art, culture and innovation. ❤️ They love Madeira and are extremely inclusive, that's why some locals are already part of it. You can find your Madeira Friends either doing burpees everywhere, raising money, helping local organisations such as animals, kids; or throwing some of the best social, cultural, party and artsy events in Madeira. 😎 Want the fastest way to feel at home on the island? Talk to them. Have you ever been to one of their cool barbecue rooftop pool parties? 😜 Follow them to watch, message them to join: https://instagram.com/madeirafitnessfriends