Meditation is like a gym in which you develop the powerful mental muscles of calm and insight.
About this event
We are thrilled to feature this session as part of our Vale do Lobo Wellbeing Showcase, a week-long celebration of self-care, reconnection and transformation. It combines Vale do Lobo's most loved wellness experiences with workshops by visiting international experts.
SUNSET MEDITATION
Indulge in the greatest luxury available. Time. To reflect on your inner self, listen to your inner voice and descend into relaxation. Energies, human and spiritual essences all come together to allow you to reflect inwardly, bringing you true peace as you let the inner buzzings of your mind fade away into nothingness, and all that's left is you.
About Mia Le Fay
Born as Miriam Vieira, Mia Le Fay took an interest in people from a very early age, embarking on a career by gaining a degree in Clinical Psychology and in Educational Psychology. In 2010, she began a transformative process when she discovered the world of Reiki through her restlessness; following her soul's calling. Her qualifications also include oriental therapies; Chinese Medicine, Acupuncture, and Physiotherapy. She is currently a therapist and meditation circle leader for adults and children, running retreats for personal and spiritual development. Our regular Meditation & Heart Connection host.
ENSURING THE SAFETY AND WELLBEING OF OUR COMMUNITY, WE FOLLOW ALL DGS RECOMMENDATIONS:
Physical distancing:
Most of our activities are organised outdoors
We ask you to book in advance, ideally online or at Reception
Places are limited to to ensure all safety conditions
Please wear a sanitary mask to access the resort experiences
Hygiene:
Please bring your own towel and a mat
We provide hand sanitizers in visible areas across the Resort
We may measure your temperature or ask travel questions
We request all participants to follow preventive measures, such as hand disinfection before and also during the class
WE ARE BACK TO ON-SITE EXPERIENCES!
[JOIN ALSO OUR OTHER WELLBEING SHOWCASE EXPERIENCES]
-----------------------------------------------------------------------------------------------
MEDITAÇÃO AO PÔR-DO-SOL pela Prof. Mia Le Fay
WELLBEING SHOWCASE
É com especial agrado que apresentamos esta sessão como parte do nosso Vale do Lobo Wellbeing Showcase, uma semana dedicada à saúde e bem-estar de reconexão e transformação. Este evento combina as mais populares experiências de bem-estar do resort com diversos workshops, contando com a participação de alguns convidados e especialistas internacionais.
Sobre esta sessão:
Entregue-se ao maior luxo existente. Tempo. Para refletir sobre o seu eu interior, ouça a sua voz interior e desça ao relaxamento. As energias, as essências humanas e espirituais juntam-se todas para lhe permitir refletir interiormente, trazendo-lhe a verdadeira paz à medida que deixa os burburinhos interiores da sua mente se dissiparem no nada, e tudo o que resta é você.
Sobre Mia Le Fay:
Nascida como Miriam Vieira, Mia Le Fay interessou-se por pessoas desde muito cedo, iniciando uma carreira ao obter uma licenciatura em Psicologia Clínica e em Psicologia Educacional. Em 2010, ela iniciou um processo transformador quando descobriu o mundo de Reiki através da sua inquietação; seguindo o chamamento da sua alma. As suas qualificações incluem também terapias orientais; Medicina Chinesa, Acupunctura, e Fisioterapia. Atualmente é terapeuta e líder do círculo de meditação para adultos e crianças, realizando retiros para desenvolvimento pessoal e espiritual. A nossa anfitriã regular de Meditação e Conexão Cardíaca.
GARANTIR A SEGURANÇA E O BEM-ESTAR DA NOSSA COMUNIDADE É A NOSSA PRIORIDADE. POR ISSO, SEGUIMOS TODAS AS RECOMENDAÇÕES DA DGS
Distanciamento físico:
A maioria das nossas atividades são organizadas ao ar livre
Pedimos que reserve com antecedência, preferencialmente online ou através da receção do resort
As vagas são limitadas para garantir todas as condições de segurança
O acesso às experiências, deve ser feito com máscara
Higiene:
Por favor, traga a sua própria toalha e tapete
Fornecemos desinfetantes para as mãos em áreas visíveis pelo resort
Em caso de necessidade podemos ter que medir a sua temperatura ou questionar sobre as suas últimas viagens
Solicitamos que todos os participantes nas experiências adotem medidas de prevenção, tais como, desinfeção das mãos antes e se possível durante a aula
ESTAMOS DE VOLTA ÀS EXPERIÊNCIAS PRESENCIAIS!
[PARTICIPE TAMBÉM NAS OUTRAS EXPERIÊNCIAS DO NOSSO WELLBEING SHOWCASE]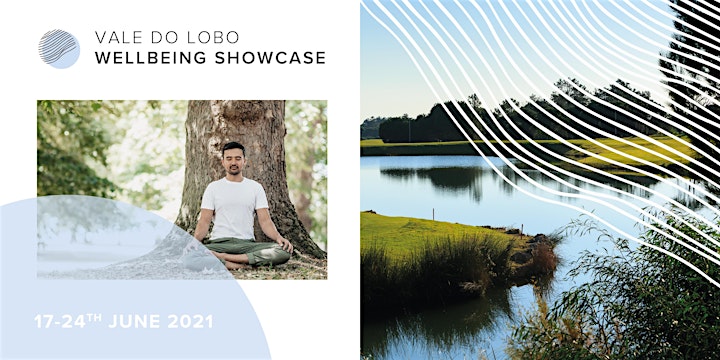 »TO SEE THE FULL EVENT AGENDA AND BOOK OTHER SESSIONS CLICK HERE»
A nurturing gathering in beautiful nature
You will find this World of Wellbeing in the Vale Real area of the resort. This blissful location surrounded by pine trees and overlooking one of Vale do Lobo's iconic golf lakes is the future home of a new 5* hotel. It is the perfect environment in which to connect with nature and your sense of wellness.
Get directions HERE.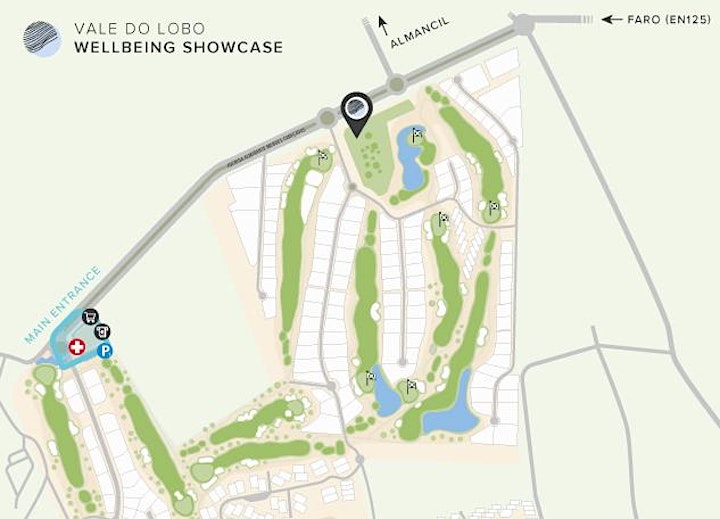 Organiser of Sunset meditation with Mia
A one-of-a-kind oceanfront community development with approximately 1,500 residential and holiday properties, Vale do Lobo is a lifestyle destination offering unlimited experiences, facilities and services in a peaceful and convenient location. A year-round family destination, a sporting haven, a golfer's paradise, a wellbeing hideaway, an impressive investment and a cultural reference, the list is endless. The resort has an impressive portfolio of facilities including two 18-hole golf courses, tennis academy, fitness and wellness centre, medical assistance, 24-hour vigilance and a vibrant line-up of entertainment and events throughout the year.