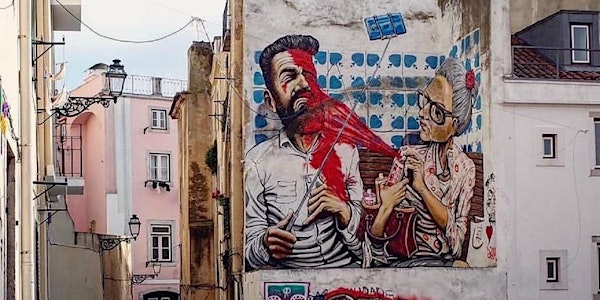 Multiple dates
Street Art Walking Tour
Art is everywhere in Lisbon, even on the streets Art is everywhere in Lisbon
By Discover Lisbon - Tours & Crawls
Date and time
July 14, 2021 · 10am - October 28 · 6:30pm WEST
Location
Praça Martim Moniz 1150-052 Lisboa, Lisbon, 1150-052 Praça Martim Moniz 1150-052 Lisboa, Lisbon, 1150-052 1100-202 Lisboa Portugal
About this event
Art is everywhere in Lisbon, even on the streets. But do you ever take time to think about the meaning behind the graffities so many people pass by? Come and explore Lisbon's art with us and get to know the city from a whole different perspective!
As you probably know, Lisbon is well known for its 'azulejos'. However, we bet that you did not know our city is also considered an open-air canvas for urban street art. In fact, Portugal is ranked in the top 10 countries for outstanding street art! Lisbon's decorated walls are without a doubt the true hidden artistic beauty of this beautiful city and we want to share this with you on our tour!
Street Art has become a strong movement in the Portuguese capital with artists being commissioned to decorate the walls and doorways of the winding streets. The tour will take you to Mouraria to discover iconic pieces by local and international artists such as Banksy, Utopia, Vhils and Shepard Fairey.
Street Art is something that is constantly changing with time - one minute it is there and the next it is gone!
While some of these pieces tend to be for the mere fun of it, many are political in nature and aim to make a statement to be seen by any and all who pass by. During this tour, our expert guide will also uncover the political, historical and cultural movements behind these impressive murals and tags.
What are you waiting to join us and discover the unknown side of Lisbon?
The meetingpoint is the square of Martim Moniz [green metroline | on the square at the monument with soldierheads/bullets/helmets]. Just opposite hotel Mundial and there will be our team holding a board for Street Art Tour.
Your guide will be Véro. In case of any last-minute changes or any delays, please contact her directly on the number 00351 936 825 383.
About the organizer
Welcome!
Discover Lisbon is a Tour Agency Operator based in Lisbon, Portugal, focused on providing Free Walking Tours, Paid Tours, and Private Tours. Our simple purpose is to offer you the best tours in this gorgeous city.
We believe there is no better way for you to visit our colorful city than to walk through its characteristic neighborhoods with our expert local guides. They will reveal every secret of the city while enjoying its breathtaking viewpoints, unique architectural style, and traditional food. Besides, you will be able to make new friends from all around the world!
All the tours start from Rossio Square, also known as Praça Dom Pedro IV. With yellow t-shirts and yellow umbrellas, we will be waiting for you from 9:30 am to 11 am, from 2:30 pm to 3:15 pm, and at 7 pm. We provide tours in English, French, and Spanish.
Every day of the week during each month of the year our yellow umbrellas will be shining under the beautiful blue sky of Lisbon.
Come enjoy, explore and Discover Lisbon with us!