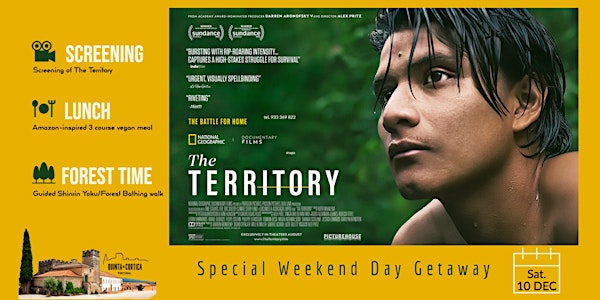 Special Event with screening of new NatGeo documentary: THE TERRITORY
followed by Amazon-inspired vegan lunch & Forest bathing (Shinrin Yoku)
When and where
Location
Quinta da Cortiça Rua nsa Sra da Conceicao 1 3250-407 Cortiça Portugal
Refund Policy
Contact the organizer to request a refund.
Eventbrite's fee is nonrefundable.
About this event
National Geographic granted permission to screen the new documentary THE TERRITORY in this debut event of Kinship Kitchen, hosted in a beautiful 350 year old historic Quinta.
Sundance-winner TheTerritory from NatGeo is a vital examination of the Uru-eu-wau-wau's fight to maintain the sovereignty of their land in the Amazon Rainforest of Brazil.
Partially shot by the Amazon's Uru-eu-wau-wau people, the documentary The Territory is an "urgent, visually spellbinding" look at the fight of an Indigenous community against the encroaching deforestation caused by illegal settlers.
The screening is followed by a 3 course VEGAN Amazon-inspired lunch and post-film table conversations.
After lunch you are invited for a slow walk in the surrounding old forest area to relax and unwind.
Don't miss this SPECIAL screening event. There are just 25 seats available.
Overview
10:30 doors open at Quinta de Cortiça.
11:00 SCREENING STARTS- The documentary follows the vital, inspiring fight of the Indigenous Uru-eu-wau-wau people of Brazil to defend their land from non-Indigenous farmers intent on colonizing their protected territory in the Amazon rainforest. Co-produced by the Uru-eu-wau-wau community, the film draws on intimate access to both the Indigenous perspective and the farmers who want their land to chronicle a conflict that has profound implications for the survival of a people and the planet. (Documentary audio: Portuguese / English subtitles).
"They want us to disappear. We're not going to let that happen. Historically, our existence has been marginalized and erased. Through this film we're changing that" — BITATÉ URU-EU-WAU-WAU
12:30 LUNCH IS SERVED - Conversations over a 3-course AMAZON-inspired VEGAN lunch . A wonderful carefully prepared slow vegan lunch allows ample time to discuss and reflect on the documentary.
13:45 - SHINRIN YOKU/FOREST BATHING **- a gentle guided nature walk in the old forest area outside the Quinta de Cortiça, a biodiversity hotspot in this historic region. A chance to slow down and open our senses allowing us to connect to nature with our whole self.
** subject to weather conditions that day. .
16:00 - 16:30 CLOSING - Return home inspired and relaxed
Cost
To make this event accessible for everyone - tickets are set at a Pay-What-You-Can basis. All profits will be donated to the 'Uru-eu-wau-wau association'. We ask that you reflect on what you can genuinely afford with ease (and joy!) when choosing:
PARTNER: €40,00
SUPPORTER: €25,00.
FRIEND: €15.00
☘️ Focus on nature for the day
🍃 Meet like-minded people
🌱 Return home inspired and relaxed
We are excited and very much look forward to welcome you on Saturday, December 10!
Elli, Tony, Auricelia, Carlos, moniQue
P.S. if you want to be there but are unable to purchase a ticket, we have a few karma-tickets available. Click on 'contact the organizer' to request one.
SUPPORTED BY: Picture Motion for National Geographic
LOCALLY OFFERED BY: VeganETing, Kinship Kitchen, Quinta de Cortiça.