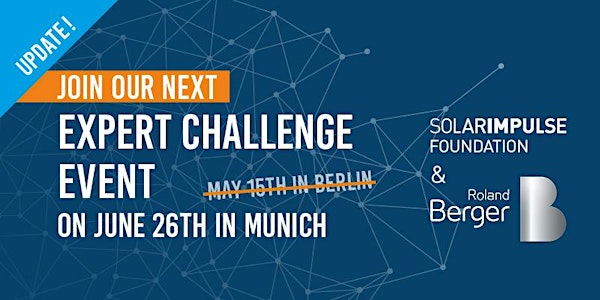 Solar Impulse Foundation x Roland Berger Experts Challenge Event
Gathering our Experts Community in an interactive assessment day
When and where
Location
Roland Berger Munich Sederanger 1 80538 München Germany
About this event
UPDATED EVENT:
Please note that this version replaces the initial event that was to be held on May 15th in Berlin.
Dear current or prospective Expert,
After a successful 1st edition last month in Paris, the Solar Impulse Foundation is pleased to invite you to its upcoming Expert Challenge Event in partnership with Roland Berger on June 26th, 2019 in Munich.
Where? Roland Berger offices in Munich
Sederanger 1, 80538 Munich, Germany
When? All day (lunch included), from 8:30 am to 6 pm.
Deadline for registration: June 13th, 2019
We'd love to see you there, as this event will be a great opportunity for you to network with other Solar Impulse Experts from various fields, take part in workshops hosted by our team and assess Solutions in a great location!
You will also hear pitches from innovative Solar Impulse labelled Solutions, and the day's keynote adresses will be given by Bertrand Piccard and Charles-Edouard Bouée, CEO of Roland Berger.
In addition to this exciting program, this new and extended version of the event will allow us to host Expert technical round-tables in the afternoon: these will be comprised of an initial seminar-style introduction to the topic by the hosting Expert, to be followed by a discussion/debate amongst participants. Themes from past events' round tables included smart grids, bioplastics, carbon capture, fatbergs...
If you would like to animate a round table in your field of expertise, please contact Léa Andersson (lea.andersson@solarimpulse.com) with a short description of your motivations and topic of choice. We will then send you additional information on the expected structure and outcomes of the round-table session.
Once registered, we'll send you the finalised programme and some useful information over the coming weeks by email.
The deadline for registration is set on June 13th, 2019 at midnight.
PLEASE NOTE: it is crucial for all prospective experts to submit their profile on the Solar Impulse website here before June 13th. Only experts who created and submitted their profile on the Solar Impulse website will be allowed to attend the event.