Refund policy
Contact the organizer to request a refund.
Eventbrite's fee is nonrefundable.
The Festival of Intelligence is back this year with more speakers, initiatives and content.
About this event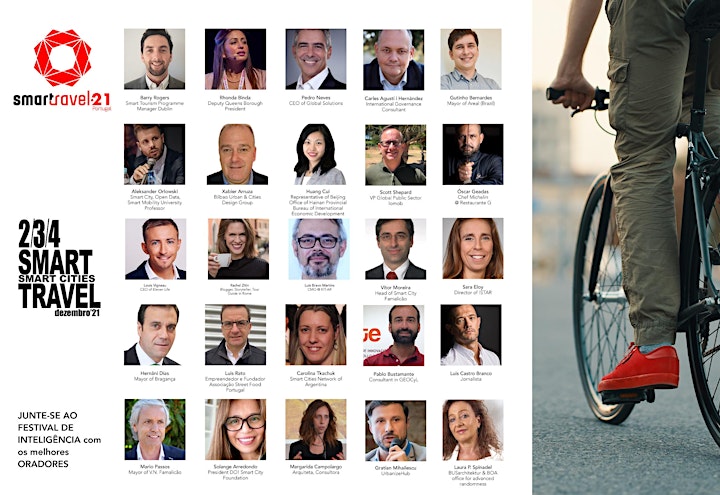 Visit website for more information / Mais informações no website
YOU WILL RECEIVE A LINK 24H PRIOR TO THE EVENT
RECEBERÁ UM LINK DE ACESSO 24H ANTES DO EVENTO
ENG
Festival dedicated to Smart Cities and Smart Tourism with a special focus promoting best practices, case studies, conceptual innovations, novelty services and products, creativeness, and interactions between tourists, citizens, cities, corporations and stakeholder.
The debate options, reflecting and exchanging ideas in an intimate and friendly environment has always been one of the strengths of the SMART TRAVEL event, revealing clues and new alternative paths. FEATURING IN 2021 EDITION, THE INVITED KEYNOTES AND CITIES FROM EUROPE AND ABROAD BRINGING AN IMPORTANT NETWORKING MOMENTUM FOR SMART CITIES
SMART TRAVEL is the event that defines the trends for smart cities in Portugal. In 2021, we added a FESTIVAL OF INTELLIGENCE.
Smart Travel, like other events in the current context, will have to adapt and integrate in more dynamic systems and consistent with its mission of sharing information and good practices.
Despite having contributed to an excellent dynamic for the solidification of Smart City Bragança, the organization intends to give a new impetus to the future, promoting itself as a solid brand of intensive and extensive knowledge of the theme of smart cities and smart tourism.
Thus, already in 2021, and following all the problems caused by the pandemic COVID-19, the decision was made to suspend the physical realization of the event, organizing a hybrid festival, maintaining the same quality of the contents but resorting to an online platform capable to increase the scope and awareness of the smart destinations that will be highlighted.
PT
Festival dedicado às Cidades Inteligentes e Turismo Inteligente com enfoque especial na promoção das melhores práticas, estudos de caso, inovações conceituais, novidades em serviços e produtos, criatividade e interações entre turistas, cidadãos, cidades, empresas e stakeholders.
As opções de debate, reflexão e troca de ideias num ambiente intimista e amigável sempre foi um dos pontos fortes do evento SMART TRAVEL, revelando pistas e novos caminhos alternativos.EM DESTAQUE NA EDIÇÃO DE 2021, AS NOÇÕES-CHAVE E AS CIDADES CONVIDADAS DA EUROPA E NO EXTERIOR, TRAZENDO UM MOMENTO IMPORTANTE DE REDE PARA SMART CITIES
O SMART TRAVEL é o evento que define as tendências das smart cities em Portugal. Em 2021, adicionamos um FESTIVAL DE INTELIGÊNCIA.
O Smart Travel, tal como outros eventos no contexto atual, terá de se adaptar e integrar em sistemas mais dinâmicos e consistentes com a sua missão de partilha de informação e boas práticas.
Apesar de ter contribuído para uma excelente dinâmica para a solidificação da Smart City Bragança, a organização pretende dar um novo impulso pra o futuro, promovendo-se enquanto marca sólida do conhecimento intensivo e extensivo da temática das smart cities e turismo inteligente.
Assim, já em 2021, e na sequência de toda a problemática causada pela pandemia COVID-19, foi tomada a decisão de suspender a realização física do evento, organizando um festyival hibrido, mantendo a mesma qualidade dos conteúdos mas recorrendo a uma plataforma online capaz de aumentar a abrangência e notoriedade dos destinos inteligentes que estarão em destaque.
Check previous editions / Ver edições anteriores: