About this Event
PT
Quando foi a última vez participaste na criação de uma comunidade?
O Design de Serviços é essencial para organizações privadas ou públicas que precisam de inovar ou querem melhorar a sua estratégia, oferta e experiência de serviço. Em janeiro de 2019, a Service Design Network (SDN) irá lançar o seu capítulo oficial em Portugal — uma comunidade de prática onde se pretende criar e partilhar conhecimento/oportunidades. Convidamos todos os profissionais e pessoas interessadas em COCRIAR esta comunidade a registarem-se neste evento.
Junta-te a esta iniciativa e vem ajudar-nos a perceber como podemos criar impacto real, que capacite pessoas e alavanque a transformação de negócios através da inovação de serviços.
Idioma: Português
———
EN
When was the last time you helped to design a community?
Service Design is critical for private and public organisations that need to innovate or want to improve their service strategies, offer and experience. In January 2019, Service Design Network (SDN) will be launching its official chapter in Portugal — a grassroots community in which people connect, create and exchange knowledge/opportunities. We are inviting all practitioners and interested people to help us COCREATE this community and sign up for this meetup.Join this initiative and help us understand how might we create a real impact, that empowers people and enables business transformation through service innovation.
Language: Portuguese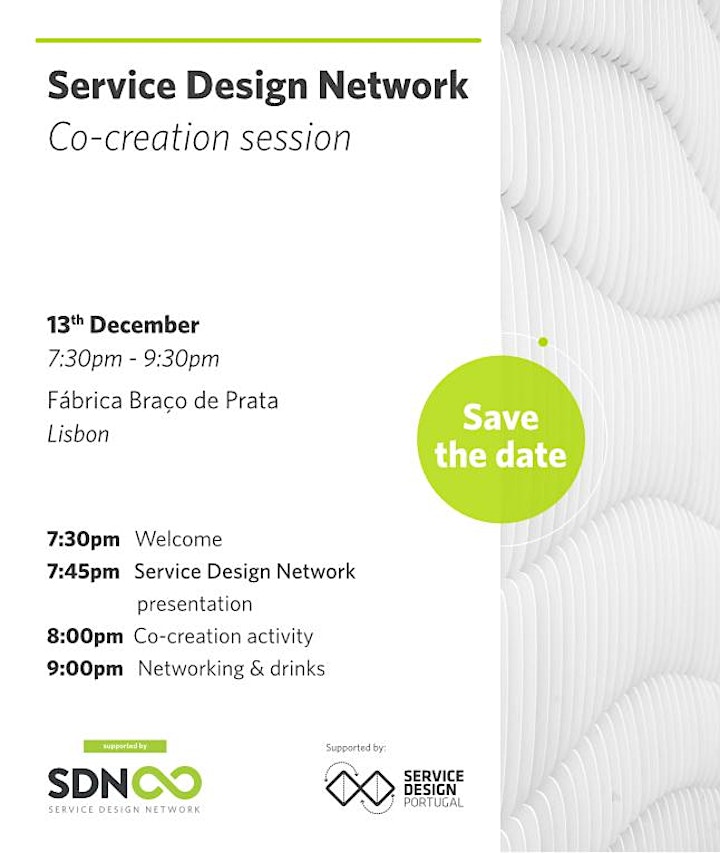 Agenda:
19:30 - Boas-vindas
19:45 - Apresetanção da Service Design Network
20:00 - Actividade de Co-Criação
21:00 - Bebidas & Networking