Service Design Drinks à conversa com Andy Polaine e Jon Kolko
When and where
Location
Rua das Fontaínhas, nº 82 1300-257 Lisboa Portugal
Description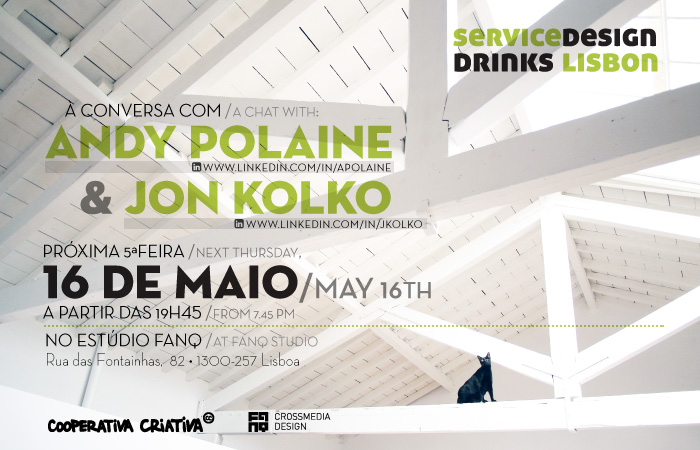 Vamos brindar a mais um Service Design Drinks!
No próximo dia 16/Maio, realiza-se na FANQ às 19h45, o 2º Service Design Drinks de 2013!
Sendo um encontro informal de interessados e curiosos do Service Design, esta edição conta com a presença de dois oradores muito especiais e que se encontram em Lisboa para o UX Lx: User Experience Lisbon e são eles: Jon Kolko e Andy Polaine!
Jon Kolko é o Vice Presidente de Design na MyEdu, e o fundador e director do Centro de Design de Austin. O seu trabalho centra-se em trazer o design como ferramenta de poder para as empresas de intuito social. Jon é autor de vários livros sendo o último,Wicked Problems: Problems Worth Solving focado nos grandes problemas sociais e o papel do design na mitigação destes problemas.
Veja mais em:http://www.jonkolko.com
Andy Polaine é professor e pesquisador em design de serviços na Lucerne University of Applied Arts and Sciences na Suíça. Andy foi co-fundador do colectivo Antirom em Londres e trabalhou com clientes como a BBC, o museu da ciencia e Levi Strauss and Co. Andy é co-autor do livro Service DesignFrom Insight to Implementation que se declina sobre o design de serviços e aprofunda metodologias para o gestão da disciplina e a sua integração em empresas e organizações.
Veja mais em:http://rosenfeldmedia.com/experts/andy-polaine/
O Drinks começa às 19h45 e é BYOB, ou seja, bring your own bottle! A FANQ é na rua das Fontainhas, nº 82 em Alcântara, Lisboa. Vejam mais em http://www.fanq.eu/
Esperamos por todos vocês!
-----------------------

Lets toast to another Service Design Drinks!
On May 16th, the 2nd Service Design Drinks of 2013 will take place at FANQ at 19h45!
Being an informal gathering service designers and curious minded people about service design, we will have two very special speakers, who are here in Lisbon for the UX Lx: User Experience Lisbon, Jon Kolko and Andy Polaine.
We'll be talking to you a bit more about our two speakers in the next couple of days, so keep an eye out for our Facebook page
The event begins at 19h45 and it's BYOB, i.e., bring your own bottle!
FANQ is at Rua das Fontainhas, nº 82 em Alcântara, Lisboa. See more at http://www.fanq.eu/
Please register here at eventbrite
We are expecting you!