Location
Secret Garden LX
Largo Monte
1170-253 Lisboa
Portugal
If you're looking for the hottest crypto community in Lisbon, you found it! Meet us at the Secret Garden sunset club every Wednesday.
About this event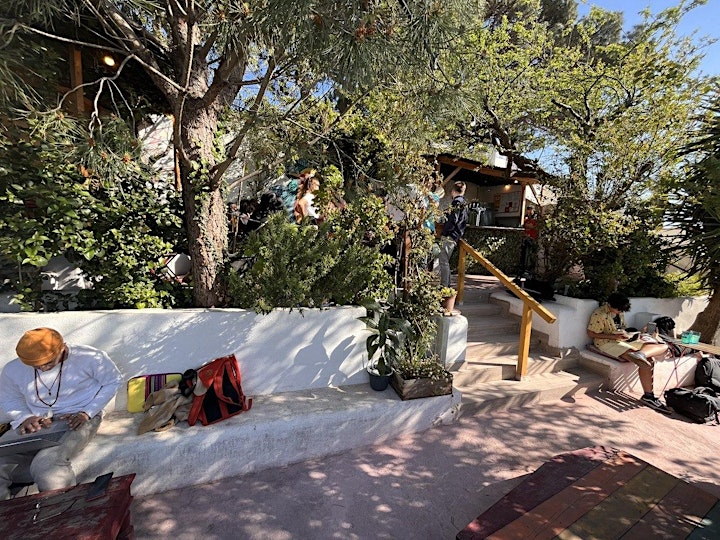 Congrats, you just discovered the hottest weekly crypto event in Secret Garden Lx Lisbon! 🔥 Meet the amazing Web3 community of Lisbon, participate in educational workshops and enjoy great drinks & food.
This event is ideal for networking, making friends and soaking in summer sunset vibes in Lisbon.
Pro tip: Come early to catch live concerts by local NFT musicians 🎵
🔥This Wednsday we also have cool kids on the block! The Badass Show team will film the event and our spicy community for their pilot! 🌶
Badass Show is an edutainment talk show about Web 3.0 and an exlusive invitation-only monthly event for top Web 3.0 experts.
Who are we?
We are a collective of Web3 visionaries, degens, developers, NFT artists, and digital nomads. We entered the crypto space for coins, but we stayed for the community ❤. Discord is cool, but real life is cooler. Meet the people behind PFPs, they just might become your new BFFs.
The name of our collective is Chili Bangs 🌶 If you'd like to join our spicy community, scroll down to find our Telegram channels!
Program for this Wednesday 🌶
Web3 Wednesday Secret Garden Lx we will have Special Surprise with an exquisite panel and various themes:
NFT | DAO | DEFI and ReFi | Blockchain|
The different financial and social benefits of Web3 technology.
Project presentations.
Opportunity to ask questions to experts in the field.
🕰 4pm Opening of the Web3 wednesday:
"Aperitif and music with Special thanks to Tank Metaverse for being the Sponsors of the Special Spicy Panel".
"Many thanks to Maria do Carmo for the help in the creation of the Panel."🌶 🎼
🕰5pm Let's open the Spicy opportunities panel:
"Who arrived in Lisbon or who was not lucky enough to connect with the Folks and Degen's community of Web3, looking for a connection or to show your project or company, arrived at the right place and at the right time". 💼
🕰6pm Special Spicy Speaker:
"Order books vs. AMMs: The Future of Decentralised Exchanges".
"For over three years we have been working on how to take any token and make it delta neutral, effectively turning any token into a stable currency. Obviously, this couldn't be launched at a more relevant time".
"This is an entirely new protocol, (not DeFi) referred to as "Atomic Composition" and we achieved this using synthetic and structured TradFi products, protecting your token, providing insurance and responsible leverage".
3. Jason Peter Stevens 12 Butterflies
"The founder of 12 Butterflies (12b), an SDG/Web3 Consultancy with around 70 products in our ecosystem, with a heavy and passionate focus on DAO 12 Butterflies, a place for young women <23 years old and under, suffering from Mental and Emotional Health Challenges, who are supported by Women in Web3".
4. Milton Guarderas Investor Hyperlens
"CBDO of Hyperlens, has in-depth experience in the Blockchain, NFT, Play2earn, and BTC OTC space. He has been building meaningful connections for the last 5 years by hosting famous crypto dinners worldwide, while focusing on bringing investment into Latin America and building bridges between India, Africa and the Middle East.Importance of blockchain infrastructure".
5. Rui Lagos Co founder Rabid DAO , Blockchain project manager
"Changing the world of Extreme Sports 🏆""A decentralized ecossystem with 4 main elements: Betting Platform▫️Casino▫️NFT's▫️Social ProjectsHow to adapt blockchain to businesses".
6. Dima Budorin CEO Hacken
"Many web applications process sensitive data including user and financial information, making them of enormous interest to malicious attackers. As the complexity of web applications increases, the range of exploitable vulnerabilities will increase. This is why Hacken's web penetration testing services are so crucial for our clients".
"AMBER is a Web3 Game based on blockchain NEAR with various of battle modes and PLAY 2 OWN mechanics. As a result, the center and core of which will be genezis world, with the possibility of infinite improvement and expansion also the world will have decentralized management via DAO and where users can buy, sell, gift, and burn their own 3D randomly generated avatar and property or create their own. It also an open world with different activities, services and integrations. It allows users to get a virtual experience traveling through themed spaces playing games, using microservices, chasing communities, and visiting events".
8. Natacha Cottu CEO Artsies Colletive
"Natacha is the Co-Founder of Artsies Collective, an NFT project that revolves around Art, Fashion & events and that has for aim to empower new & upcoming Artists from the inside out. They have a gallery in the Metaverse where they host exhibition for & from their Artists from their community. Natacha is also a Life and Business Coach since 3 years, helping social entrepreneurs finding alignement withn themselves & their business"
🕰9pm Dinner in Pizzeria La Matta for the most Spicy of you all 🌶
Where?
📍 Enjoy a beautiful view of the city and stunning sunsets from the Secret Garden urban oasis & art gallery. The Secret Garden is called like that because it is a bit hidden.
You will see a small door that will look like it leads to someone's private garden, but don't be scared to open it. Enter, walk downstairs and open the second door. Just walk in and you'll be in the Secret Garden!
When?
⏰ 5pm till 10pm. Come early to soak in the sunset! Most people arrive quite early so don't be afraid to do the same. After the event we often go to a nearby restaurant for a late-night degen dinner.
Price for New Membership in Secret Garden Lx
💸 The entry to the event is free! But Secret Garden is a cultural organization and they collect a small 5 EUR yearly fee. This fee goes to support the cultural organization and is unconnected to Web3 Wednesdays. You pay this fee once and you can come to the Secret Garden whenever you want!
❗ We want to keep the event intimate and chill, so there's only 100 tickets available per event. Don't miss out!
Join the community 🌍
Partners 💼
Non-fungible conference I astrocave.academy I Hyperlens.io I Ethernaal.io I Tank-metaverse.com I Tokapi.com I Harmony.one I One Plus One Creative I Artsies Collective I Degen house | Hacken | Amber |
🌶🎓👘🎨🪴❤️