Location
Secret Garden LX
Largo Monte
1170-253 Lisboa
Portugal
If you're looking for the hottest crypto community in Lisbon, you found it! Meet us at the Secret Garden sunset club every Wednesday.
About this event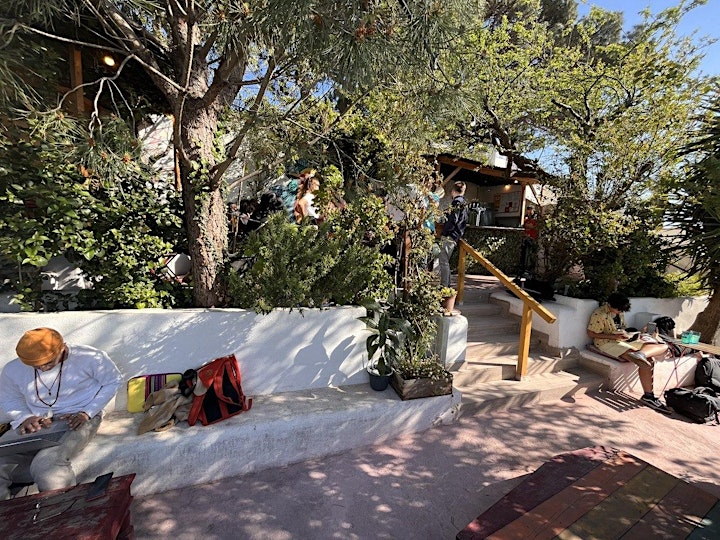 Congrats, you just discovered the hottest weekly crypto event in Secret Garden Lx Lisbon! 🔥 Meet the amazing Web3 community of Lisbon, participate in educational workshops and enjoy great drinks & food.
This event is ideal for networking, making friends and soaking in summer sunset vibes in Lisbon.
Pro tip: Come early to catch live concerts by local Musicians 🎵
Who are we?
We are a collective of Web3 visionaries, degens, developers, NFT artists, and digital nomads. We entered the crypto space for coins, but we stayed for the community ❤. Discord is cool, but real life is cooler. Meet the people behind PFPs, they just might become your new BFFs.
The name of our collective is Chili Bangs 🌶 If you'd like to join our spicy community, scroll down to find our Telegram channels!
Program for this Wednesday 🌶
Web3 Wednesday Secret Garden Lx we will have Special Surprise with an exquisite panel and various themes:
NFT | DAO | DEFI and ReFi | Blockchain|
The different financial and social benefits of Web3 technology.
Project presentations.
Opportunity to ask questions to experts in the field.
🕰 4pm Opening of the Web3 wednesday:
"Aperitif and music with Special Community in Web3".🌶 🎼
🕰5pm Let's open the Spicy opportunities panel:
Who arrived in Lisbon or who was not lucky enough to connect with the Folks and Degen's community of Web3, looking for a connection or to show your project or company, arrived at the right place and at the right time".
For all those who want to support the Chilibangs Project and help by contributing to the community, we will be happy to provide you with Spicy events, high quality meetings with Preminum guests.
We will soon have goodies for the community, accessories that you can buy, to make you feel even more Spicy.
ChiliMeta Wallet (MetaMask) for Spicy donations and thanks to all: 0xc0d236F98F904589436aC0a24bfB99851acB0534 💼
🕰6pm Special Spicy Speaker:
We will have on the 10th edition panel, some of the projects most cherished by the community, and new gifts.
In this edition we will have a round table style where everyone will be able to interact, guided by a moderator.
Raiz Vertical Farms| Hyperlens | Lazarev Agency | EDGE | Algorand | AtomicHUB
We will organize a Professional Recruitment.Registration during the event to participate in the future web3 Investors and Recruiters where you will find who has work to offer and those looking for opportunities to find a job or a first professional experience.
"Speakers: Nastya Nitievskaya, Milton Guarderas, Emiliano Gutierrez, Adam Whyte , Claudio Funk and more surprise in this great Panel".
🕰9pm Dinner in Pizzeria La Matta for the most Spicy of you all 🌶
Where?
📍 Enjoy a beautiful view of the city and stunning sunsets from the Secret Garden urban oasis & art gallery. The Secret Garden is called like that because it is a bit hidden.
You will see a small door that will look like it leads to someone's private garden, but don't be scared to open it. Enter, walk downstairs and open the second door. Just walk in and you'll be in the Secret Garden!
When?
⏰ 5pm till 10pm. Come early to soak in the sunset! Most people arrive quite early so don't be afraid to do the same. After the event we often go to a nearby restaurant for a late-night degen dinner.
Price for New Membership in Secret Garden Lx
💸 The entry to the event is free! But Secret Garden is a cultural organization and they collect a small 5 EUR yearly fee. This fee goes to support the cultural organization and is unconnected to Web3 Wednesdays. You pay this fee once and you can come to the Secret Garden whenever you want!
❗ We want to keep the event intimate and chill, so there's only 100 tickets available per event. Don't miss out!
Join the community 🌍
Partners 💼
Non-fungible conference I astrocave.academy I Hyperlens.io I Ethernaal.io I Tank-metaverse.com I Tokapi.com I Harmony.one I One Plus One Creative I Artsies Collective I Degen house | Hacken | Amber | Algorand | Raiz Vertical Farms |
🌶🎓👘🎨🪴❤️