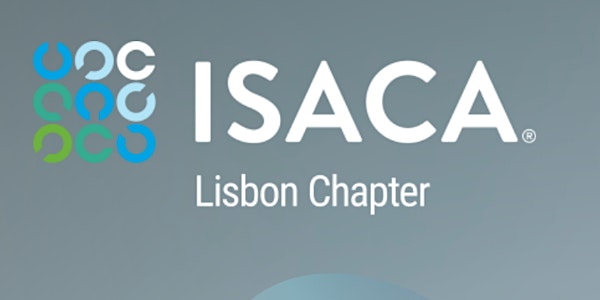 7th Annual Conference ISACA Lisbon Chapter
7th Annual Conference ISACA Lisbon Chapter - Digital Trust: A Modern-Day Imperative
Quando e onde
Localização
Associação para o Polo Tecnológico de Lisboa (LISPOLIS) Telheiras 44 Estrada Paço do Lumiar 1600-546 Lisboa Portugal
Acerca deste evento
Caro membro da comunidade ISACA Lisbon Chapter,
A 7.ª Conferência Anual do ISACA Lisbon Chapter está de volta ao formato presencial e irá ocorrer no próximo dia 28 de Outubro entre as 09:00 e as 18:00 (8 CPEs) no Lisbon Technological Park (LISPOLIS).
Este ano a conferência terá como tema principal "Digital Trust: A Modern-Day Imperative" e iremos abordar a importância do tema da Confiança para indivíduos, organizações e sociedade em geral. Num contexto de transformação digital onde os ciclos de inovação são cada vez mais curtos, os riscos relacionados com a Confiança são cada vez maiores e importa debtarer a importância que as diferentes competências da comunidade ISACA podem ter neste tema e a forma como poderão continuar a apoair a criação de valor das organizações num ecossistema e numa sociedade cada vez mais digital. Para tal, contaremos mais uma vez com a participação de oradores nacionais e internacionais de referência em áreas como Risco & Auditoria, Segurança & Privacidade, Cultura & Ética e ESGs.
AGENDA
09:00 | WELCOME ISACA - ISACA Lisbon Chapter and LISPOLIS
09:10 | Redefinig Digital Trust - Christos Dimitriadis, ISACA Chief Global Strategy Officer (Greece/USA)
09:40 | Auditing privacy programs in a digital world - Gustavo Perri Galegale, President ISACA São Paulo Chapter (Brasil)
10:10 | Digital Trust: How to deal with digital trust risks in digital transformation era? - Sanja Kekić, Women4Cyber Serbia President / Immediatie Past President ISACA Belgrade Chapter/ CISO at NLB Komercijalna banka (Servia)
11:10 | Cyber War in Ukraine - Alexey Yankovski, Vice President ISACA Kyiv Chapter (Ukraine)
11:40 | From Cybersecurity to Cyber Resilience - Bjørn R. Watne, Senior Vice President and Chief Security Officer (CSO) at Telenor Group Norway and ISACA Norway Chapter Past-President
12:10 | Panel: Blockchain: The emerging technology of digital trust - Moderador: Gonçalo Cadete; Paulo Cardoso do Amaral, Prof. at Catolica Lisbon; Nuno da Silva Vieira, Partner at Antas da Cunha Ecija; Miguel Pupo Correia, Prof. at IST
14:00 | LEGO Systems: A Model for Digital Trust - Karen Walsh, Founder, CEO Allegro Solutions (USA) - ISACA Lisbon Chapter Bruno Best Award for Best Speaker 2021
14:30 | The Future Proof CIO - Luc Hendrikx, CEO at CIONET (Belgium)
15:00 | Ethical Emerging Technologists | Pablo Ballarin Usieto, ISACA Valencia Board (Spain)
15:30 | Coffee Break
16:00 | Governance, Audit and Control: what tools do we still lack? - José Tribolet, Distinct Full Prof. of Information Systems (Retired) (Portugal)
16:30 | ACADEMIC Panel: Technologies and Transformation in Business, Industry and Organizations - Moderador: Rúben Pereira, Ph.D. Assistant Professor at ISCTE; Ricardo Amaro - Senior DevOps/SRE manager. Acquia Inc.; José Brás - DCE - Director Consulting Expert at CGI; Miguel Angelo Silva, Chief Technical Titan at TechWorks
17:15 | Authoritarian Power - Geopolitics, Economics and Advances Technology - Manuel Poêjo Torres, Geopolitical Strategist and book co-author (Portugal)
17:45 | Wrap up - ISACA Lisbon Chapter
INSCREVA-SE AGORA EM ILC2022.EVENTBRITE.PT, OS LUGARES SÃO LIMITADOS E A INSCRIÇÃO É GRATUITA PARA A COMUNIDADE ISACA
Também no contexto da 7.ª Conferência Anual do ISACA Lisbon Chapter será realizado nos dias 26 e 27 de Outubri mais uma edição do ISACA CSX Cybersecurity Fundamentals (16 CPEs).
Para mais informação sobre a 7.ª Conferência Anual do ISACA Lisbon Chapter ou sobre o workshop ISACA CSX Cybersecurity Fundamentals poderá contactar-nos através do email info@isaca-lisbon.org ou através das nossas redes sociais: - WebSite: https://engage.isaca.org/lisbonchapter/home- Linkedin: www.linkedin.com/company/isaca-lisbonchapter/- Facebook: www.facebook.com/isacalisbon
SPONSORS: O call for sponsors também se encontra aberto, caso tenha interessse em apoiar a 7.ª Conferência Anual do ISACA Lisbon Chapter poderá contactar o ISACA Lisbon Chapter através do email info@isaca-lisbon.org
Atenciosamente,
Direcção do ISACA Lisbon Chapter