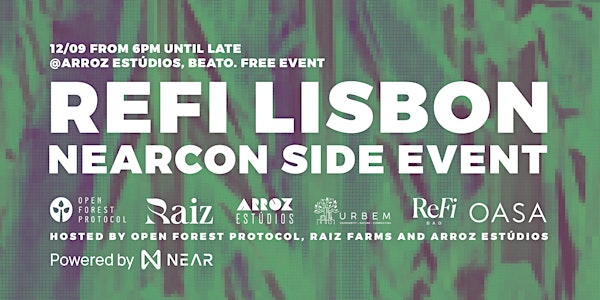 REFI LISBON - Sustainability & Web3
Join Raiz Farms, Open Forest Protocol and Arroz Estúdios in a unique event of transformation showcasing ReFi Applications for the Real World
When and where
Location
Arroz Estúdios Avenida Infante Dom Henrique 1900-319 Lisboa Portugal
About this event
Web3 and Blockchain are growing exponentially… ReFi and Sustainability are increasingly important trends.
We bring the best of each to this NearCon Side Event at one of the hottest and more interesting spots in Lisbon!
In this event we'll cover...
What is ReFi?
How Can ReFi Transform the future?
NEAR Protocol: the first carbon neutral blockchain
ReFi Applications for the Real World: Open Forest Protocol and Raiz.
NFT collections
Integrating Climate action & Crypto can be crucial to give access to new ways of creating business models, products and services that have a real impact.
This physical meeting aims to connect conscious people, organizations and communities to transcend and create synergies.
Program:
6 pm: Doors open: Claim your Proof of Attendance NFT at the door, then enjoy appetizers from Raiz Farms & pizza!
Feel free to roam around and check out the Regenerative NFT gallery
6:30 pm ~ 6:50 pm: Raiz Farm mini tour (upto 6 people): Check out the vertical farm from where the appetizers came!
7 pm ~ 7:15 pm: What is ReFi and How Did we Get Here? by John Ellison (ReFi DAO)
7:20 ~ 7:50 pm: Live Product Demo by Open Forest Protocol, with Oasa & Urbem Forests
8pm ~ 8:20 pm: Raiz Farm mini tour (upto 6 people) & Pizza Break
8:30 ~ 9:30 pm: The Present and Future of On-Chain Carbon (roundtable discussion)
Participants: Phil (Flowcarbon), John Ellison (Refi DAO), OFP, Marc (Filecoin Green), Kendall (Proximity) + open to audience who want to participate
9:30 pm to late: happy hour & music
About the organizers:
The Open Forest Protocol (OFP) is an open platform to transparently measure, verify and fund forestation projects with blockchain technology.
Vertical Farming startup transforming underused urban spaces into a network of distributed farms powered by blockchain.
Cultural association based in Beato, Lisbon that provides working space for emerging artists, and event spaces to showcase their work. Their goal is to offer a space for artistic growth where cultural events take place to contribute to Lisbon's rapid development in a creative, open and multi-cultural way.
Spread the voice and join the movement!
#blockchain, #cryptocurrency, #crypto, #refi, #blockchain_community, #regenerative_finance, #blockchain_for_good, #sustainability, #innovation, #Lisbon #web3