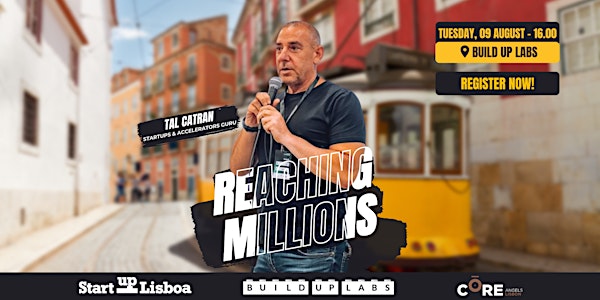 Reaching Millions w/ Tal Catran
An event dedicated to startups and the potential to raise capital with international VCs, through the experience of the speaker Tal Catran.
When and where
Location
Build Up Labs Edifício Altejo 101, R. 3 da Matinha 1950-326 Lisboa Portugal
About this event
Networking, Startups & Pitching Session by Build Up Labs, Core Angels and Startup Lisboa 🚀
Tal is a prominent figure in the global innovation ecosystem. Founded 19 startup accelerators since 2012, in both Israel and abroad, has rendered him a Guru on building accelerators, hubs and startup ecosystems. Over the years Tal conducted 70 cohorts hosting near a 1,000 startups in his accelerators. Tal's active involvement with hundreds of startups, accelerators, incubators, innovation hubs, tech parks and other major players in the entrepreneurial ecosystems, stretches worldwide.
Tal teamed up with Build Up Labs, Startup Lisboa and Core Angels to offer you our combined experience and valuable tips on 'Reaching Millions' in funding and customers, to accelerate your startup's growth.
There will be 4 startups holding a 5-minute pitch with the possibility of getting feedback from the audience. It will be a time to share expertise with investors, mentors and entrepreneurs.
About Tal Catran:
Website: https://talcatran.com/
LinkedIn: https://www.linkedin.com/in/talcatran/
📌 Register here and Join us: Tuesday, 9th August 2022, at 4pm @Build Up Labs