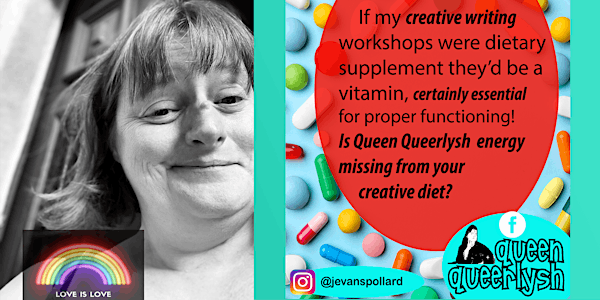 Queerlysh creative writing workshop-Bring any writing project.
ONLINE writing group for LGBTQI women & non-binary PEEPS. Aim: Social & supportive workshop
Refund Policy
Contact the organiser to request a refund.
About this event
!!!!!!! PAYMENT VIA PAYPAL- IF YOU DON'T USE PAYPAL ASK ME FOR ANOTHER WAY TO PAY.
Complete the signup, payment and proof of payment at least 2 hours before the start of the workshop- - the tickets on Eventbrite will close 2 hours before the start of the workshop. Out of courtesy to me and my time please don't leave the sign-up until the last minute.
/////READ ALL THE INFORMATION BELOW SO YOU ARE FULLY INFORMED//
Queerlysh creative writing workshop-Bring any writing project.
Ready to be part of this #writingcommunity, #challenge yourself & reconnect with #creativity?
You find it difficult to start and just can't find the time to write, you are procrastinating? This spark of accountability will get your writing done with queer #creatives and queer friendly allies with #coaching thrown in, #learn to hone our #skills and share #tips /feedback in a safe supportive environment.
This is a workshop for queer creatives who identify as LGBTQI those who support the community through allyship also welcome people who are open-minded that are happy to be an ally.
Get valuable feedback and learn how to improve your writing.
This is a writing workshop where we bring a piece of new writing and we present our work for 10 mins in English. The group gives some critique about your writing by reading aloud or sharing a non-editable link to our work via google docs online, and it is possible to share screens on zoom in the online workshop or bring a printed hard copy for the in-person copy.
WHAT LENGTH SHOULD THE WORK BE?
This depends on the form of writing you bring. If it is a long-form piece from a fiction or non-fiction novel for example then bring a section of up to 500 words. A shorter piece like a poem it could be between 100-400 words. If it is stand-up comedy bring your first 5 minutes.
WORKSHOP participant Review-## Queen Queerlysh's online creative writing a few times was very interesting and encouraging.## Rosalie Rayburn author of The Power of Rain.
Why have this group?
There is a need for space for this LGBT+ group in Lisbon to learn, laugh and be literate together. 'We realise the importance of our voice when we are silenced.' - Malala Yousafzai
We can also create a deeper understanding of this through Allyship.
the format?
THESE ARE THE APPROXIMATE TIMINGS
Arrive ON TIME!
Doors close 5 mins after the start and you will not be let in for the online workshops.
10 mins set up the workshop with clear rules and an inclusive way of working.
10 minutes intros
80 mins share work -writing feedback -10-15 mins per person
20 mins to debrief, feedback and questions
Who is QQ?
Queen Queerlysh is a master of ceremonies, workshop facilitator, writer and performer focusing on spoken word, comedy, improv, hip-hop improv rap and cabaret. She has been working in education for 25 years. She is a qualified teacher, mentor and coach. In her performances, QQ invites the audience to participate by using humour to highlight absurdities about social and political issues. She creates feminist work that breaks taboos while peering through the fourth wall. The premises in QQ's work are freedom, feminism, and f**k it. She has written 4 solo shows and is working on a poetry spoken word collection- 'Are you looking at me?' and a memoir 'Female Digital Nomad Fuck up'. She is a comedy writer and improv geek which is a passion of hers to connect people and make people laugh. Themes of her work include mental health, LGBTQI issues, and dogs. Where is the fun in that? It is abundant- you'll find out.
.Review QQ: https://www.facebook.com/queenqueerlysh
Instagram: jevanspollard or look what else QQ does here https://linktr.ee/jevanspollard