Sales Have Ended
Registrations are closed
Questions? Please contact info@productized.co
Sales Have Ended
Registrations are closed
Questions? Please contact info@productized.co
Join our "PM Demo Day 2021" of our graduates from Wild Code School.
About this event
Product Management 5-month course | Final pitches presentations
ONLINE — July 31st at 2:30 pm WEST
Our students will be pitching their product ideas developed over the last 5 months. You will get to know the whole story, from the concept to the launch strategy of each product.
Not only you will get to know our students, you'll be able to get into the spirit of our course and understand how to start a career in Product Management 🤘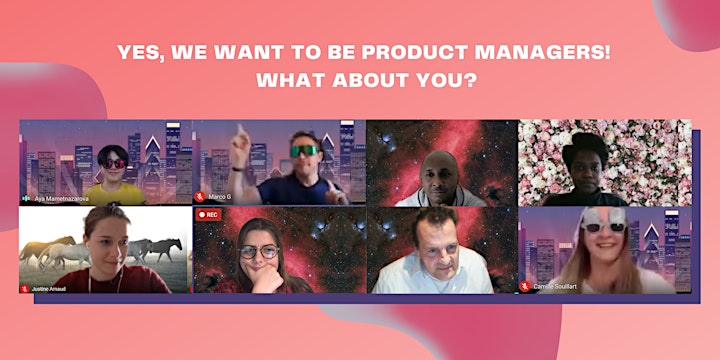 ⏰ Agenda:
Timezone: WEST
14:30 Open Virtual Doors
15:00 Presentation by FENICE group
15:30 Presentation by MYEZOFFICE group
16:00 Presentation by HCARE group
16:30 Final Feedback from Faculty and Guests
17:00 See you for the Fall edition!!
🤩 About the Products:
FENICE helps people who want to change their career to get their desired job by providing tools to measure their skills and suggesting training that matches their needs.
Group by Juliana Espanhol and Mamy Tombozafy
MYEZOFFICE helps remote workers solve the frustrating process of purchasing and installing a home office by providing ergonomic furniture and equipment that are better than using traditional office furniture suppliers because our focus is on improving your productivity and well being!
Group by Justine Arnaud, Marco Gallo and Ventura Mur
HCARE is an app that aims to achieve well-being by focusing on finding the best work/life balance through the achievement of healthy goals, focus times and work breaks.
Group by Camille Souillart, Aya Mametnazarova and Teresa Segismundo
Meet the students here.
👉 This event it's a great opportunity for:
• Companies looking to hire product managers or product designers;
• PM Course candidates looking to apply on next edition starting on September 2021;
• Anyone interested in the course, its projects, students, and overall dynamics or results.
The event will be hosted in English.
👉 About the course:
Product Management course is an intensive postgraduate course with a 5-month duration. This course is one of the first in Europe of medium duration (320h taught part-time). Like other intensive courses, students learn data science basics, front-end web code dev, design thinking and UX, as well as product management.
Detailed Curriculum:
Product Fundamentals
Product Design
Business & Marketing
Tech
Capstone
To get to know more about just download the entire syllabus here.
👉 About this partnership:
Product Management is the perfect blend of technical know-how, creativity, and leadership, making it perfect for those who want to build great products.
Unfortunately, this means that the recruitment landscape for products is highly competitive. This means that lots of highly qualified people are going for a small pocket of jobs, and companies can afford to be picky about who they hire.
Product Management was slow to take off in Europe, also because of a lack of candidates with a solid Product Management background. Before things like the Product Management training by Productized & Wild Code School course came along, the only way to gain experience in Product Management and position yourself for that role, was to accidentally stumble into it.

Organizer of Product Management Demo Day 2021