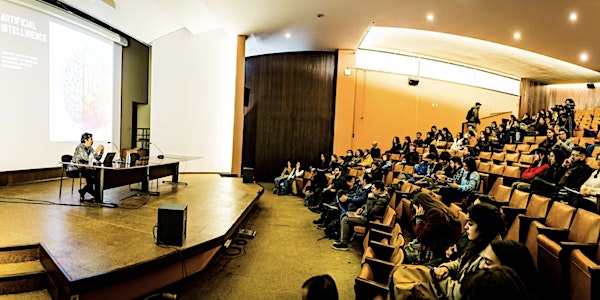 Processing Community Day @ Porto
Processing Community Day 2023 @ Porto main event: Exhibition of Artworks, Anna Carreras Keynote, Workshop results & Education Roundtable
When and where
Location
Faculdade de Belas Artes da Universidade do Porto 265 Avenida de Rodrigues de Freitas 4049–021 Porto Portugal
About this event
The Processing Community Day 2023 (PCD23@Porto) is a free and open-participation event that aims to promote Creative Coding and Computational Thinking in the Arts and Design.
It will take place in a hybrid mode — in-person attendance and live-streaming — on Tuesday 14th of February 2023, and we welcome all local, national and international people interested in this topic to join us at the Faculty of Fine Arts of the University of Porto.
More details online on the conference website: https://pcd.fba.up.pt/2023/
Program
The main event program features an exhibition opening (resulting from the call for artworks); a keynote presentation from Anna Carreras, the presentation of the results from the warm-up workshops, and Education Roundtable discussion.
10:00 Conference Opening
10:15 Exhibition Opening
14:30 Keynote speaker: Ana Carreras
16:00 Workshops results
17:00 Education Roundtable
Make sure to double-check the conference webpage for any updates to the program: https://pcd.fba.up.pt/2023/#program
Participation in all activities is free, but the registration is required. Make sure to choose the appropriate ticket (in-person, or live-stream)
Requirements
The main-event activities will be held mainly in English language.
Participants attending the live-streaming must have access to a personal computer, a stable Internet connection, a modern browser and a Zoom account to attend the conference. The link to the Zoom meeting will be emailed to the registered participants on the day before the event.
All participants, either in-person or via live-streaming, are required to follow an inclusive and constructive code-of-conduct. Either the U.Porto code of conduct: https://www.up.pt/portal/pt/investigar/etica-na-investigacao/codigo-etico-de-conduta-academica/ (mainly for in-person attendance) or the https://berlincodeofconduct.org/ (mainly for the live-streaming participants).
More information
More details and contacts about the Processing Community Day 2023 @ Porto: https://pcd.fba.up.pt/2023/