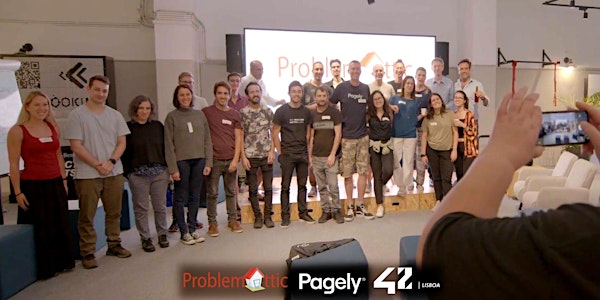 Problemattic Fixathon @ 42 Lisboa
Problemattic Fixathons : social impact :: Startup Weekends : entrepreneurship. Come build game-changing projects and meet amazing people.
When and where
Location
42 Lisboa 13 Rua Neves Ferreira 1170-070 Lisboa Portugal
About this event
This is our second "Fixathon" in association with 42 Lisboa at their space on December 3rd-4th. Here is your chance to work alongside other smart people contributing your skills towards projects that address societal issues.
We tackle big problems like wealth inequality, human trafficking, hunger & homelessness, sustainability and climate change. For a complete list of issues visit Problemattic.app and join the forums to see what we've built at previous events.
This event is an all-day experiment in gamified cooperative altruism which we rapidly move through the process of problem pitching, project ideation, team formation, prototype construction and validation to implement game-changing projects that can put a real dent in these serious issues. There is a second optional build day on Sunday for the winning projects that will get created via donated developer resources. Anyone can propose a problem or a project and participation is open to the public (provided you complete the onboarding steps prior to the event).
The first 10 participants to complete the onboarding steps (creating a profile, joining Discord and introducing self in forums) get an invitation to a special pre-event meet & greet dinner we're hosting on the Wednesday before the event. It's your opportunity to meet and get to know your potential teammates while enjoying a nice dinner.
Lunch at the hackathon on Saturday is provided to all participants courtesy of Pagely. We have startup mentors from Startup Lisboa, Canopy City & Beta-I joining us at lunch time to coach the teams. And we do a demo night at the conclusion of the day to show progress, give awards and have some celebratory beers. There is no better way to make meaningful relationships than contributing your skills in the pursuit of solving meaningful problems. If you want a flavor for what the event is all about watch the video from our October event below or read the recap post here.
Participation is free but seats are limited to the first 40 people to RSVP and complete the onboarding steps on Problemattic.app. If you have any questions please leave a comment below. NOTE: you will need to complete the application found here to be admitted. RSVP here does not constitute acceptance to the event until you've completed the application at the above link.
************
Shoutouts to our wonderful sponsors:
Pagely for providing the food. If you have a WordPress site that must handle massive traffic and cannot go down, they are your provider.
42 Lisboa for the amazing venue and promotion amongst their students. Learn to program via their free, self-guided, challenge-based, communal coding academy.