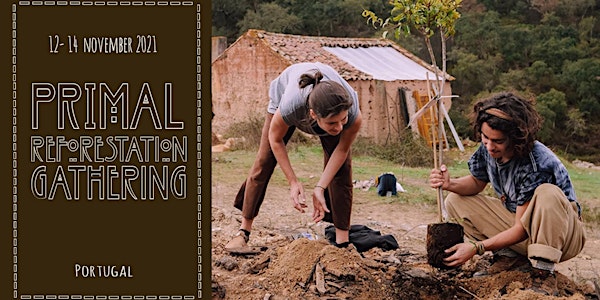 Primal Reforestation Gathering @ Traditional Dream Factory
Primal Gathering is an environmentally, socially and psychologically regenerative gathering used to restore people, forests, and ecosystems
When and where
Location
Traditional Dream Factory Fábrica de Sonhos Tradicional 7540-011 Abela Portugal
Refund Policy
Refunds up to 7 days before event
Eventbrite's fee is nonrefundable.
About this event
Join us for the fourth edition of Primal Gathering focused on planting 1000 trees in Alentejo, Portugal at Traditional Dream Factory November 12-14th 2021. Take part in yoga, eat incredible locally sourced vegan food, learn about our herbal landscape and how to use it to die our clothes, and dance to amazing live concerts with Kabecao and Port Do Soul.
Your participation alongside the support of our partners Reflorestar Portugal and Gone West, will help us restore people, forests, and ecosystems simultaneously. Leaving both people and places better than how we find them.
**Low income tickets are available upon application: https://airtable.com/shrjXb7O3Jme8ogMh
**You are able to arrive on Thursday 11th to set up your tents etc after 4pm!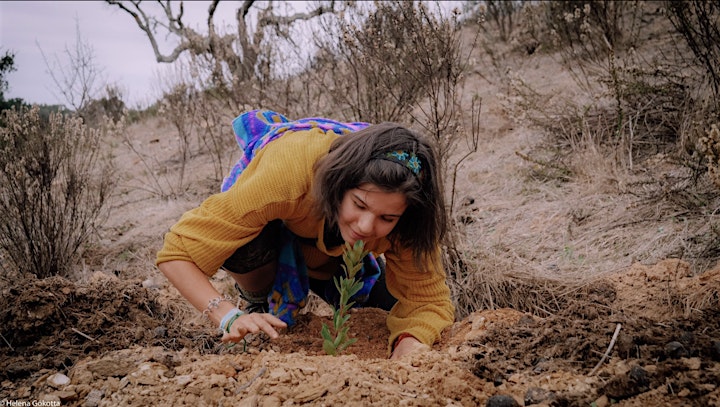 We are excited to come together and learn:
♥ How to assess the land, what and where is best to plant
♥ How to choose the right trees that are native to your land.
♥ What plants to plant around trees to support their growth
♥ How to plant lots and lots of trees
We will experience:
♥ Natural Dyeing Workshops with Benedicte Lux
♥ Herbal Remedy Workshops with Irene Miranda (Da Lua)
♥ Tree planting ceremony with Evgenia Emetts (Eternal Forest)
♥ The 4 Paths - Yoga Session w Sara Montes
♥ Kundalini Yoga Class with Tiaga Pretti
♥ 5rhythms Inspired Dance Class with Nicole Anna Maria
♥ Authentic Communication Exercises with Danah Mor
♥ Talks with James Hughes Founder of Gone West
♥ Talks with Emma Breschi
♥ Sam Garett Concert
♥ Kabeção Concert
♥ Port Do Soul Concert
♥ Incredible tasty vegan and gluten free food by Pura Vida
Projects we have completed in our previous gathering include: planting 450+ trees, planting 800 vegetables, naturally building two raised beds and an herb garden out of cob and repainting degenerated parts of buildings.
♥ -- ♥ -- ♥ -- ♥ -- ♥ -- ♥ -- ♥ -- ♥ -- ♥ -- ♥ -- ♥ -- ♥ -
**You are able to arrive on Thursday 11th to set up your tents etc after 4pm!
Please note all food included in the experience starts from Friday the 12th
EXPERIENCE (Meals included)
Low Income: 160-240 by application: https://airtable.com/shrjXb7O3Jme8ogMh
Co-creators: 180€ (limited spaces)
Standard Tent: 280€
Standard Campervan: 340€
Standard Shared Glamping: 340€
Standard Private Glamping: 420€
Solidarity (A gesture of generosity to participants with low-income tickets)
Solidarity Shared Glamping: 380€
Solidarity Private Glamping: 460€
♥ -- ♥ -- ♥ -- ♥ -- ♥ -- ♥ -- ♥ -- ♥ -- ♥ -- ♥ -- ♥ -- ♥ -
Why Traditional Dream Factory?
A playground for living and creating together.
Once upon a time, humanity was a free roaming herd of nomad gatherers. Over the course of centuries, our path changed slightly, with established global human systems increasingly capable of reigning over the natural kingdom. We entered the anthropocene. The total weight of human made objects exceeded that of all other living beings combined. We ran into some challenges - like climate change and political tensions. What was really happening is that what did for a living and what "making a living" lost its sense of purpose. A new reality emerges. We feel empowered to unite, changing forever the way we live, the way we work, the way we play. We enter a new age of abundance. A playful age. An age where our creativity is our greatest asset, and our collective inteligence regenerates the planet.
TDF is a village being built. It is not a luxurious venue but we put a lot of love into making the best space to host and inspire you while you can also see and participate in the creative process of something coming to life.
Read their pink paper here: https://docs.google.com/document/d/177JkHCy0AhplsaEEYpFHBsiI6d4uLk0TgURSKfBIewE/edit#
How to get there:
Traditional Dream Factory
Cerca do aviario
7540-011, Abela, Santiago do Cacem
Portugal
https://bit.ly/find-tdf
Take a plane - Nearest Airport is Lisbon Airport, and the nearest city is Abelo.
Take a train - there are 3 trains per day from Lisbon Sete-Rios to Ermidas-Sado, 10min drive from TDF, use https://www.cp.pt/passageiros/en to book your ticket and find time.
Car Sharing - click here to add your journey: https://docs.google.com/spreadsheets/d/11vFX3Eh5p31IIa489_32IfDVXaWF9kC6hUHkVRQ7Tp0/edit#gid=0
♥ -- ♥ -- ♥ -- ♥ -- ♥ -- ♥ -- ♥ -- ♥ -- ♥ -- ♥ -- ♥ -- ♥ -
Facilitators:
Reflorestar Portugal
Reflorestar Portugal emerged in June 2017, as a citizenship initiative, after the fires in Pedrógão Grande, with the dream of seeing the Portuguese forests reborn, through the interaction of the Human Being in the rescue of its role as a regenerating guardian. Since its inception, Reflorestar Portugal has dedicated its action and resources to boost a Regenerative Culture in many areas, in its field of intervention: regeneration of ecosystems and regeneration of human communities. They are dedicated to regenerative agroforestry practices and the restoration of ecosystems as well as regenerative agriculture and the training of individuals, projects and communities to be active participants in the creation of a regenerative paradigm, through a variety of events that they organize or partner with.
Details here: https://www.youtube.com/watch?v=KqK-oSgcJiI&feature=emb_logo
James Hughes - Gone West
In 2012, James Hughes worked for large timber companies in the United Kingdom. When he started, his job was to plant trees, he was mostly planting Sitka spruce, an evergreen timber species that makes up about 50 percent of UK commercial plantations. In 2013, he started his own tree-planting enterprise, incorporated as Gone West—a British idiom meaning "gone crazy," because people mocked him when they heard he wanted to make money from planting trees. But Hughes was tapping into a growing sector.
In the winter of 2015, Hughes made a discovery that transformed his business model. He had just completed a planting project for a timber company under harsh winter conditions and had about 20 trees left over. On a whim, Hughes loaded the trees into his car and drove to the historic Barras market in Glasgow, where he tried to sell them. Surprisingly, he sold each tree for whatever price the customers thought was fair, earning between £0.05 and £20
Hughes began reaching out to local businesses that wanted to plant trees to achieve their sustainability goals. These exclusive partnerships allowed Hughes and the team to truly engage in conservation work. Today, he sources saplings from local nurseries and sells each tree that Gone West plants for businesses for £5—100 times what he was paid to plant that same tree for a forestry company for a daily wage.
Gone West specializes in creating native forests and woodlands by partnering with local communities and businesses around the globe. Instead of asking people to volunteer their time and expertise, it employs young people in need of work and educates them about professional tree planting.
Details here: https://vimeo.com/307152503
Benedicte Lux - Supernaturae
Harnessing the alchemical reactions deeply rooted within the cycles of the earth, benedicte lux explores the magic of the local nature to create colour. inspired by the meditative slowness of natural processes and the authenticity of craftsmanship, materials are locally foraged and dyed on natural fibers, creating soft hues on textiles.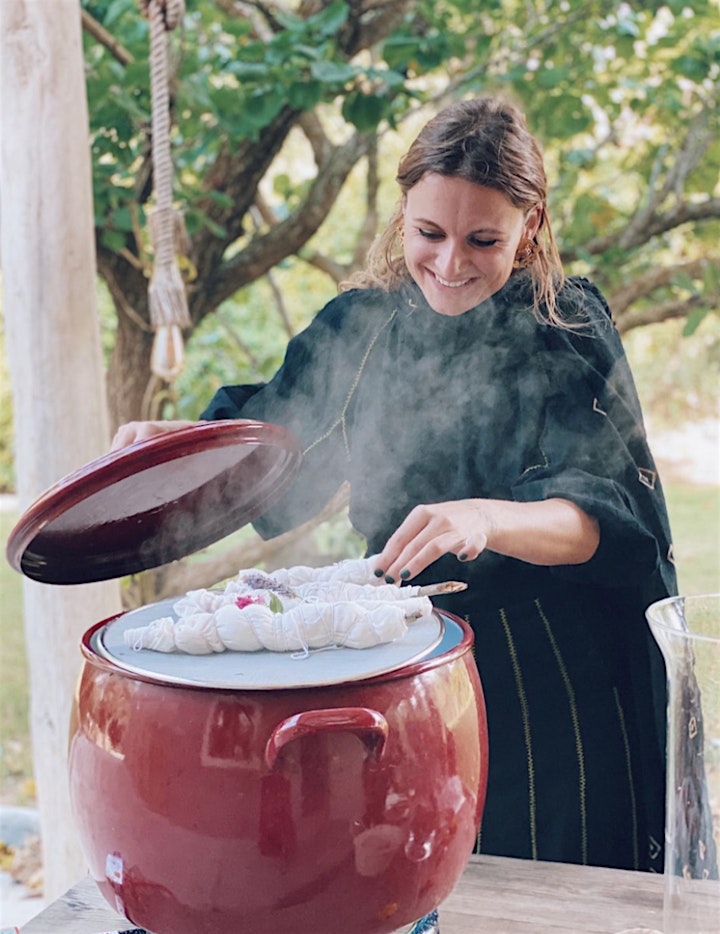 Irene Miranda - Da Lua Herbals
Wisdom keeper of the plant realm and the mysteries of the feminine, co-founder of Loba Nomad and creatress of Da Lua Herbals, where she explores the healing properties of local plants, especially "weeds" and wild ones.
Da Lua is a sustainable and conscious project focused on herbal remedies. All Da Lua's ingredients are organic, wild-harvested or cultivated locally in Portugal. Its production is artisanal and deliberately small-scale and slow.
Irene is fascinated by holistic health and herbal medicine, ancient wisdom and craftsmanship, self-sustainability and the return to our roots. Irene is a space-holder, women's therapist, event organizer and herbalist. Multiple and One.
https://www.daluaherbals.com/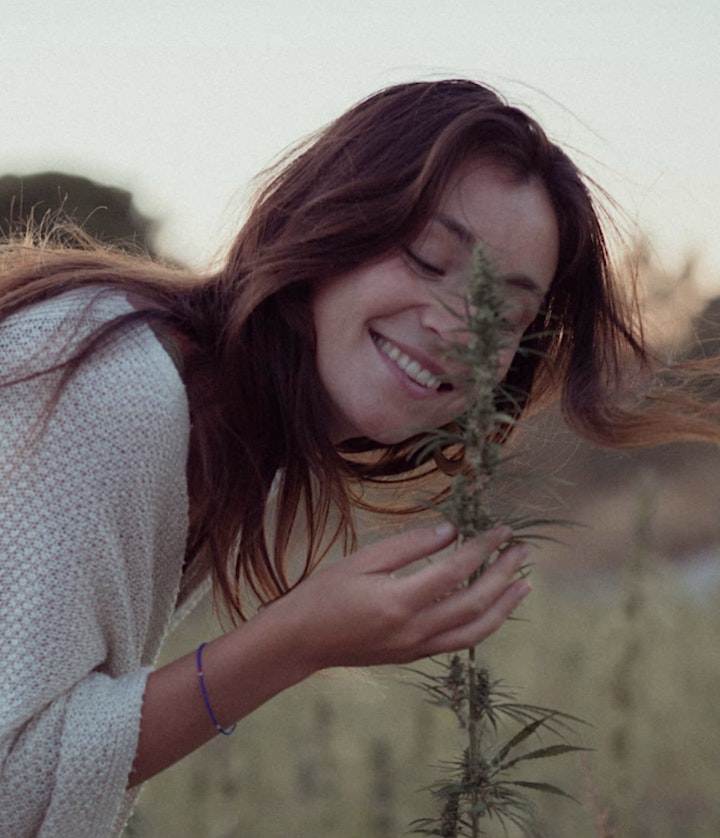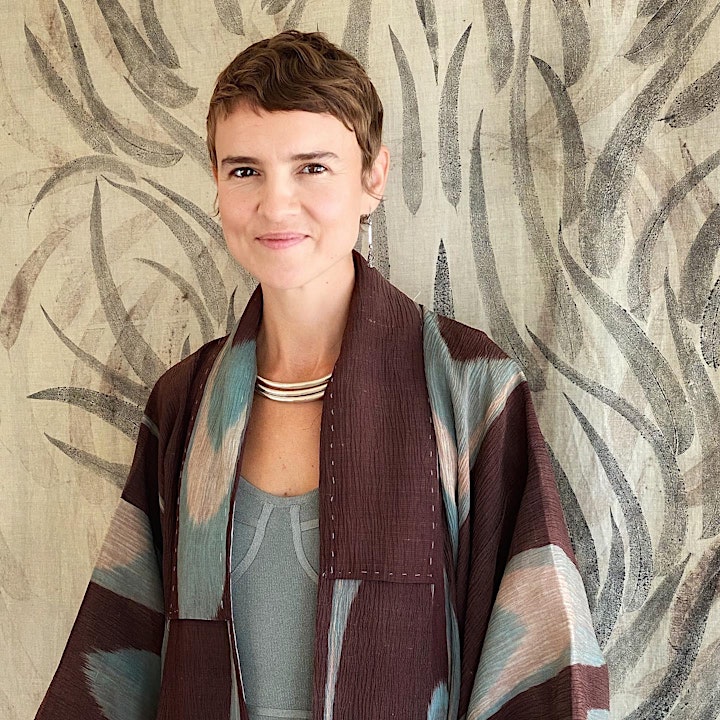 Evgenia Emets is an artist, a poet and a filmmaker working with forests, ecology, biodiversity and community through her visual works, poetry, installation, performance, film, artist's books and large scale ecological artworks.
Eternal Forest ongoing multidisciplinary project marks a transition towards integration of ecological thinking into her art. Evgenia moved to Portugal in 2017, the year of some of the most destructive forest fires connected with the presence of monocultures in the country. This motivated her to explore through artistic means the roots of these issues and to start the art project Eternal Forest, which is an ongoing multidisciplinary art initiative to create forest sanctuaries across the world - biodiverse areas to be protected in perpetuity, created through art and ecology and, supported by local communities.
The project has been exhibited across Portugal and in the UK (Biblioteca Nacional de Portugal, King's College), has been invited to participate at the Bienal de Coruche in 2019 and CI.CLO / Bienal Fotografia do Porto - Sustentar programme, invited to participate in a multidisciplinary programme Roots & Seeds (organised by Quo Artis, Ars Electronica, and others) in Barcelona in 2021.
Emma Breschi - Radical Self Acceptance
Emma Breschi is a model, image maker and actress, based in London. Counting Vivienne Westwood, Andreas Kronthaler and Juergen Teller as having big impacts on her career, she has been featured in numerous titles globally, including Harper's Bazaar UK, Cosmopolitan and Hunger Magazine.
Nicole Anna Maria Bosky - 5rhythms Spaceholder
Nicole is a 5rhythms SpaceHolder, Kundalini Yoga Teacher, and the Founder of Primal Gathering. During her own self-research, she came to notice that change takes time and practice to be embodied. Intellectual understanding isn't enough, change comes from a combination of having an emotional and meaningful experience to want to make a shift that music and art help with. And a community to help motivate one another, and hold each other accountable. This led to the inception of Primal Gathering.
♥ -- ♥ -- ♥ -- ♥ -- ♥ -- ♥ -- ♥ -- ♥ -- ♥ -- ♥ -- ♥ -- ♥ -
Performances by:
Sam Garrett - Musician
Sam Garrett is an English singer songwriter who has been creating and singing heartfelt melodies since his teens. Lyrically soulful, and devotionally talented, Sam's music uplifts and inspires. Sam has released two EPs, Be Easy and Namaste and his first studio album, Grace was released in 2017. His new album 'The Dance & The Wonder' released in summer 2019 explores the tender journey through love, devotion, and growth. His music is a reflection of his journey, inspired by profound experiences on his travels and various teachings from around the world. With a skillful combination of vocals and guitar he lifts the mood with reggae riffs such as 'Lost in the moment' and soothes our busy minds with the soft tones of 'Higher than the mountains,' offering a unique journey and depth that is rare to experience.
Kabeção - Musician
Known for his inspiring handpan music, Kabeção is a Portuguese multi-instrumentalist, composer and sound healer. By exploring music and sound with his unique, poetic, and percussive style, he pushed forward the art form and extended the musical universe of handpans/pantams. Finalist on Portugal "Got Talent" in 2015, Kabeção then traveled with his handpans/pantams for few years across more than 20 countries; in Europe, Japan, India, Israel, Russia, China, USA, Canada, Thailand
Listen to him: https://www.youtube.com/channel/UCc2cjdD6POeL5DUds57qXrA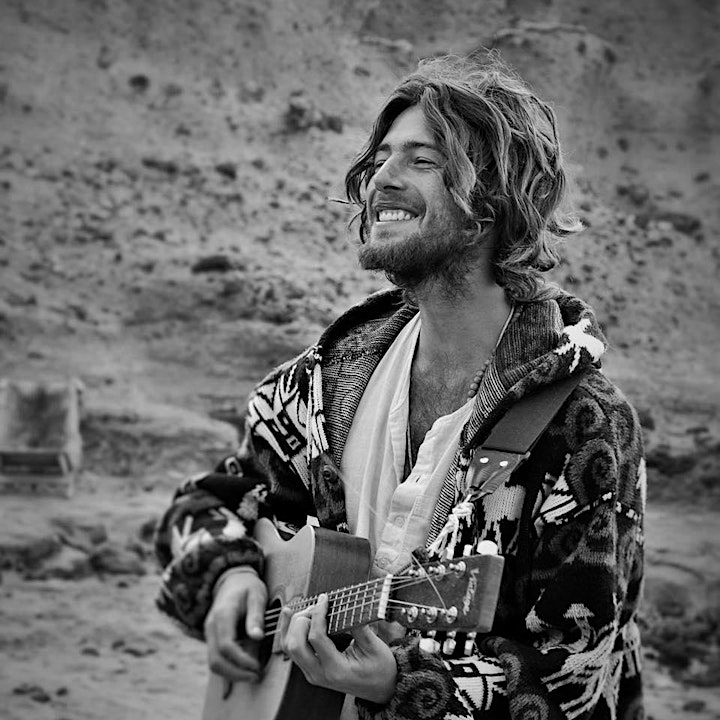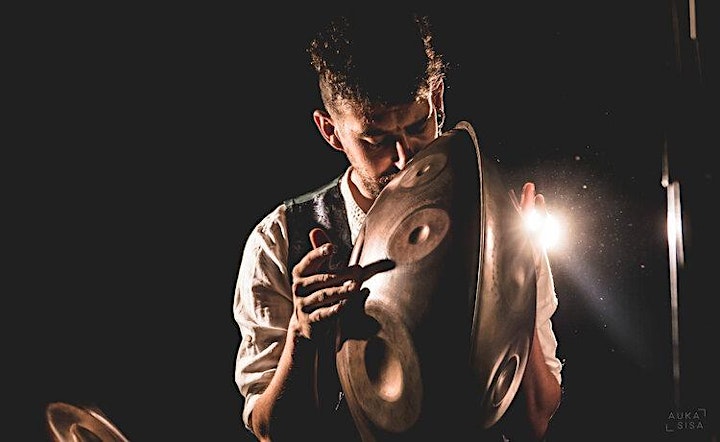 Port Do Soul - Musician
A project born and raised in the streets of Lisbon. Composed by Acácio Barbosa and Warren Lee Cahill, Port do Soul features a unique sound created through a Portuguese guitar and an acoustic guitar played with a fingerstyle technique and elbow percussion. This fusion of styles and techniques represents the new and old Lisbon, the tradition and the modernity, to be seen as well as heard.
Listen to them: https://portdosoul.bandcamp.com/.../lock-down-em-casa-mix...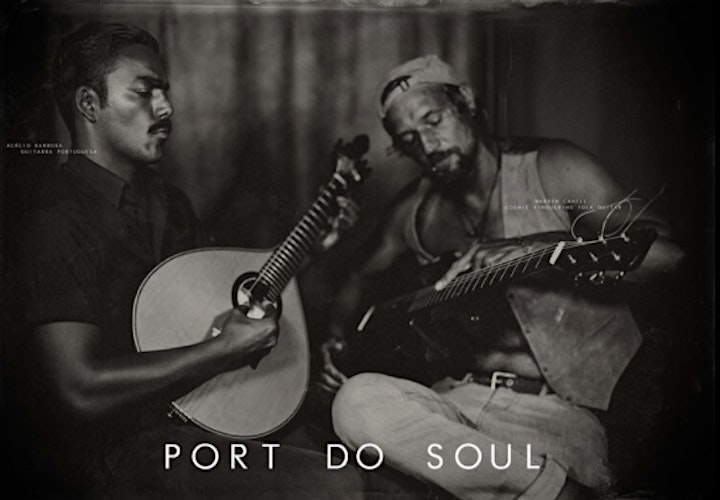 Mushina - DJ
Mushina is born from a fresh will to explore a new musical dimension, through a vessel artist who, for many years and since an early age, has been a presence in several electronic music events around the world.In his process, he has explored many facets of the genre, acquiring experience in different types of musical expression. From his first contact with the ecstatic dance movement, a connection with the music and its expression were born in a unique way. From this encounter, the artist knew this would be the place where he was best aligned to collaborate and add value.
Edgar Costa - Artist
This project aims to awaken a more sustainable awareness in relation to the world around us, combining Art with ecological thinking and practice.
In this context, the work he will be presenting during the gathering represent lines of force and movements inspired by universal patterns of Nature and their flows, creating bodies of energy in order to bring us closer to the vibrations of our being and what surrounds us. This vision is created mostly from ecological and sustainable materials, not only because of the environmental issue, but also because we have stopped having contact with living matter, and consequently we are losing sensitivities that we have in ourselves as animals of this world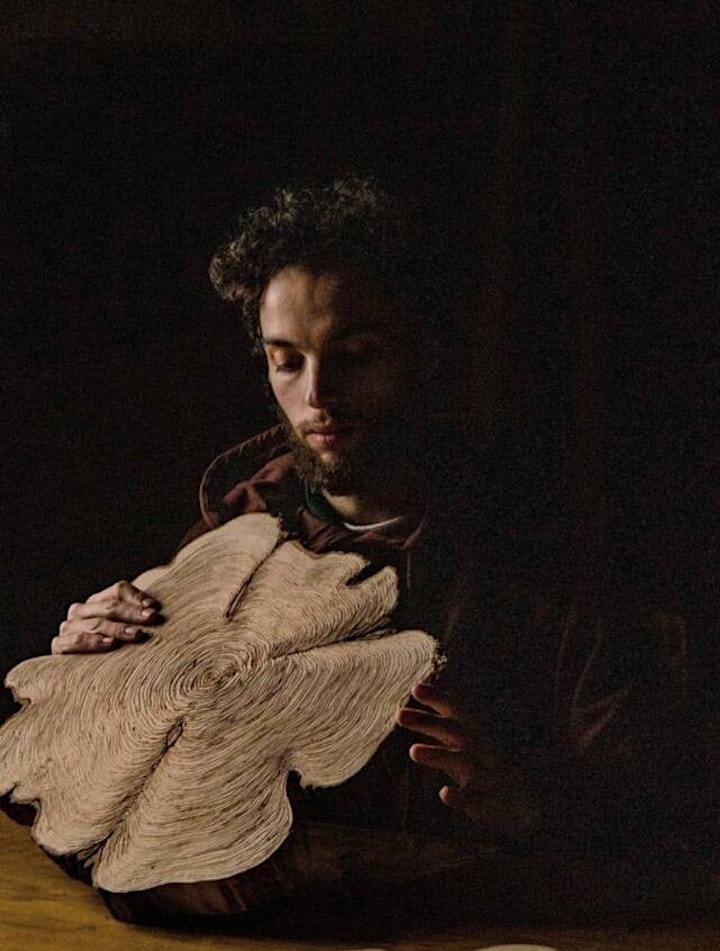 Micaela Jarast - Eco Pictorial Artist
Studied Fine Arts at Argentina & Spain. Developed herself as a guide an educator at museums (MACBA Buenos Aires; Israel Museum; CCA Tel Aviv). Specialized on several painting techniques: oil, acrylics, watercolor, muralism, clay and pigments.
Since 2014 she shares painting circles in different countries, creating artistic focuses, beyond the borders. In 2018 she was invited to Terra Una Artistic Residence, Brazil, where her project Eco Pictorial began: a research on painting with clay & pigments. Later on she was invited by Live With Earth, to share Eco Pictorial workshop at different nature festivals in Portugal.
The last three years she has been working on the correspondences between Ecossistem and Visual Arts, finding the source of inspiration in nature and in dance and movement practices.
Making collaborations with Ecstatic Dance gatherings, through painting experiences and exhibitions, she explores as well the practice of painting in a non-individualistic way, but rather the creation of a sensitive network in the collective, relocating and nourshing her artwork within a sense of unity.