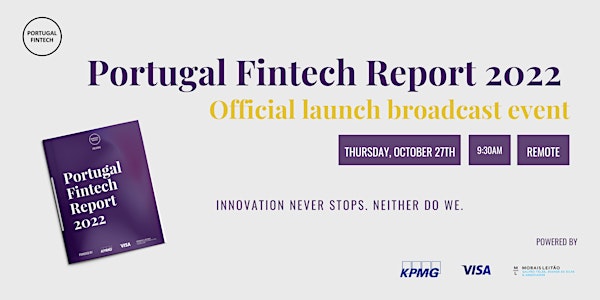 Portugal Fintech Report 2022 - Official Launch Broadcast Event
In its mission to empower the Fintech ecosystem, Portugal Fintech is launching the 2022's Portugal Fintech Report.
About this event
The Portugal Fintech Report brings to you the Portuguese scene, providing the Industry Statistics, expert insights, examples of collaboration, fintechs in the Portuguese ecosystem and 2022/2023 trends and provisions.
EVENT SCHEDULE ​
09h30 | Welcome & Insights on the Portugal Fintech Report 2022
09h40 | Investment - A New Chapter in VC Funding
Moderator: João Patrone, KPMG
João Freire de Andrade, BiG Start Ventures
Jon Fath, Co-founder and CEO at Rauva
Rodrigo Russel, Chief Revenue Officer Utrust
10:00 | Keynote Speaker - Gonçalo Santos Lopes, Country Manager Portugal at VISA
10h10 | Fintech Trends - Embedded Finance, ESG, Cybersecurity, Open Banking. What about now?
Moderator: António Ferrão, Director of Fintech Solutions
Carlos Eduardo Martins, Sustainable Finance Expert
Ana Teixeira, CEO at Mudey
Dyma Budorin, CEO at Hacken
10h30 | Keynote Speaker - José Pedro Silva, Engineering Manager at Anchorage
10h40 | Let's discuss Crypto: Central Banks Digital Currencies, MiCA regulation and Portugal as a crypto Lab
Moderator: Mariana Albuquerque, Morais Leitão
Nuno Cortesão, Co-founder and CEO at Zharta
Ricardo Negrinho, Director of Financial Services at KPMG Portugal
Diogo Brás, Chief Crypto Business Officer at Bison Digital Assets