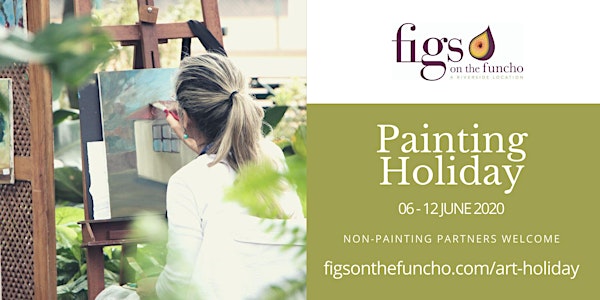 Painting Holiday Europe at Portugal's Figs on the Funcho
6 night / 7 night painting holiday with accommodation, superb cuisine and gorgeous country views. 18 Hours of expert tuition. All levels.
When and where
Location
Faro District Monte Ribeira Santana Amorosa 8375-059 S.B.Messines Portugal
About this event
Our fabulous art tutor is full of enthusiasm and will teach you new skills to maximise your art creativity in a range of different media.
When you are not capturing the beautiful landscapes in paint or pencil enjoy riverside walks, lounging by the infinity pool, admiring the sunsets and night skies, or visiting the nearby Moorish castle.
You will feel relaxed, confident and inspired to take on new artistic challenges.
"I had such a lovely time on the painting holiday and it has definitely had a lasting impact. I see colours in trees and clouds which I never saw before. I pay so much more attention to colours and shapes and lines in all the nature I see. Also, I have been using your recipes and my family and friends are huge fans! Especially the lentils with cherry tomatoes and sweet potatoes. We seem to be working our way through huge amounts of it. " - Ramla
******
"After spending a week relaxing to the peaceful sound of birds and goat bells, enjoying walks through the surrounding landscape, and lounging around the poolside after lively morning art sessions, I returned home and I've been able to put a lot of energy into creative pursuits. I just finished a 30 day sketch challenge, doing a bird a day in any medium, to keep me practicing regularly. I came back from the holiday very inspired. I'm even writing again and participating in National Novel Writing Month. I hope to make it back some day " - Amy
Visit our website for more reviews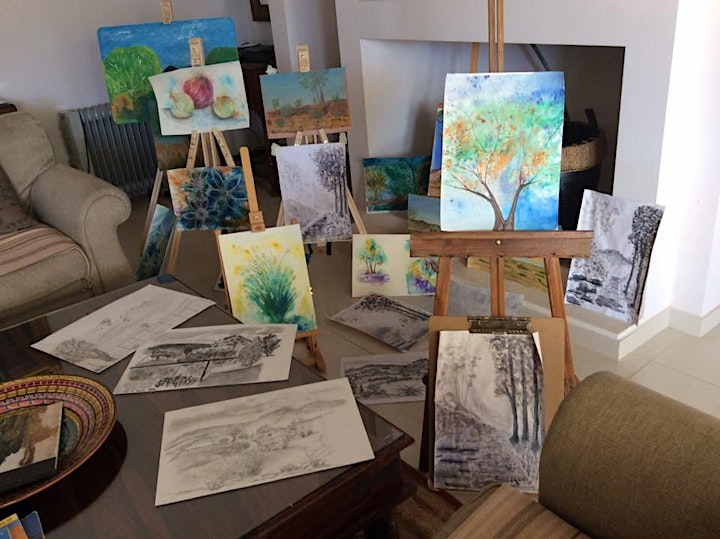 Art Painting Holiday Workshop Schedule
Day 1
Arrival: Settle into The River House and your room before enjoying a group welcome dinner.
Day 2
Morning: Natural inspiration workshop
Afternoon: Explore the via Algarviana walking route (optional). This walking route is perfect if you enjoy solo walking or running in the morning allowing you to clear the mind of chatter and make space for clear thinking so that you can focus on the peaceful surroundings and enjoy the present.
Day 3
Morning: When colour runs riot workshop
Afternoon: Sunset river walk (optional). Admire the sun setting behind the hills and the water reflections. An ideal opportunity to study water reflections for your painting projects.
Day 4
Full Day: En plein air landscape painting workshop
Day 5
Morning: Ink and mixed media workshop
Afternoon: Visit the historical town with Moorish castle and dinner (optional)
Day 6
Morning: Suggestive animals workshop
Afternoon: Massages for those who have booked (optional)
Day 7
Departure: Enjoy your breakfast by the river before heading home.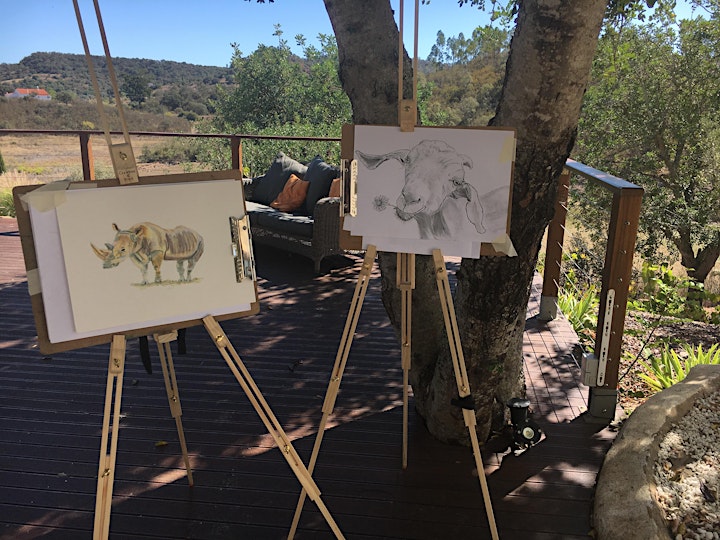 Painting Holiday Package
What's Included
Daily art tuition from day 2-6. Four morning sessions and 1 full day session – 18 hours in total.
All art materials: graphite pencils, chalk pastels, charcoal, watercolour, ink, brusho and acrylic paints. Maximum paper size A3. Larger sizes on request.
Optional afternoon guided nature walks
Spacious, comfortable accommodation
Welcome drinks
Breakfast, lunch and dinner (not included: alcoholic drinks (honesty bar provided) and one evening meal))
Airport Transfers. We'll have one Faro airport pick-up at 3pm for the group. We can arrange airport transfers for you at other times for your cost.
Mid week room clean and towel change
Bath and swimming pool towels
Wifi
What's Not Included
Optional activities such as massages
Optional trip to the historical town, Silves on Day 5. Please note: this trip is optional but the kitchen at the villa will be closed on this evening, however, if a guest prefers not to go soup and sandwiches will be provided. The additional cost is the cost of a taxi (€90 round trip for a group of up to 8 people) and evening meal
Travel Insurance (recommended)
Alcoholic drinks and cool drinks, we have an honesty bar
Airfares to Portugal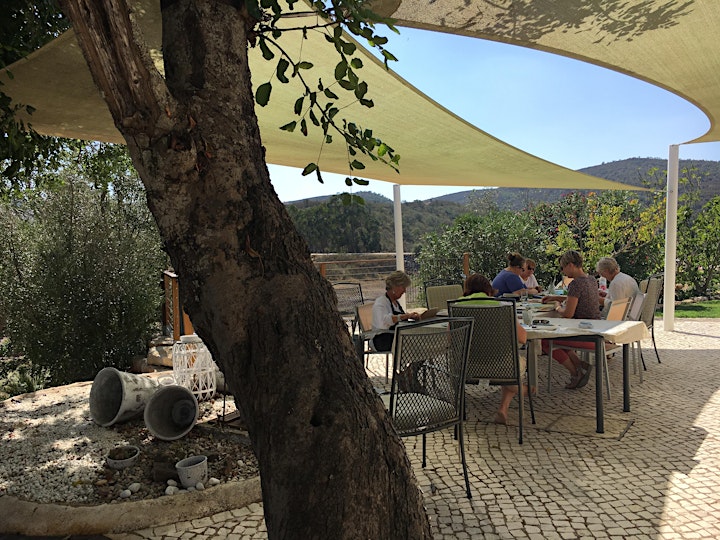 What to Bring
Your swimming costume to enjoy the pool
Something warm to relax in at night
Sun hat and suitable footwear for walking to explore different paths and also if you plan to visit the historical town nearby, during free time, as the cobbled roads can be slippery
Plastic or cardboard postal tubes to take your rolled artwork home. Paper sizes provided will be no larger than an A3
Contact Details
For more information email cheryl@figsonthefuncho.com or visit our website.
Website: https://figsonthefuncho.com/art-holiday
Facebook: https://www.facebook.com/figsonthefuncho/
Instagram: https://www.instagram.com/painting_holiday_portugal/
#artholiday #paintingholiday #portugalholiday #algarveholiday #artclass #arteurope #paintingholidayportugal #learningtopaint #artistholidays #landscapepainting #pleinairpainting #pleinairartist #outdoorpainting #flowerpainting #botanicalpainting #startpainting #artworkshop #unplug