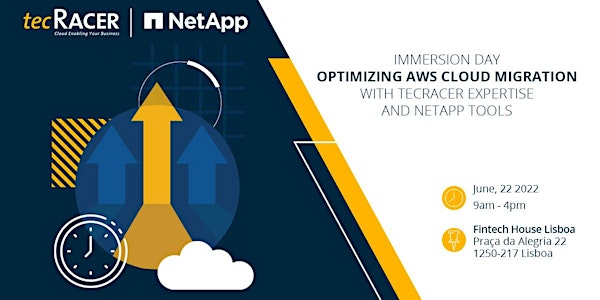 Optimizing AWS Cloud Migration with tecRacer expertise and NetApp tools
Location
Fintech House Lisboa
22 Praça da Alegria
1250-217 Lisboa
Portugal
Come with us on a journey and learn how the AWS Premier Partner tecRacer and NetApp can help you with your Cloud First Strategy.
About this event
AWS Cloud Immersion Day with AWS Premier Consulting Partner tecRacer & NetApp
According to a study by the Gartner Group, 88% of IT decision-makers are pursuing a cloud-first strategy. However, an average of 86% of IT budgets are still invested in on-prem data center infrastructure. But why is it like that?
In this migration day for IT managers, infrastructure managers, CIOs, CTOs and CFOs you will learn
how to prepare your AWS cloud migration journey based on AWS best practices,
how to migrate efficiently, securely and quickly to the AWS Cloud using supporting cloud services such as AWS FSx for NetApp ONTAP and
how you can use FSxN and SPOT by NetApp to keep an eye on your AWS usage fees during ongoing operations and continuously optimize them.
In our Immersion Day, learn how to master the challenges of cloud migration and migrate efficiently, securely, and quickly to the AWS Cloud. Take the opportunity to ask our experts from NetApp and tecRacer how they tackle the biggest obstacles in cloud migration projects.
Agenda:
09.00h – 9.30h Networking & Registration
09.30h – 10.30h Why AWS+NetApp?
10.30h – 11.30h Amazon FSx for NetApp ONTAP
11.30h – 12.30h Demo and interactive session
12.30h – 14.00h Lunch & Networking
14.00h – 14.30h Cloud Manager by NetApp
14.30h – 15.00h Cloud Manager Demo
15.00h – 15.45h SPOT by NetApp
15:45h - 17:00h Networking