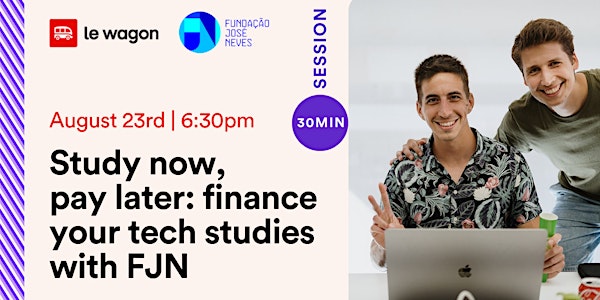 [Online] Study now, pay later: ISA with Fundação José Neves
Join our 30-min session and get all the information you need about our financing your tech studies with FJN!
About this event
We're always looking for ways to help our students finance their bootcamps. Whether you are an employee, a freelancer, a student or looking to start a new career, financing is possible 🙌
The Income Share Agreement (ISA) provided through our partner Fundação José Neves is one of the most popular financing options chosen by our local students.
After being accepted to any of our bootcamps, locals and Cartão de Cidadão holders may apply for this opportunity. Once your application is approved, FJN will take care of your full tuition fees so that you can focus solely on enjoying your experience and solving our mind-blowing bootcamp challenges 💸
After your graduation, and only once you have found your dream job in tech, you will repay the tuition through a small percentage of your salary (above a pre-defined minimum income) 🚀
Want to know more? Join our next info session about this option, get to know all the details behind a great opportunity for your future!
Looking forward to meeting you soon,
Le Wagon Portugal Team
About Le Wagon
Le Wagon emerged in 2014 as one of the first tech bootcamps in France, offering web development and data science programs. Now, it has grown to a robust global community of tech talents with 43 Le Wagon campuses in Amsterdam, Berlin, Lisbon, London, Melbourne, Mexico, Montreal, Singapore, São Paulo, Paris, Tel Aviv, and other cities worldwide.
With this expansion, Le Wagon has helped over 13,000 developers, data scientists, designers, and entrepreneurs start their new careers in tech. Eight years on, the school continues to inspire tech aspirants to find their path in the industry.
Next bootcamps
🗓 From January 19th to March 17th
Find us on