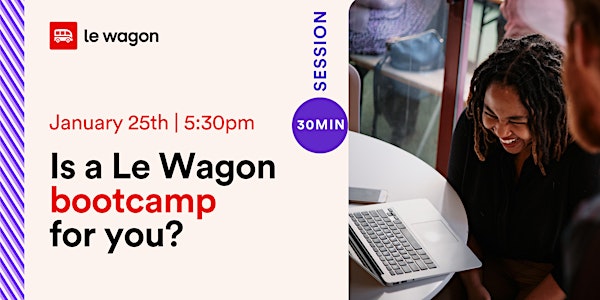 [Online] Is a Le Wagon bootcamp for you? All you need to know in 30 min
Is a Le Wagon bootcamp for you? Join our 30-min session and get all the information you need!
About this event
Are you considering a life change? Whether you want to switch careers or upskill in your current job, adding web development , data science or data analytics to your skillset can help you kick-start your tech journey 🚀
Before embarking on a bootcamp adventure, you might want to understand if this is the right choice for you 🤔 Join us online on January 25th for a 30-minutes session with our admissions team and make sure you get all the information you need!
💻 This session comes in handy if you're at any of these stages:
Looking for a change in your life and career path
Evaluating if learning web dev or data could be that break-through moment
Wondering what a bootcamp is and its learning method
Comparing bootcamps to find out which best suits your goals
Considering all the possible professional outcomes after a bootcamp
Because no matter which step you are currently on, we're here to help! 🙌
Looking forward to meeting you soon,
Le Wagon Portugal Team
About Le Wagon
Le Wagon emerged in 2014 as one of the first tech bootcamps in France, offering web development and data science programs. Now, it has grown to a robust global community of tech talents with 43 Le Wagon campuses in Amsterdam, Berlin, Lisbon, London, Melbourne, Mexico, Montreal, Singapore, São Paulo, Paris, Tel Aviv, and other cities worldwide.
With this expansion, Le Wagon has helped over 13,000 developers, data scientists, designers, and entrepreneurs start their new careers in tech. Eight years on, the school continues to inspire tech aspirants to find their path in the industry.
Next bootcamps
🗓 From April 17th to June 16th
Find us on