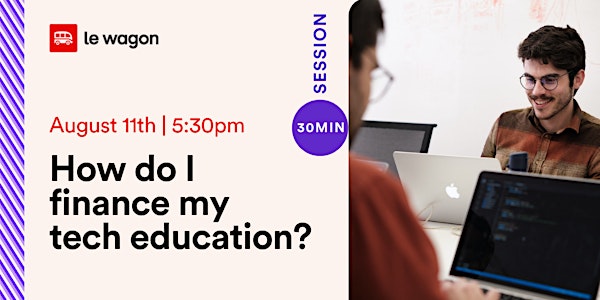 [Online] How do I finance my tech education? All you need to know in 30 min
Join our 30-min session and get all the information you need about our financing options
About this event
We're always looking for ways to help our students finance their studies and embark on a life-changing tech journey 💰 Whether you are an employee, a freelancer, or looking to start a new career, financing is possible!
Join us online on August 11th for a 30-minutes session with our team and get to know all the available options.
👉 This session comes in handy if you're at any of these stages:
Looking for a change in your career path and wonder how to facilitate it
Thinking about how to finance your studies
Considering all the discount and financing options available
Comparing bootcamps to find out which best suits your needs
Wondering how you can access an ISA (Incoming Shared Agreement) with one of our partners
Because no matter what background or situation is, we're here to help! ✨
Looking forward to meeting you soon,
Le Wagon Portugal Team
About Le Wagon
Le Wagon emerged in 2014 as one of the first tech bootcamps in France, offering web development and data science programs. Now, it has grown to a robust global community of tech talents with 43 Le Wagon campuses in Amsterdam, Berlin, Lisbon, London, Melbourne, Mexico, Montreal, Singapore, São Paulo, Paris, Tel Aviv, and other cities worldwide.
With this expansion, Le Wagon has helped over 13,000 developers, data scientists, designers, and entrepreneurs start their new careers in tech. Eight years on, the school continues to inspire tech aspirants to find their path in the industry.
Next bootcamps
Web Development → October 10th to December 9th
Data Science → October 10th to December 9th
Find us on