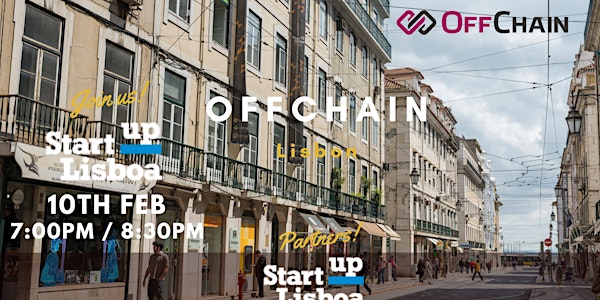 Offchain Lisbon - IRL SERIES - Solving Web3 community problems
OffChain Lisbon is part of the OffChain Global networking community for blockchain and crypto enthusiasts that started in 2017.
When and where
Date and time
Fri, 10 Feb 2023 19:00 - 20:30 WET
Location
Startup Lisboa 80 Rua da Prata 1100-415 Lisboa Portugal
About this event
Welcome to Lisbon OffChain event @ IRL SERIES #1 - CRYPTO TAX 2.3
OffChain is a global networking community for blockchain and crypto enthusiasts started in 2017. Crypto Drinks welcomes a wide range of like-minded people from blockchain developers, to crypto VC's to miners to quant traders to people who just own a little bitcoin. We welcome everyone who has an interest in blockchain and crypto. OffChain's aims to have a base of regular social gatherings with no speakers with speaking events mixed in from time-to-time. This time around we will organize a panel about the new Portuguese Crypto Taxing Lax.
Dress code:
Elegant with touch of NFT;
Session topics:
What are the new features of the Portuguese (crypto) tax system? What are its novelties and how shall we report them in our IRS? How does Portugal stands in the comparative crypto taxes banchemark,
Guests speakers:
Joana Cunha d'Almeira, Antas da Cunha Ecija
Mario Moura, Mário Moura Contabilidade
António Rocha Mendes, CS Associados
Moderator:
José Reis Santos, OffChain Lisbon
Event plan:
You are welcome to arrive starting from18h30.
We start with a Panel around 19h00 to 20h30.
Networking 20h30 to 21h00
Event location:
Startup Lisboa - 7:00 pm BST;
Address:
Rua da Prata 80, 1100-415 Lisboa
Partnership
About StartUp Lisboa
Startup Lisboa Startup Lisboa supports the creation of companies and their first years of activity. Founded in 2012 it's a private non-profit association that provides entrepreneurs with office space as well as a support structure - mentoring, strategic partnerships and perks, access to investment, networking activities and a community based on knowledge and sharing.
About Offchain Offical webiste:
OffChain Lisbon telegram group, join here:
https://t.me/+b8qfQv-gOnUwZjI0
Organizers profile:
https://www.linkedin.com/in/pedrodaguiar/