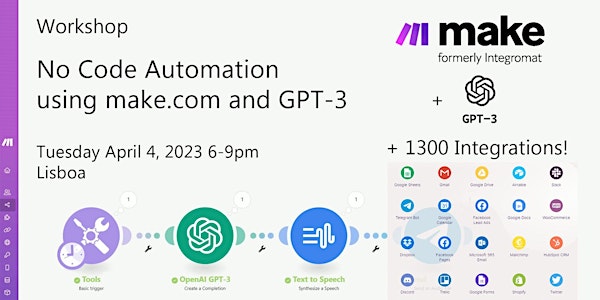 No Code Automation Workshop using make.com and GPT
Learn to automate with make.com (former Integromat) and GPT-3 in this hands-on workshop. No coding skills required. Let bots work for you!
Date and time
Tuesday, April 4 · 6 - 9pm WEST
Location
Lisbon exact details TBA Lisbon exact details TBA 1200-479 Lisbon Portugal
About this event
Do you want to learn how to automate your (office) tasks and add some AI magic to your workflows? Join this workshop and discover how to use the no-code tool make.com (former Integromat) and GPT to create amazing scenarios that will save you time, earn money and boost your productivity.
This course is for you if...
- you want to use GPT but don't know how to code
- want to use make.com first to test your business ideas with GPT before jumping into coding
Prerequisites
- Bring your own laptop
- Basic understanding of what GPT does (prompt -> completion)
- Register at OpenAI to receive an API key (come early if you need help with that)
- No coding skills required, but you will need intermediate computer knowledge
What can you build?
Check the make.com integrations: https://www.make.com/en/integrations to see the tools that allow automation.
Now mix in the power of GPT to Write, Explain, Improve, Plan, Summarize, Expand and you should have an endless pot of ideas.
- Pull News from RSS -> summarize with GPT -> publish on social media
- A Telegram chat bot that speaks
- Summarize google sheets data -> Generate BLOG copy with GPT3-> publish to Webflow
- ...
Location
The exact workshop location in Lisabon will be announced in a few days.
FAQs
- Are there any extra cost?
The free version of make.com will work for the course, GPT has very small cost and requires a credit card to register.
- How will I receive help to build something?
Small groups, a step by step appraoch and a printed out playbook will help you and the host is always here to assist since the group size is maximum of 10 participants.
- I am a computer expert, is it still interesting for me?
Yes, make.com is a great tool to build a prototype or a MVP and save you time and cost. It even includes databases, API calls, ...
Agenda
6:00 PM - 6:30 PM
Introduction to make.com and GPT
6:30 PM - 6:45 PM
DEMO of creating a simple workflow
7:00 PM - 9:00 PM
Build your own GPT Telegram bot and add a google sheets dashboard
---
Maximum of 10 participants and groups of 2 will ensure that you receive enough help.