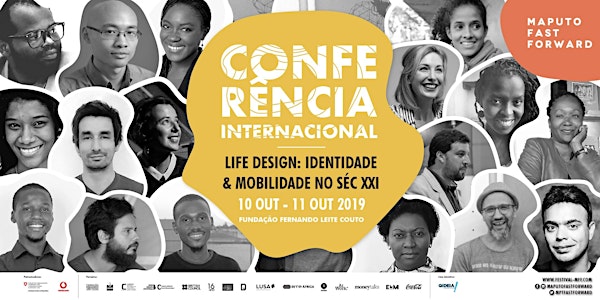 MFF 2019: Conferência Internacional - Identidade e Mobilidade no Séc. XXI
O MFF 2019 explora o tema "Life Design: Identidade Mobilidade no Séc. XXI", debatendo os desafios que afectam as sociedades contemporâneas.
When and where
Location
Fundação Fernando Leite Couto Avenida Kim Il Sung #961 Maputo, Maputo Mozambique
About this event
(PT)
O objectivo da conferência é abordar e debater algumas das questões mais prementes relacionadas com os tópicos da identidade e da mobilidade no mundo actual.
Uma atenção especial será dada às tensões resultantes do conflito entre, por um lado, uma narrativa que promove a ideia de uma circulação global de capitais, bens, serviços e pessoas e, por outro lado, a emergência de uma lógica autoritária de securização de fronteiras e condicionamento da mobilidade humana.
Nesta nova configuração, assiste-se, em paralelo, ao ressurgimento de discursos marcados pela defesa de um purismo identitário os quais colidem, frontalmente, com a realidade de um mundo cada vez mais creolizado e definido pela hibridez das identidades.
Os oradores convidados para esta conferência irão abordar estes tópicos a partir de ângulos diversos e numa perspectiva multidisciplinar.
(EN)
The objective of this conference is to debate some of the more pressing issues related to identity and mobility in our contemporary societies.
A special attention will be given to the rising tensions between, on one side, a narrative that promotes the idea of a global circulation of capitals, goods, services and people and, on the other side, the emergence of a set of authoritarian discourses and policies that aim at reinforcing border security procedures and limit human mobility.
In this new configuration, we are also seeing the resurgence of an aggressive rhetoric defending an identity purism in reaction to an increasing creolized world defined by hybrid identities.
Invited speakers at the conference will address these issues from a wide range of perspectives and multidisciplinary approaches.
________________________________________________________________________
Agenda/Program
10 de Outubro
8.30 – Abertura/Opening
Sessão 1 – Migrantes, Nómadas e Viajantes
9.00 – 9.15 – Rui Trindade (MFF) - Apresentação do Programa da Conferência/ Presentation of the Conference Program
9.15 – 9.45 – Jessica Gergen (EUA/USA) – Compreender a Mobilidade Global e as Crises Migratórias através da Visualização de Dados/ Understanding Global Mobility and Migrant Crises through Data Visualization
9.45 – 10.15 - Pedro Ferreira(Portugal) – O Mundo é Remoto/The World is Remote
10.15 – 10.45 – Aina Nangy (Moçambique) – Mulheres em Movimento/ Women in Movement
10.45 – 11.00 – Intervalo/Break
11.00 – 11.30 – Ciku Kimeria (Quénia/Kenya) – Wanderlust, mobilidade e o passaporte africano /Wanderlust mobility and the African passport
11.30 – 12.00 – Pedro Pereira Lopes (Moçambique) – "Unsolved (un)realities: Eu vejo a Lua mas não vejo a China"/ "Unsolved (un)realities: I see the moon but not China"
12.00 ––12.30 – Debate/Debate
12.30 – 14.00 - Intervalo/Break
Sessão 2 – Narrativas & Representações/Narratives & Representations
14.00 – 14.40 – Eduardo Quive (Moçambique) – "Storytelling & Jornalismo Móvel"- Apresentação do Projecto SmartFilms (MFF/LUSA/Universidade Pedagógica)/"Storytelling & Mobile Journalism" - Presentation of the SmartFilms Project (MFF/ LUSA/ Pedagógica University)
14.40 – 15.30 – O Futuro do "Jornalismo Móvel" em Moçambique/ The Future of "Mobile Journalism" in Mozambique – Mesa-Redonda/Round Table: Eduardo Quive/Luis Fonseca/Leonilde Sanveca
15.30 – 15.45 – Intervalo/Break
15.45 – 16.15 – Sara Gouveia & Khalid Shamis (Portugal/África do Sul) – Conversa sobre o documentário "The Sound of Masks"/A conversation about the documentary "The Sound of Masks"
16.15 – 16.30 – Yara Costa (Moçambique) – A problemática da identidade no documentário "Entre Eu e Deus"/The identity problematic in the documentary "Between Me and God"
16. 30– 17.00 – Pipas Forjaz (Moçambique) – O filme "Resgate" e a "identidade" do cinema moçambicano/The movie "Redemption" and the "identity" of mozambican cinematography
17.00 – Encerramento/Closing
________________________________________________________________________
11 de Outubro
Sessão 3 – Línguas, Culturas, Políticas & Identidades
9.00 – 9.30 – James Wan (Reino Unido/ UK) - A ideia de uma identidade sem fronteiras/The idea of a borderless identity
9.30 - 10.00 – Nanjala Nyabola (Quénia/Kenya) – A Medida das nossas vidas: discursos contemporâneos sobre linguagem, identidade e política em África/ The Measure of our lives: contemporary discourses on language, identity and politics in Africa
10.00 – 10.30 – Sara Jona (Moçambique) – Sobre a plasticidade das línguas e das culturas/On the plasticity of languages and cultures
10.30 – 10.45 – Intervalo/Break
10.45 - 11.30 - Eduardo Aires (Portugal) - Cidades e Identidade Visual: Problemas e Desafios / Cities and Visual Identity - Problems and Challenges
11.30-11.40 – Mélio Tinga (Moçambique) – Apresentação do projecto "Identidade Visual para a Cidade de Maputo"/Presentation of the "Visual Identity Project for the City of Maputo"
11.40 - 12.15 – Projecto Identidade Visual para a Cidade de Maputo/ Visual Identity Project for the City of Maputo – Mesa-redonda/Round-Table: João Roxo, Thiago Fonseca e Mélio Tinga
12.15– 13.00 – Em busca de uma cultura da mobilidade/ In search of a mobility culture – Mesa-Redonda com participantes da residência artística Colab Now Now/Round Table with participants of the ColabNowNow artistic residency
13.00 – Encerramento/Closing