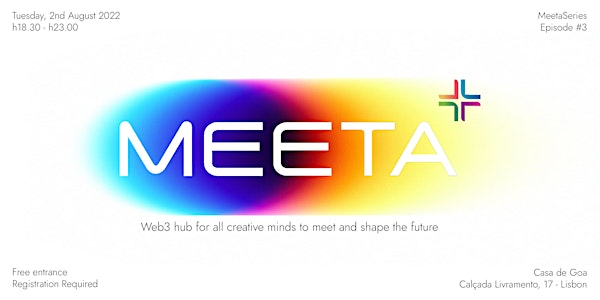 MeetaSeries, Episode #3
MeetaSeries is a unique journey through WEB 3.0. Join our lovely community and make meaningful connections while learning together!
When and where
Location
Casa de Goa 17 Calçada Livramento 1350-188 Lisboa Portugal
About this event
Hello Everyone!
We are glad to announce the new episode of our Web 3.0 events: MeetaSeries!🌟
👪Who are We
MeetaClub is a unique concept where every member of the community comes in a safe space where we discover and confront different ideas, projects and common skills boosting the community's creativity and sense of belonging.
Our main goal is to bridge the distance between creators and the new digital era, focusing on the interaction between artists, crypto people and investors.
Are you still not part of our community?! Click the link below and join our telegram chat!
https://t.me/+_8NzR91Gotc5MzM8
📍Where
​​Casa de Goa Lisboa
https://goo.gl/maps/EsDmKwNSxkdU8DEV7
It is a brandly new location in the core of Lisbon. You will be able to move through different spaces while experiencing exciting vibes. Walking from the tasteful fragrances of the restaurant to the calm aura of the secret garden and finally to the chilling and breathtaking rooftop, recognized to be one of the biggest of Lisbon, among others things.
Are you ready to discover a new magical space together?
🗓️ When
We will gather every Tuesday from 6.30pm until 11.00pm and we will be discussing different topics each time. As the time of the event is perfectly matching the sunset time we encourage you to come on time, or even earlier, and have a drink on the rooftop to enjoy the beautiful light effects in the sky and the sparkling of the water at the horizon.
📃Programme of the event
6.30 - 7.00 pm Registration, be sure you stop at the main entrance desk to get the info you need;
7.00 - 9.00 pm sunset lounge networking in a friendly environment;
9.00 pm Dinner. In order to make your evening special we need to know if you would like to have dinner with us. You will need to call Goa in order to book your spot at the MeetaClub table. Keep in mind that the dinner is on you since this is only a meetup !! ;
11.00 pm End.
😶What to expect
The Episode #3 will be a gentle evening of conversations. We believe we all need to take things a little easier by this period of the year. On the other hand it is extremely important to not lose track of the constant flow of news on Web 3.0.
Join us as we gather to share our last experience at the Boom Festival and more. This evening will be dedicated to us, taking care of each other but still learning from the community.
Come and Share your story, latest experience, shocking news, ask questions or just come to listen, you will be supported by the incredible people around you.
The series will be characterized by different styles of meetings. Wait and see what we have ready for you to discover!
For us at MeetaClub, irl meetings make the difference! So without further ado, we are looking forward to seeing you at the event full of enthusiasm and desire to learn!
The MeetaClub team💫