Meditation is like a gym in which you develop the powerful mental muscles of calm and insight.
About this event
We are thrilled to feature this session as part of our Vale do Lobo Wellbeing Showcase, a week-long celebration of self-care, reconnection and transformation. It combines Vale do Lobo's most loved wellness experiences with workshops by visiting international experts.
ACTIVE MEDITATION WALK by Tiago Silva
Nature calls us, and there is something magical when we allow ourselves to submerge by trees, plants, by animals, the blue sky and the sing of the sea. Life itself is a walk, and the path is made by walking, in the encounters, in the conscious observation of feeling, in the signs that appear in the attentive gaze and in the lightness joyful and happy walk. Come and walk lighter and more awake on your way. Come and breathe the pure fresh air and feel well and connected. Come and receive the alchemy of nature, in a magical walk arm in arm with yourself.
ENSURING THE SAFETY AND WELLBEING OF OUR COMMUNITY, WE FOLLOW ALL DGS RECOMMENDATIONS:
Physical distancing:
Most of our activities are organised outdoors
We ask you to book in advance, ideally online or at Reception
Places are limited to to ensure all safety conditions
Please wear a sanitary mask to access the resort experiences
Hygiene:
Please bring your own towel and a mat
We provide hand sanitizers in visible areas across the Resort
We may measure your temperature or ask travel questions
We request all participants to follow preventive measures, such as hand disinfection before and also during the class
WE ARE BACK TO ON-SITE EXPERIENCES!
[JOIN ALSO OUR OTHER WELLBEING SHOWCASE EXPERIENCES]
-----------------------------------------------------------------------------------------------
WELLBEING SHOWCASE
CAMINHADA DE MEDITAÇÃO ACTIVA por Tiago Silva
A natureza chama-nos, e há algo mágico quando nos deixamos envolver pelas árvores, pelas plantas, pelos animais, pelo céu azul e pelo som do mar. A própria vida é um passeio, e o percurso é feito ao caminhar, nos encontros, na observação consciente dos sentimentos, nos sinais que aparecem no olhar atento e na leveza de um passeio alegre e feliz. Venha e caminhe mais leve e mais desperto no seu caminho. Venha e respire o ar puro e fresco e sinta-se bem e conectado. Venha e beneficie da alquimia da natureza, num passeio mágico de braço dado consigo mesmo.
GARANTIR A SEGURANÇA E O BEM-ESTAR DA NOSSA COMUNIDADE É A NOSSA PRIORIDADE. POR ISSO, SEGUIMOS TODAS AS RECOMENDAÇÕES DA DGS
Distanciamento físico:
A maioria das nossas atividades são organizadas ao ar livre
Pedimos que reserve com antecedência, preferencialmente online ou através da receção do resort
As vagas são limitadas para garantir todas as condições de segurança
O acesso às experiências, deve ser feito com máscara
Higiene:
Por favor, traga a sua própria toalha e tapete
Fornecemos desinfetantes para as mãos em áreas visíveis pelo resort
Em caso de necessidade podemos ter que medir a sua temperatura ou questionar sobre as suas últimas viagens
Solicitamos que todos os participantes nas experiências adotem medidas de prevenção, tais como, desinfeção das mãos antes e se possível durante a aula
ESTAMOS DE VOLTA ÀS EXPERIÊNCIAS PRESENCIAIS!
[PARTICIPE TAMBÉM NAS OUTRAS EXPERIÊNCIAS DO NOSSO WELLBEING SHOWCASE]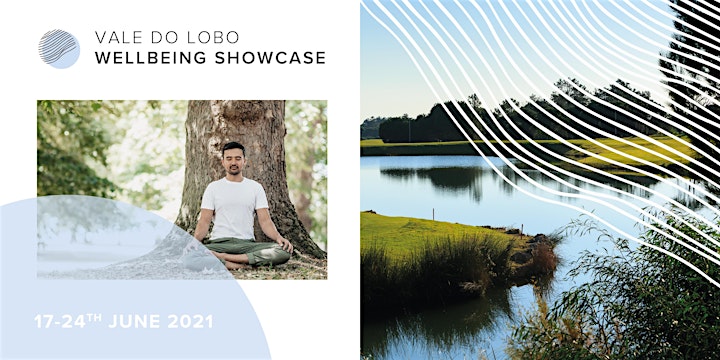 »TO SEE THE FULL EVENT AGENDA AND BOOK OTHER SESSIONS CLICK HERE»
A nurturing gathering in beautiful nature
You will find this World of Wellbeing in the Vale Real area of the resort. This blissful location surrounded by pine trees and overlooking one of Vale do Lobo's iconic golf lakes is the future home of a new 5* hotel. It is the perfect environment in which to connect with nature and your sense of wellness.
Get directions HERE.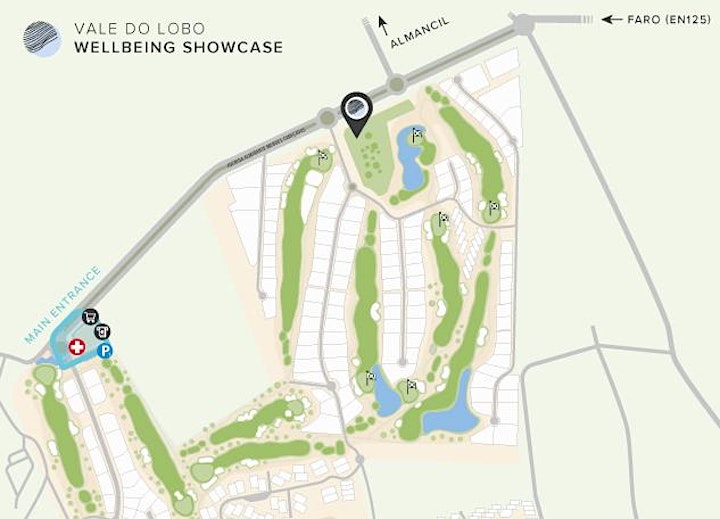 Organiser of Meditation walk
A one-of-a-kind oceanfront community development with approximately 1,500 residential and holiday properties, Vale do Lobo is a lifestyle destination offering unlimited experiences, facilities and services in a peaceful and convenient location. A year-round family destination, a sporting haven, a golfer's paradise, a wellbeing hideaway, an impressive investment and a cultural reference, the list is endless. The resort has an impressive portfolio of facilities including two 18-hole golf courses, tennis academy, fitness and wellness centre, medical assistance, 24-hour vigilance and a vibrant line-up of entertainment and events throughout the year.