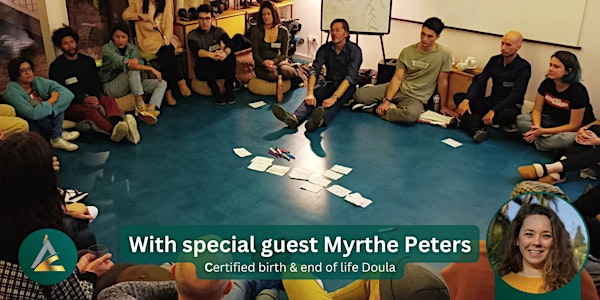 Meaningful Conversation - Theme: DEATH with special guest Myrthe Peters
Enjoy an evening of Meaningful Conversation without the usual small talk while improving your Communication Skills
Date and time
Wednesday, April 5 · 7 - 10pm WEST
Location
Bruxa Beer Bar 35 Rua de São Mamede 1100-006 Lisboa Portugal
About this event
SIGN UP ON MEETUP TO RESERVE YOUR SPOT:
https://www.meetup.com/communication-tribe/
[Join our Communication Tribe 🎤 Community on WhatsApp for bi-weekly communication exercises]
There is no greater skill to acquire than speaking to and having impact on people to promote yourself, your business or your cause. Discover how to master your Communication Skills with a friendly approach as you meet like-minded people from around the world and enjoy an evening of Meaningful Conversation without the usual small talk. From the beginning, each participant will have the opportunity to practice their communication skills.
The main communication skill we propose to focus on this session will be VOICE PROJECTION. And it's also a great opportunity for everyone to practice their Active Listening skill, since it's only one person speaking at any giving moment.
Theme for discussion - DEATH
Location: Bruxa Beer Bar
Hard start at 7:30 p.m., please be on time, so we don't have to explain the rules every time someone new joins
NO ENTRY ALLOWED AFTER 8:10 p.m.
Structure of the event:
Starting from 7:00 p.m. we meet at the Bruxa Beer Bar to mingle and chat
At 7:30 p.m. we hard start the event.
Yev will give some suggestions, tips and exercises on how to practice your VOICE PROJECTION during the session
Each person will propose and present 2 topics of discussion within the main theme - DEATH
We will vote and start the discussions from most voted to least voted. We'll try to get as many proposed topics as possible
The minimum time for discussion of each topic is 10 minutes and the maximum time is around 25 minutes. We'll vote on whether to continue with that topic or move on to the next one
Hard finish at 10.00 p.m.
Wecan stay there to mingle and chat
Meet your host:
Yev 👣 started as a Toastmaster, then participated in open-mic's where he declared poetry, did storytelling, stand-up comedy, rapped, sang and danced. He attended the renowned Evoé - acting school and later fell in love with improv theater.Today he is a master of ceremonies, improv theater facilitator, open-mic host, Communication and Personal Development coach. He is a social entrepreneur with a desire to improve human education. It drives him to create safe spaces where people can cultivate their authenticity, critical thinking and creativity.He is known for his enormous positivity, enthusiasm and passion for impact.
Special Guest:
Myrthe Peters is a certified birth & end of life doula, offering people choice and companionship during life's most significant transitions. The end-of-life space is one of her biggest passions, and she firmly believes that embracing this particular space as an entire chapter opens up a whole new life experience.She creates a safe space for individuals and groups to explore and experience death & dying, grief & loss. This space is characterised by total transparency, bridge-building between the medical world and our human experience, and simple ways to integrate new perspectives.Altered states of consciousness act as a powerful catalyst for healing, becoming familiar with death & grief, and, therefore, living more fully. Additionally, as a private psilocybin facilitator, working with this plant medicine takes an important place in her end-of-life doula work. Through psilocybin she supports people in remembering their own unique healing powers and working through grieving processes on a deep level.
@myrthe.peters / @_fullcircledoula
Website https://www.fullcircledoula.org/
Sponsor:
Peak Communication is about giving Voice to your Vision. In any format, in front of small or large audiences, in the Media or at Conferences, with Clarity and Simplicity.
See you there :)