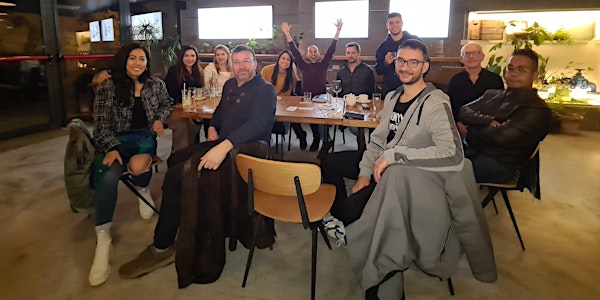 Meaningful Conversation meets Communication skills - Lies society sells us
Enjoy an evening of meaningful conversation without the usual small talk, while mastering your communication skills
When and where
Location
Selina Secret Garden & Cowork nº1 Beco Carrasco 1200-096 Lisboa Portugal
About this event
Discover how to master your communication skills with a friendly approach as you meet like-minded people from around the world and enjoy an evening of meaningful conversation without the usual small talk. From the beginning, each participant will have the opportunity to choose and practice a skill to improve their communication, such as making more pauses, coherent body language, voice variety, voice projection, etc.
Topic for discussion: Lies that society sells us #2
Location: Selina Secret Garden rooftop
Hard start at 8:00p.m., please be on time, so we don't have to explain the rules every time someone new joins
Structure of the event:
at the beginning of the event, each person will choose a communication skill they'd like to practice
Chris and I will give some suggestions and input on how to improve that skill
each person will propose and present a lie, that the society is selling us
we will vote and start the discussions from most voted to least voted. We'll try to get as many proposed topics as possible
the minimum time for discussion of each topic is 5 minutes and the maximum time is around 20 minutes. We'll vote on whether to continue with that topic or move on to the next one
hard finish at 10.30 p.m.
Join our Communication Tribe 🎤 on WhatsApp for bi-weekly communication challenges.
See you there :)