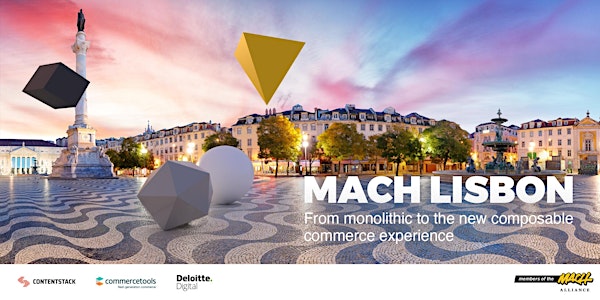 MACH Lisbon - From monolithic to the new composable commerce experience
Be part of the front runner future DXP innovation - learn more about composable architecture and the MACH approach
When and where
Location
Deloitte digital office Lisbon Av. Eng. Duarte Pacheco 1070-100 Lisbon Portugal
About this event
Why should you attend?
You may know what MACH means, but you aren't really sure why you should care? Can it make a real difference to your business? Can going MACH help your bottom line, or drive better customer experiences? How will MACH benefit your teams? To find out, register to join us for drinks, snacks and insightful MACH chats.
MACH Experiences presented by MACH Enthusiasts
10:00 - Meet and Greet - time for some breakfast
10:15 - Welcome to the event (Deloitte digital + MACH Ambassador)
10:30 - Why you should care about MACH? (Fireside chat, moderated by a MACH Ambassador, with international brands that are using MACH)
11:00 - How MACH speed up the ambitious E-commerce project we are running. ( Enterprise guest)
11:30 - Speaker - tbd
12:00 -1:00 - networking.
(The event will be in English)
The MACH Alliance
The MACH Alliance is a not-for-profit industry body that advocates for open and best-of-breed enterprise technology ecosystems. The Alliance is a vendor-neutral institution that provides resources, education, and guidance to support companies interested in exploring Microservices based, API-first, Cloud-native SaaS, and Headless solutions.